Ranking the 'Veep' Characters in Order of Incompetence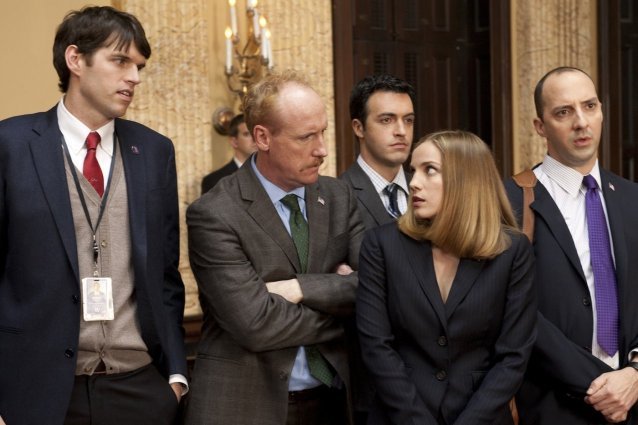 HBO
Once a "political leper," Vice President Selina Meyer will amp up her campaign for the highest office in the land when Veep returns on Apr. 6. Though, with this bunch of jokers and opportunists behind her, it doesn't look good. In honor of the upcoming third season premiere of the HBO comedy, we've organized the office of the VP (that's "Vaguely Personable," to some) from least to most useless.
5. Sue Wilson, Personal Assistant
Sue (Sufe Bradshaw) is the iron gate between Selina and the outside world. She wield's her phone like a weapon and can be counted on to not only shut down every person who tries to get through, but also to eviscerate them personally in the process. No, the president hasn't called.
4. Amy Brookheimer, Chief of Staff
Smart, married to her job, and always ready with a devastating insult, we get the feeling that poor Amy (Anna Chlumsky) just picked the wrong horse in this race. Think of what she'd accomplish with a savvy and poised candidate as her boss. Though there don't seem to be any of those in Veep's Washington.
3. Mike McLintock, Director of Communications
Mike (Matt Walsh) is relatively capable, but has such a deep hatred for his job that he's made up a fake dog to always have an excuse to go home early. If it weren't for his crushing debt and the cost of the boat upkeep, he'd probably have resigned long ago.
2. Gary Walsh, Personal Aide
Whatever else is said about Gary (Tony Hale), no one can claim that he's not fiercely loyal to the VP. Armed with "The Leviathan," Gary is devoted to his boss's every waking need. But let's just say he's not the person you'd want by your side in a crisis.
1. Dan Eagan, Deputy Director of Communications
Dan (Reid Scott) is young, handsome, ambitious, and calculating — just the sort of political tap dancer who should be killing it in D.C. And he could be great at his job — if he spent more time doing it and less time trying to schmooze his way to greener pastures.