RHOA Recap: Nap Time/Slap Time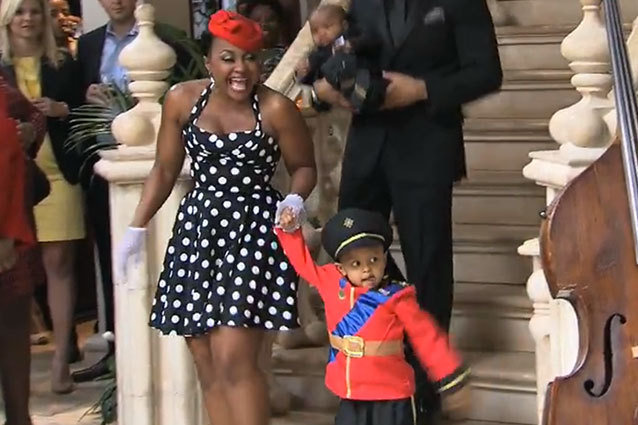 Bravo
In honor of The Grammys, this episode was all about misguided theme parties. It wouldn't be a Real Housewives  season without someone dropping a few thousand on a completely unnecessary event. This season is no different, but what did we learn from Married to Medicine?  Nothing makes a party more memorable than fisticuffs.
Phaedra Parks is no stranger to ostentatious events. Remember her funerals? How about the ratchet pool party complete with a formal presentation of 12 different cakes … for a one-year-old! She decides to have an inauguration-themed christening for her son, Dylan aka Mr. President. She brings back NeNe Leakes' former gay bff, Dwight Eubanks, to plan. Dwight certainly looks like he's been dipped in plastic surgery. The party is a smash at a huge mansion with secret service agent dancers and looks smashing. However, the tension between Apollo and Phaedra is so thick you could cut it with children's safety scissors … and they don't cut anything.
Kenya Moore is having a different kind of party. The theme is delusion. She goes to a fertility specialist who tells her the obvious her ovaries aren't as keen on pregnancy as she is. She then takes her gay bff Lawrence Welk Washington. They visit a sperm bank where Kenya makes a laundry list of demands that can't possibly be met. She wants someone intelligent, tall, attractive, with green eyes, full lips, super powers, albino hair…
Kandi Burruss and Todd Tucker discuss their misguided musical. Kandi also mentions what Natalie Williams said about him being an opportunist, just in time for NeNe's pajama party. She has decided to gather all the usual suspects for some major drama. Everyone will be in various states of undress and they all have an axe to grind. Not only are all of the ladies there but Natalie and Christopher Williams and Mynique and Chuck Smith are there. Existing beef + drama – clothes = tension. NeNe says that she wants to just air everything out so everyone can get along but she seems primed to orchestrate the episode to end all episodes. If there was a Supreme among the Real Housewives it would be NeNe.
Everyone arrives to the party but Kenya is an hour late. Everyone bonds over the fact that Kenya has attacked all of them for being late and she hasn't arrived or called. Point one: NeNe. NeNe reveals that not only will everyone be wearing pajamas but the men and women will be "served" by their own ratchet stripper. This is a huge departure from the NeNe who was too coy to discuss sex. Now that she isn't on The New Normal, old NeNe is back and she's spilling the tea.
Kenya arrives with her friend Brandon DeShazer. You might remember him from other physical altercations. Despite NeNe giving Kenya major attitude, the tension dies down and everyone has fun. They discusses sex, masturbation, sex toys, and strippers. Suddenly, Peter Thomas aggressively reveals he loves to go to strippers but never gets a lap dance. Kandi accuses him of lying and reveals some of the secrets she knows about Peter that she referenced last episode. Apollo reveals that he has spent $5,000 to $8,000 a night at a strip club.
Out of nowhere, NeNe brings up Kenya's accusations that Christopher Williams and Natalie do not have a real marriage. He gets up to refute that and then she gets up to go walk over to Natalie, presumably to get into her face. Christopher steps in and all hell breaks loose. First, Brandon gets aggressive with Christopher for touching Kenya but suddenly Apollo and Peter attack Brandon and take him down and now they are fighting for a good 10 minutes while Christopher is being held back. Apollo seems hungry for blood, and looking good in a torn T-shirt. NeNe yells at Kenya for starting the fight. However, the instigator of the fight was Mrs. Peacock NeNe in the hotel room with the candlestick booze, strippers, and drama. Sadly, we have to wait a week before we see part two of the fight.
The Reading Room: Best Lines of the Night
Do you have a history of mental illness? Yes! – Kenya about her family life
If you guys have any spare lube around, I'd love to take some? –Lawrence at the sperm bank
I do not want any DNA from a person who is clearly unintelligent. One Porsha running around town is enough for us all. –Kenya
Now this is how you make an entrance. It's not called being late it's called being grand. –Phaedra
I want to do a blessing over Dylan today and wrap him in purple and the royalty and cover him in the blood. –Phaedra's mother Pastor Regina Bell's blessing
What kind of question is that Miss Leakes? Is this a fun game or are you stirring the pot as usual? –Phaedra about NeNe's party game questions
Once a heathen always a heathen that's why she's Kenya Moore-Whore. –Phaedra
Is she going to tuck before she dances…because she's looking like a man. –Kenya about Natalie dancing for her husband
Apollo is out of his mind….beating Brandon like as though he's in his jail cell fighting for his virginity. –Kenya about the fight