'Real Housewives of New York' Recap: Drunk with Power… or Pinot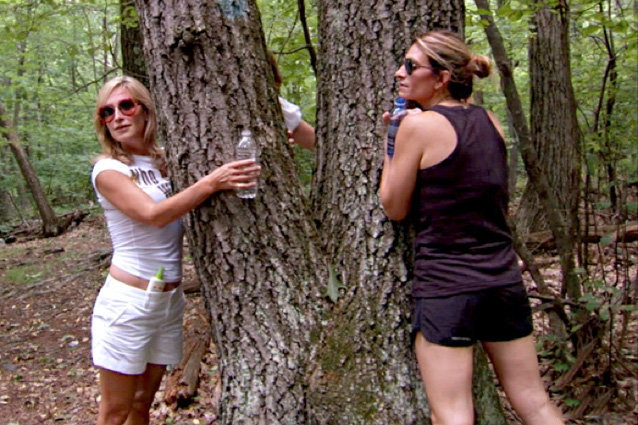 Bravo
Aviva Drescher did not appear in this week's episode of Real Housewives of New York, but her words haunted these ladies like the thought of their Botox administer skipping town (Dr. Pendergast really is the best with the T-zone so here's hoping he doesn't leave New York City). Like in Return of the Jedi Aviva's astral form hung around whispering "You're both white trash, quite frankly," over and over again. This is mostly because Ramona Singer, a.k.a. Eyelander, and In-the-Red Sonja Morgan were kind of acting like white trash. Violence, emotional outbursts, and crying about your father… this feels like an episode of Maury.
Malice: Threw the Looking Glass 2: The Jabberwonky Eye
Post glass-throwing, Ramona storms off with Sonja to head back to Heather's house to fix her hair. Meanwhile, Kristen Taekman is drenched in pond water with microorganisms slowly crawling into a cut on her face. The ladies try to calm her down and she is a very good sport about this. Hitting someone in the face with an object and drawing blood sounds a little like assault. It doesn't take Phaedra Parks to solve this mystery, Ramona drew blood. Had it been Kenya Moore that she hit, Ramona would have been arrested. The ladies prep for dinner and both talk a ton of smack. Ramona tells Sonja she feels like her father. Sonja has a breakdown and starts crying and yelling at her about it. #repressedmemory It sort of seems like Ramona is manipulating Sonja's issues with her parents. Heather Thomson tries to play hostess and mend fences. She also tries to laugh the whole thing off. However, Kristen is justifiably outraged. She's a good sport because she just wants to know why it all happened. Ramona stumbles over to Kristen yells a ton about getting wet and gives her the most disingenuous apology in Housewives history. Before things bubble over, Heather surprises the ladies with an Elvis impersonator. Kristen gets too distracted and forgets about Ramona and her wine.
Wilted Flowers in the Attic
Ramona realizes she's persona non grata. To get away before someone mentions the word assault Ramona packs her bags and calls a pilot friend. Dressed in her most dowdy mom drag she joins the ladies for a hike. While in the woods, Ramona sees some trees that remind her of her back yard. Apparently, she lived in the Cabin in the Woods. Also, her childhood must have been like Flowers in the Attic… at least in her current story. Apparently, not mentioned until she needs to make a hasty getaway, she had an abusive father. It's probably true but it's shameless to dust off old wounds to get out of a girl's trip. She convinces Carole Radziwill to drive her to the airport. Ramona's hot pilot friend shows up. An attractive man flies to come pick up Ramona while she's away for the weekend and her husband thinks she's on vacation. You do the math. As Ramona flies away into the sunset, Carole stands on her rented car. She wonders if she'll get her deposit back if the rental company sees her walking on the hood on TV. Then she remembers she's painfully thin and the car may have dented her… plus Bravo paid for the car. Meanwhile, Sonja loses it again and yells at Kristen for not understanding abuse. Apparently, Sonja is accessing some pretty heavy memories and projecting them on this light situation. Throwing anything at someone's face crosses a line.
I'll Show You My Pontoon
Heather plans a boat trip with two of Sonja's favorite things: booze and men under 21. She's starting to really resemble Ramona Singer… scratch that, we mean Bryan Singer. Sonja sloppily hits on a 20-year old pontoon captain. Sonja is a stunningly beautiful woman but she really shouldn't get this sloppy on camera. Given her emotional outbursts, she may need a hug or a Care Bear stare.
Ramona Caught Wine Handed
Heather plans an elaborate dinner to close the weekend. Everyone brings up the glass incident for the umpteenth time. But suddenly, LuAnn desperate Lesseps gets a text. It's a picture of Ramona partying at Molly Sims' latest party. And with that, Sims gets mentioned more than she has since Las Vegas was canceled. They even get a picture. This confirms everyone's suspicions that Ramona made shameless use of her "abuse" to leave like a thief in the night. Sonja ponders if Ramona has been manipulating her and how much wine she had that day. The other ladies have decided they will "get even" with Ramona. If they plan to destroy her they will have to find the horcruxes Ramona hid at Jill Zarin's fabric store and Alex McCord's Brooklyn brownstone.
The Duchess of Put-Downs
LuAnn may have been downgraded to a "friend" of the housewives but she has sharpened her wit. She gets some of the best lines of the night:
"If we're gonna talk about vocabulary, 'provoking' isn't an adjective, it's a verb. Just sayin'." – giving Heather a vocabulary lesson
"Ramona would never, ever, ever go to therapy. She claims she's in perfect mental health." – on Ramona's mental state
"Sonja doesn't exactly live in the real world, so getting hit in the face with reality must hurt." – a well crafted Sonja burn
Real Houselines of New York City
"I think we've got a non sequitur here: shotgun recoil on one side, a psycho b**ch throwing a wine glass at your face on the other. Are they the same thing? I don't think so." – Heather
"Her hair looks like s**t." – Kristen on Ramona's ruined blow-out
"What are you the wicked witch of the Hamptons? You gonna melt?" – Kristen on getting Ramona wet
"Who are you to get me wet?" – Ramona doesn't know what entendre means
"Of course the only option for white wine is Ramona Pinot Grigio. Hope she doesn't throw the bottle at my face… b**ch." – Kristen
"That was some act. I mean, not Oscar worthy. But definitely People's Choice… or Daytime Emmy." – Carole on Ramona's meltdown
"Do you go to Christian Mingle online? I tried it, but I was unmatchable." – Sloppy Sonja flirting
"I've had experiences with women, just not with you." – Sonja repeating what Carole told her