'Real Housewives of New York' Recap: Malice — Threw the Looking Glass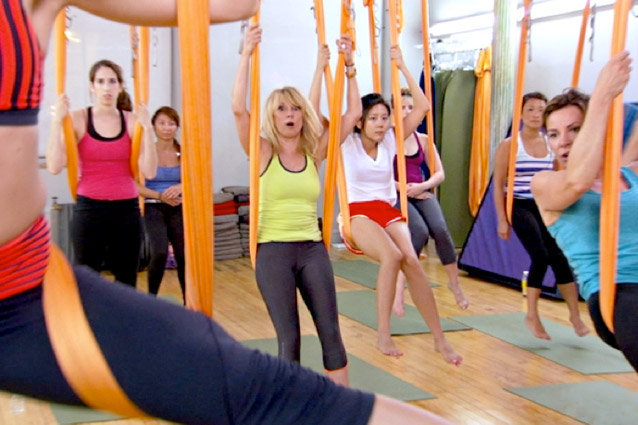 Bravo
Prepare to enter another dimension, a dimension not only of sight and sound but one of eyes… crazy eyes. A journey into a wondrous land of imagination. Next stop, the Twilight Years Zone! Sometime after destroying all the other housewives from Season 1, Ramona Singer a.k.a. Eyelander, must have absorbed too much power and entered into an alternate dimension. In this world, despite making Eliza Doolittle sounding refined, Ramona is insanely wealthy and above it all. Even though she spent last season's girls' trip acting like a child with Sonja Morgan, her getting splashed with water warrants a first-degree assault charge. Compared to the gals of RHONY 1.0 Ramona was spunky and delightful. However, compared to actual Manhattan socialites and business women she seems like a boozy old broad.
Sexless in the City
Carole Radziwill seems to be fallen asleep after marathon watching Sex and the City and is dreaming about being Carrie Bradshaw. She's a successful writer and journalist so why not bemoan her dead end love life? She heads to her totally awesome Los Angeles apartment and invites her girls… they're literally girls, much younger than she is. They dish about her book and failed love life. Is this a pitch for a spin-off? She plays a voicemail from a guy who cancels a date because he's entered a relationship. Is she on Match.com? This seems like a typical OkCupid experience. Carole Radziwill, just like us. Later, she and Kristen Taekman meet with Richard Easton, the creepiest looking matchmaker in all the land. He may be able to guarantee you a marriage proposal from a wealthy man, but it will cost you a newborn babe or something more powerful the crazy eyes of an Eyelander. If Carole goes missing this footage may be subpoenaed.
Sonja Morgan Presents: Nothing
The show's resident Samantha, Sonja Morgan, stops by to talk to Josh Taekman about business. She spouts out the entire contents of her America Online inbox including a great opportunity with a Nigerian prince. He tries to get her to focus, hire a team, and establish a business plan with priorities. Instead she just wants to say buzzwords. Later, Sonja joins LuAnn desperate Lesseps and Ramona for anti-gravity yoga. They all try in vain… to look young and hip.
Guess Who's Ruining Dinner
Ramona stops by Heather Thomson's couples dinner an uninvited guest, her gay pet Shane Stevens. Way to set the gay community back by treating a him like some accessory, and worse yet, breaking the rules of fine dining. Did I miss something? When did Ramona become the Queen of Manhattan? With her thick accent, new wealth, and husband allegedly cheating on her, she belongs in New Jersey. Fabellini! Heather invites everyone to dinner because the girls are all taking a trip. Ramona acts smug about the fact the girls are going to the Berkshires because no celebrities she knows go there. Clearly Ramona is in an alternate universe where she thinks she's Meryl Streep. But the joke is on her: in a Twilight Zone twist, she's the only one who thinks that. The reason Aviva Drescher is not in this episode is because this is all in a dream. She'll wake up in a world where Ramona is married to George Clooney… and he's cheating on her, too.
Malice's Adventures in the Berkshires
The ladies set sail, via SUV, to Heather's house in the Berkshires. It's a beautiful, ultra-modern vacation home. It's also very large for a summer house with great furniture and a ton of land. Meanwhile, Ramona calls it the garage. Heather has the patience of a saint because Ramona is irritating, tacky, and rude. Doesn't Ramona know Heather assassinated Biggy Smalls for insulting her Spanx? She also has the nerve to order air conditioning to Heather's home. Calling producers and making it a big production is a little too much. After all, she's not NeNe Leakes or Lisa Vanderpump.
Malice: Threw the Drinking Glass
The ladies decide to go for a dip in the pond. Ramona is shocked that they'll have to carry their own canoes. Has no one met Heather? She's low maintenance. It is funny seeing these batty old broads trying to navigate doing things for themselves. While on the canoe, Ramona starts drinking and complaining. She complains about Josh commenting on Sonja's businesses at the couple's dinner. This is after she mentions that Carole and Sonja were not invited because they have no one in their lives. Kristen hears what they're saying and innocently splashes Ramona. Ramona flings a glass in her face and tries to hit her with an oar. To add insult to injury she storms off and leaves a bleeding Kristen without apologizing. Ramona is starting to make LuAnn look like a vital part of the show and maybe she needs to go the way of Jill Zarin.
Real Houselines of New York City
"You're f**king bananas." – Josh Taekman about Sonja's businesses
"Ramona forgets the one thing that's crucial… the phone call. Phone call: I'm not coming to your anniversary party. Phone call: I'm bringing a random person to your couple's dinner party." – Heather to Ramona and her uninvited guest
"She's afraid they're gonna take it before she gets back." – LuAnn on why Sonja never leaves her townhouse
"I'm willing to try anything once… including anal. No don't put that in!" – Carole
"To be honest, I could do without Ramona today. But at least I have someone who's going to look as dumb as me." – Sonja
"My house is cool, my house is not tacky not like some people's." – Heather to Ramona
"Ramona is the oldest after all. And you know what they say about menopoause: Old people do like to stay cool in the summer." – Heather
"You guys are f**king crazy. I'm out of here." – Carole before jumping off the boat