'Real Housewives of New York City' Recap: Mean Hurls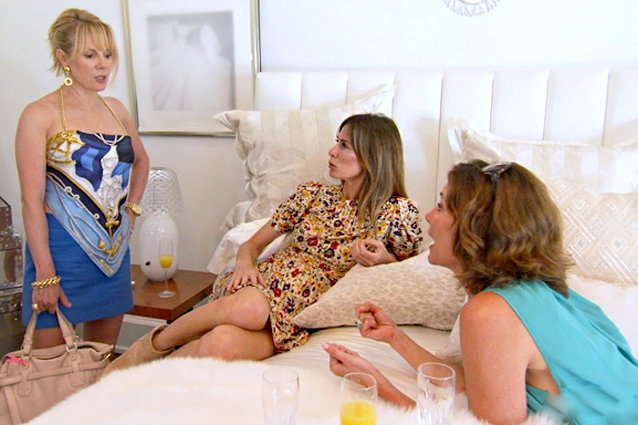 Bravo
Are you anxiously awaiting a Mean Girls reunion? Well, if Ramona Singer has her way, you'll get it… with a significantly different (and older) cast. She'll be playing Patina Gorge, the Queen Bee in Mean Hurls. This time the film is set in Manhattan and features a "beautiful" blonde who takes out all of her anger about her philandering husband out on the women around her. She hurls insults, spells, and whole glasses of wine. We should say that this film is actually a fever dream brought about by a psychotic break Ramona had while seeing all the other Housewives in bathing suits.
Revenge of the Eyelander
Sonja Morgan A.K.A. In-the-Red Sonja invites Aviva Drescher and Ramona, the Eyelander, over for sunbathing and brunch. Aviva and Sonja butter themselves up and reveal shockingly sexy bikini bods. Ramona calls to tell Sonja she isn't coming. It seems the Eyelander and In-the-Red Sonja are gearing up for war. Clearly Ramona has no intentions of leaving their tête-à-tête from last episode alone. Instead, she goes to a designer house with LuAnn desperate Lesseps and Carole Radziwill. She proceeds to act like a toddler by insulting the light fixtures, ripping removable wallpaper, and trying to break unbreakable plates. Spoiler alert: even throwing a ceramic plate into a pool won't break it. Then she reveals all of Sonja's financial problems to the ladies… and all of America. Sonja's town house has gone into trusteeship because she is behind with her enormous debt. It's ironic Ramona would air out Sonja's money woes and not her husband's cheating ways.
Does Carole Eat?
Carole is the tiniest housewife in NYC. She looks so frail. Contrary to what was reported by big butt enthusiast Sir-Mix-a-Lot, the red beans and rice did in fact miss Miss Radziwill. Next to her, Heather Thomson looks like a giant. Let's face it, Heather has a slammin' body. It's sort of ironic that she re-invented Spanx. Or did she? Apparently, she and Spanx are suing each other over who wore it best. Hopefully Heather's next business isn't vajazzling, skinny sangria, or a fabric store because we know people in those businesses. She decides to drink the pain away with beer, tequila, and pizza at Carole's house. Carole takes the opportunity to reveal she's having a refresh. Nope, it's not smaller veneers. She's getting a major apartment remodel and documenting it on TV. "Yay," said absolutely no one. She wants to get gold-leaf on her ceiling and move her office into her kitchen. Apparently, all she cooks in there is toast and English muffins. Doesn't she microwave things, reheat leftovers, or fry an egg? New Yorkers famously don't use their ovens but they still make more than toast. If this were Mean Hurls, she could just eat Kalteen bars.  
Drescher vs. Drescher: Happily Divorced
Aviva invites her ex-husband infamous Housewife bedder Harry Dubin over for dinner. They have a delightfully awkward family dinner with her husband, ex-husband, eldest son and two youngest who resemble Precious Moments dolls. Everything's great as they prepare to send her son off to sleep away camp, until her husband Reid says something really creepy, "Most important, I don't want you to do what I did, which was, in the middle of the night, sneak over to the girls' bunks in the night and go into their rooms and play with them." To add insult to injury the editors cut the audio to make it the most pregnant, loaded, and rapiest pause in Housewife history. It's a missed opportunity. It would have been a great time to have Reid's cousin Fran Drescher walk in, wearing a leopard mini-dress, sit on the table and talk about playing Yentl in her camp's production in Flushing, Queens. 
Curse of the Eyelander
Kristen Taekman's words with Ramona last episode just might have gotten her cursed by the Eyelander. She meets with modeling agent Craig Lawrence, who doesn't realize he's being filmed. He calls her old and tells her to move to a smaller market like Wisconsin. There isn't much money to be made in modeling in small markets. There's just more opportunities. Also, there is such a thing as celebrity modeling and Kristen will get more work now that she's been on TV.
It seems like the Eyelander magic brings nothing but discord. During a casual afternoon of wine-tasting, LuAnn calls Sonja a b**ch. Then the evil googly eyed magic burrows its way into Sonja's brain. She tries to talk about a deal she made with department stores but can only speak in nonsensical phrases. It's shocking. Ramona seems the most unhinged, sloppy, and loopy, but is the most aware. Meanwhile, Sonja seems so lucid and together and has no idea what's going on.
Ramona stops by as Sonja is cleaning her bathroom to further her embarrassment. She winces as she sees Sonja's laundry hanging on a drying rack. What do you expect? She's broke. Sonja somehow secures a spa day for all the ladies. While LuAnn, Heather, and Carole relax and share a tub of mud, everyone else fights. Ramona reveals that she called a friend of Sonja's young boyfriend's mother. This resulted in Sonja getting stood up. Kristen, the cartoonish voice of reason, points out maybe Ramona's jealous. Ramona flings her glass on Pinot scalding her. After all, Ramona Pinot does have trace elements of estrogen, stem cells, and pixie urine. When Kristen retaliates by splashing her she says that she was never Kristen's friend anyway. Little does Kristen know the only thing that can stop Ramona is buried deep underground the abandoned studio of Bethenny – The Mace of Menopause.
Real Houselines of New York
"I've been putting up with Ramona's Ramona-ness for years now." – LuAnn
"Ramona, it's a designer house not a frat house." – Carole
"She has great legs. Legs are not my thing." – Aviva
"This is too acidic. Like urine." – Aviva showcasing her sommelier skills
"The reason people buy the toaster ovens after reading the recipes in my newsletter is… sex." – An exerpt from Sonja's business prospectus
"Mileage, what am I, a station wagon?" – Kristen
"Sonja is the only person I know who can play off bankruptcy fabulously." – Kristen
"Sonja likes any good-looking guy that she finds sexually attractive, and she thinks between her legs before her head." – Ramona
"You threw pinot on her and took penis away from me." – Sonja
"I teach my kids not to hit, not to throw. Did Ramona not get that memo 65 years ago?" – Kristen