'Real Housewives of Atlanta' Recap: Does Anyone Want a 'Stallion Booty'?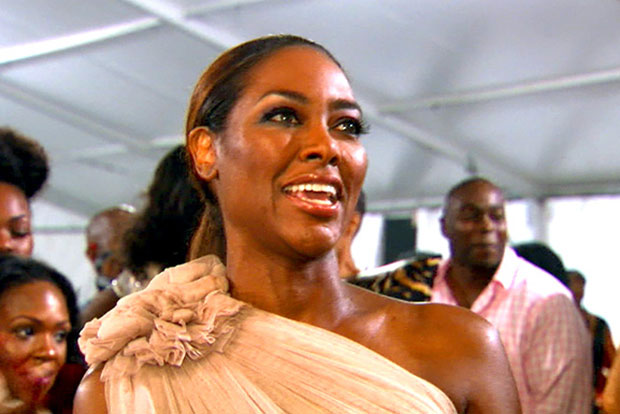 Hi, sports fans! I'm filling in for the illustrious Brian Moylan, who is on assignment at Sundance. Despite my unhealthily detailed knowledge of the Real Housewives of New Jersey canon (as a native of the Garden State, it is statistically probable that I'm at least a fourth cousin to the Manzo family), this is the first time I've ever watched the Real Housewives of Atlanta. I'm excited, as well as a little nervous — I only ask that you be gentle with me, and leave the money on the dresser.
This week's episode begins — as most classic dramas do — at a hair show, where Cynthia Bailey is on judging duty. With Miss Lawrence in tow, Kenya Moore offers a deranged Miss America Miss USA wave to no one in particular from an escalator ("Escalator symbolic of descent into madness?" reads someone's notes for a Contemporary Media Studies paper). Following her fallout with Phaedra Parks over the production of Donkey Booty, Kenya reveals that she plans to release her own butt fitness video. Its title?
Stallion Booty.
Ahem. Naturally, Kenya claims to see nothing strange or inappropriate about this, and makes the case that stallion rears are firmer, rounder, and altogether more desirable than those of donkeys. Team Stallion's detailed taxonomic discussion of equine booty inspired me do some research of my own.
See for yourself: donkey butt versus stallion butt. (Pro tip: learn from my mistakes, and please do not Google any kind of horse private parts at home. The Internet is a terrifying place.) I can't argue that "Mare Booty" has much of a ring to it, but keep in mind that a stallion is definitively male — specifically, an uncastrated male (that is to say: horse balls). Personally, I'm not particularly enthused about the prospect of a donkey or a stallion booty, if only because I prefer my butt without a tail growing out of it.
As The New Normal's production schedule has shifted into gear, I'm afraid we're left with a NeNe Leakes-light episode. A brief highlight: "glam-mother" Nene and Gregg haphazardly attempt to assemble a crib for adorable granddaughter Bri'Asia. I feel a familiar sense of panic about my DIY incompetence that is usually triggered by umlauts and the smell of Swedish meatballs.
Stylist Derek J, who was also at the hair show — what a tangled weave we weave — breaks the booty plagiarism news to Kandi Burruss mid-haircut. Kandi immediately calls Phaedra, who semi-coherently attacks Kenya's "Six Flags Scream Machine Booty, with all those lumps and bumps everywhere." This is not only one of the finest examples of imagery that has ever occurred in the English language, but also an excellent idea for a rollercoaster.
Elsewhere, we find Cynthia in her element: yelling at six-year-olds on a basketball court. She's recruited these kids for Runway Red, a fashion show and fundraiser to support children with HIV, and her modeling advice to them primarily involves walking, stopping, turning around, and walking again.
Phaedra and Apollo bring along their one-year-old son (and aspiring model) Ayden, who — like a normal, human child — refuses to follow directions, and cries. Later, he cries some more. Cynthia expresses her doubts about his future in fashion, but jokes that "at least he was professional and showed up to practice" — this is a plus, considering most of these kids are coked out of their minds right now. Porsha Stewart is also on hand to show her support, cryptically praising one preteen model for "the way she keeps her pelvis forward."
Outside, Phaedra confers with Cynthia and Porsha — who's bonding with Parks over their shared distaste for Kenya. For those of you playing along at home, this tight-lipped, eye contact-free exchange is the third rehashing of the Donkey-Stallion Crisis so far. Phaedra casually suggests that Kenya suffers from alcoholism, and perhaps bipolar disorder. I'd consult my DSM-5, but I'm too distracted by the trio's fake eyelashes, which are collectively long enough to reach the moon if laid end-to-end.
Miss USA Miss Kenya® and Kandi visit Kenya's production designer for help decorating Kandi's daughter's bedroom. Kenya yet again explains her fight with Phaedra over the distribution for Donkey Booty — which is, by the way, the same thing as "Ass Booty," which is in turn the same thing as "Ass Ass." Anyone?
But standing in front of an enormous papier-mâché prop butt — what a coincidence — the ladies grow increasingly shrill. Kandi accuses Kenya of "bootlegging" Phaedra's concept, and Kenya strings together sequences of words with no particular relevance to time and space as we know it. After a few minutes, the camera pulls back to reveal that the production designer has been standing by silently throughout all of this. "I'm going to let you ladies, uh, talk…," he mutters, heading quickly for the door.
Phaedra and Apollo pitch Donkey Booty at a production studio, where she judiciously pimps her friendship with Jane Fonda, the "godmother" (glam-mother?) of all workout videos. The director makes the possibly unforgivable (if delightful) error of calling Phaedra's project "Donkey Butt," but it is to her credit that she does not strike him. Phaedra is quickly becoming a favorite of mine, especially when she describes her post-baby ass transformation — it "sort of spread a little" and "moved in odd places" — with far more anatomically detailed hand gestures than necessary. The producers are interested. Point Phaedra!
Runway Red is a success: a kaleidoscope of cute kids, miniature sparkly accessories, and animal print everything. Even Ayden has been Stockholm Syndrome-d into compliance. Handing him over before the show, Phaedra informs Cynthia that Ayden's s-i-p-p-y-c-u-p is in her p-u-r-s-e. Listen, Bravo: I would pay large sums of money to see Teresa Giudice try to spell things, and I know I'm not the only one.
At the reception that follows, Kenya is in the midst of the episode's 13th Donkey-Stallion recap (this time to NeNe), when who should appear but Phae-Phae herself.If the Real Housewives franchise has taught us anything, it's that fashion shows, fundraisers, and launch parties were all invented as arenas for rich women to confront each other about stupid things. It's on.
But the episode ends not with a bang, but a whimper. After a minute or two of tense grimacing, Apollo lobs an ineffective "copy-cat" in Kenya's general direction. She walks away. Womp womp.
My first trip to Atlanta has been highly enjoyable — I'll definitely tune in next week. (That said, I'm still holding out for The Real Housewives of Georgia, in which a cast of kind-faced elderly women will prepare meat dumplings near the Azerbaijani border.)
Follow Molly Fitzpatrick on Twitter @mollyfitz.
[Image Credit: Bravo]
More:
'Real Housewives of Atlanta' Recap: Kenya Moore's Single Is Insane
'Real Housewives of Atlanta' Recap: Kenya Moore Is Not Beyonce
'Real Housewives of Atlanta' Recap Star Phaedra Parks Is Pregnant

Craziest Celebrity Swimsuits Ever (Celebuzz)