'Real Housewives of Atlanta' Recap: Give Iark Her Own Spin-off!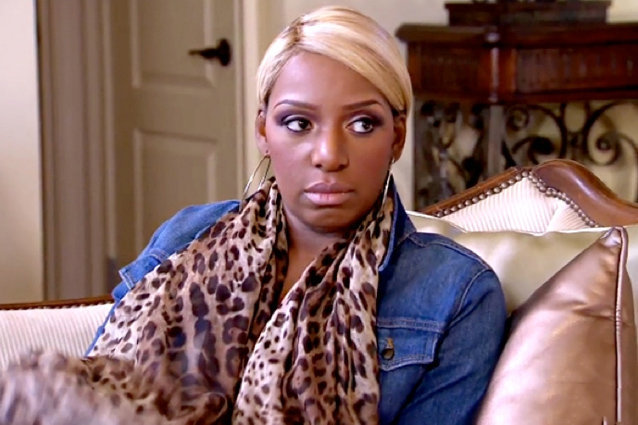 Bravo
Happy Real Housewives Finale Eve! If you've made it to this point, you've somehow survived all of this season's the shade, and its nearly insufferable "filler" moments. Yes, this season has felt overdone with uninteresting downtime material. Hell, Phaedra Parks wasn't even in the episode which means there weren't as many great quotable moments. But on we go, into the penultimate episode, wondering what madness they have in store for us this week.
Porsha Stewart is busy in the recording studio singing her requisite Real Housewife song. Let's face it… she's not going to write a book. However, she "wrote" a ballad. If she wants record sales, why not an auto-tuned pop song? How about a diva dance track, "Underground Train to Your Heart"? Kandi Burruss shows up to tell her that she has to actually show up to rehearsals. It's so sweet that Porsha calls rehearsals "play practice."
Rehearsals have started at the Rialto Theater and things are getting serious. However, Porsha doesn't even grasp the fact that she's in a professional, high-profile musical. Iark, the stage manager, pulls Porsha aside and gives her a side eye for the ages. Such perfectly executed ocular shade, plus a fair knowledge of music, could make her a worthy contender in the Real Housewives world. We wouldn't mind a spin-off wherein Iark spends full episodes calling Housewives out on their B.S.
Over in Kandi's story, Momma Joyce has not realized that she is the only opportunist in her daughter Kandi's life. She's living in her old house and getting paid to star on the show to trash her daughter. As such, Kandi brings in a family counselor. Joyce shares some of her concerns, including the fact that Kandi has gained 30 pounds. After seeing some of the musical, she and Todd have a brief moment together. It looks like there might finally be a détente. Sure, she does admit that she does not respect him at all, but he does still seem genuinely interested in connecting with her.
In more filler news, money manager extraordinaire Peter Thomas is still keeping secrets from Cynthia Bailey. They're in financial trouble… again. Bar One is in danger of foreclosure. They might lose their business along with their other space Industry Studios. They should have just named the building For Lease or Foreclose and save money on the sign. 
NeNe Leakes meets with her manager to plug her upcoming fashion line with the Home Shopping Network. She also brags about all the acting opportunities she's passed on. Is this not the woman currently on Dancing with the Stars? It's strange that she has a holier-than-thou attitude about acting projects when her one permanent acting job was canceled. Her attitude stinks. She says she's not willing to go to acting classes every week. This new NeNe is not the NeNe of the people we fell for. She lost that raw and real personality we had come to love. For example, when meeting with her designers she was nothing but rude and dismissive of the people designing her clothes. She was not positive or constructive in any way.
Meanwhile, the person deserving of some serious dramatic roles is Kenya Moore. She's had some pretty dynamic moments on the show. Sadly, she and America lost Velvet, her cute little dog. Luckily her surrogate mother Aunt Lori was there to take care of her. She tells Cynthia and Kandi, and Cynthia gives her the most disingenuous yelp of surprise in reality TV history. She decides she wants to have a memorial service and not invite some of the other ladies. Her emotional vulnerability really does make Kenya more likable.
Best Lines of the Night
"I didn't stop liking you… I stopped respecting you." – Momma Joyce
Phaedra: "You can't put something in there that doesn't belong in there." / Apollo: "Okay, well we tried."
Porsha: "And we supposed to be singing, and acting, and, you know, staying in character at the same time?" Kandi: "That's what you do in a musical."
"You may be grown, Miss Lena, but I'll still smack the taste out your mouth." – Line from Kandi's play