'Real Housewives of Atlanta' Recap: Let's See-See Less NeNe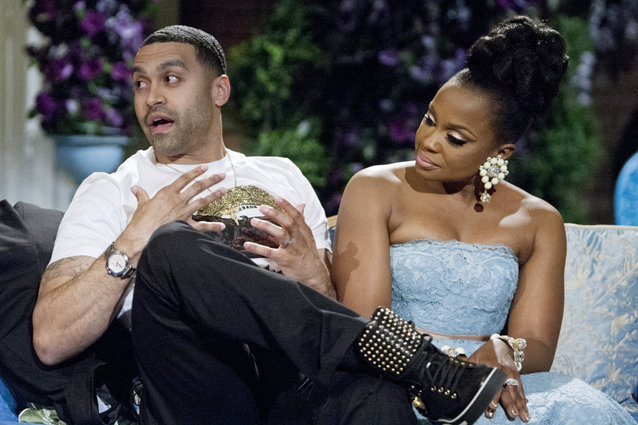 Bravo
It's official: Andy Cohen found the exact amount of time we can stand to spend with the Atlanta housewives… and exceeded it by an hour. That's if you count the Porsha Stewart's one-on-one interview. Something feels broken in the franchise. NeNe Leakes has a stank look on her face for over three hours. Phaedra Parks and Kandi Burruss keep looking out into the distance as if there's something amazing off camera. Was Porsha riding a unicycle and juggling fire? Did Andy have Jeff Lewis fighting all the Real Housewives of New York City in a kiddie pool filled with butter? This seems like behind-the-scenes machinations by Mrs. Leakes to control the show. Cynthia Bailey had a stone cold expression on her face probably because she wasn't asked to look in the corner. The only one who seems like a normal person is Kenya Moore and she keeps breaking the fourth wall and talking about filming. 
Kenya vs. NeNe
They fight the entire episode, but it does seem like a valid debate. Kenya is the upstart on the show and she's savvy enough to get the audience's attention and crazy enough to take on NeNe. Meanwhile, everyone is right. NeNe does try and control the show. She sets different rules for herself than she does for others, and she even bullies Andy. Speaking of hypocrisy, she told Kenya in the first episode of the season, "No b***h will ever tell me who I can or cannot talk to." And yet, she told Marlo Hampton that because she filmed with Kenya they are no longer friends. They exchanged a few barbs. They also brought up the pajama party and it was clear that NeNe targeted Kenya with blame for all the drama. But, paging Captain Obvious, she put everyone, half-naked, in a room with pre-existing beef. It's no wonder a fight broke out.
Winner: Kenya. She is very polarizing and you either love her or hate her. But she's consistent. She may not be 100 percent real but at this point neither is NeNe. Meanwhile, NeNe seems to constantly try and control the show with behind-the-scenes drama and should just focus on being a real person.
NeNe vs. Herself
To quote Ghost, "NeNe, you in danger, girl!" It's unclear if she wants to stay on the show. She's checked out for the whole reunion. She looks half asleep. Can someone get her an Ensure? If her dinner meeting with her manager is to be believed, she's turning down legitimate acting work like she has three Oscars. Is she taking classes at Omarosa Manigault's learning annex class for being hateful on reality TV? Andy confronts her about homophobic remarks and she gets more petty than apologetic. She doesn't seem to care about the people watching the show and really only seems concerned with getting a pound of flesh if someone gets her angry. She keeps arguing but there seems to be no point.
Winner: The Repo Men. If NeNe doesn't respect the franchise and her following she may not have a career much longer.
Kandi vs. NeNe
NeNe made a comment on her blog about how she would never act like Momma Joyce did this season but threw in the phrase "to the gutter." Kandi was offended, obviously, because it's a rude thing to say. Sure Joyce is a character on the show and fair game. But, you should respect people's children and their parents. After all, no one brought up NeNe's son, who's been to prison.
Winner: Kandi… and Cynthia. Kandi pointed out correctly that NeNe doesn't play by the rules she expects others to. She hardly ever apologizes and if she does it rarely seems genuine.
Kenya vs. Phaedra and Apollo
Apollo Nida stopped by to discuss his sordid relationship with Kenya… and to dodge questions about the charges against him in court. He told Kenya that she needed him for a storyline, which is a little true. Andy pointed out that Phaedra and Apollo's relationship seems so pristine and then rolled footage of them fighting. It seems their personal life may be much different behind closed doors.
Winner: No one. It seems clear that Apollo and Kenya have undeniable chemistry and may have a past. If not, why would they keep engage in this back and forth. They fight and flirt. It also seems like he and Phaedra are presenting a united front.
Peter vs. Being Called B**ch
Peter Thomas gets a great soundbite disputing all the women who called him names. He's justified as a star on the show to engage in the storyline. Gregg Leakes is barely lucid and yet he engages in conversation.
Porsha vs. Obscurity
Porsha stops by Andy's clubhouse to talk about all the drama. What she does end up doing is throwing veiled abuse accusations at Kordell Stewart, plugging her new single, and forgetting she spent the entire season crying.
Real Houselines of Atlanta
"At least my gums are original and not from Petco." – Kenya about NeNe's teeth
"I'm done with rolling around in the mud with pigs." – Kenya
"Don't expect no respect." – Kandi on her new relationship with NeNe
"Here's my peach." – Peter
"Miss Ratchet USA." – NeNe to Kenya
"Certified funds, please." – Phaedra on Kenya providing money for charity
"Your life should end." – Did NeNe actually say this on TV?
"I have never worn my scars on my face. I've never worn what I've been through on my outward appearance." – Porsha on her mugshot forgetting she cried all season