'Real Housewives of Atlanta' Recap: Now Let's Get Really Annoying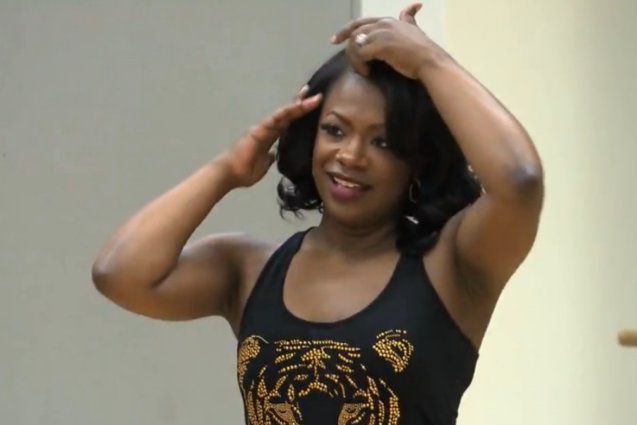 Bravo
Now is the about the time in the Real Housewives of Atlanta season when the ladies can get super annoying. This week's episode is meant to prepare us for the upcoming finale. However, it's really showing the ladies at their worst. This episode takes the worst of each lady and puts it on display, in a big way.
This episode begins with NeNe Leakes, Gregg Leakes, and Peter Thomas resuming their fight. NeNe's holier-than-thou attitude is getting old. In the past, she has proved to be great at producing some memorable reality moments. However, she's suffering from an ego inflation problem that would make Kanye West say, "You might want to take it down a notch." Her television career is tenuous at best and if she alienates her following she will go the way of Danielle Staub. There's a farm just outside of Pleasantville, N.Y. where old housewives are sent to pasture. Lisa Wu Hartwell and Jill Zarin are eating cud and starting drama over who has the shiniest coat.
Kandi Burruss is a bit tired with the whole constant product placement. Bethenny Frankel made millions by establishing a brand and then successfully selling it. Kandi, on the other hand, is just selling anything and everything. This season, her storyline about her problems with her mother are the basis for a musical that she's producing on the show. Her place of business is named for her horrible Bravo spin-off The Kandi Factory which is also known as America's 500th attempt to replicate American Idol. Her status as a businesswoman is suspect because she's entertaining contract negotiations with Porsha Stewart. This is the woman who had to be convinced that the Underground Railroad was not an actual train. If Kandi called in more musician pals rather than Real Housewives, her play would be taken more seriously.
Kandi has a needlessly elaborate press opportunity for her show. She enlists two high school students, from her alma mater, to star in her show. Hopefully, they will be getting paid. She really shouldn't show rehearsals for a show that hasn't been work-shopped. Even though it has Eddie Levert, which Kandi mentions every five minutes, rehearsals without a live band and a stage don't mean anything to strangers. It really does look like they're prepping for Ratchet: The Musical. It looks like Porsha thinks she's too good to star in the production… and she just might be.
Porsha is annoying with her complete obliviousness. She's pretty and simple but she's completely misguided. She is icing out Kandi's production but what else would she be doing? She doesn't seem to be qualified to do anything professionally other than being pretty. She goes out with her sister and friends, looking like a busted version of Girlfriends. Porsha flirts with the best guy the local acting pool could provide.
Cynthia Bailey has no backbone. She gets verbally abused by her husband and by her friend NeNe. The whole reason her husband is getting into "women business" is because their lives are boring. Being broke and struggling isn't engaging. This whole fighting with NeNe storyline feels manufactured. It's hypocritical for Gregg to attack Peter when NeNe wants Peter not involved in the drama of the show. Plus, Cynthia and Peter are one paycheck away from using their studios, For Lease… or whatever it's called.
Phaedra Parks is lovably bizarre and chock full of the most delicious reads. And yet, why would a successful attorney want to spend the time and money to become a mortician? All of her business ventures are a little questionable considering her husband, Apollo Nida is in hot water with the law over his various "businesses."
Did someone mention deluded? Kenya Moore is acting particularly kooky this episode. She's celebrating her desperate attempts to keep Marlo Hampton on the show. She has a woman come by to teach her how to be a mother. This involves getting a baby doll that's programmed to track how well Kenya will take care of it. Hopefully she doesn't leave the baby in Narnia when she's visiting her boyfriend the Prince. She even takes the doll shopping and just seems to be trying too hard.
Speaking of trying too hard, the inevitable confrontation between NeNe and Cynthia happens. It looks like it's happening at a Bennigans. If you think this fight will be full of quotables or if NeNe will pull a big piece of bric-a-brac off the wall and bludgeon Peter… you're wrong. Instead, this awkward small talk happens without much fanfare. It's completely contrived. Cynthia and Peter would never have a falling out with NeNe A.K.A. Mama Paycheck. It's evident when Cynthia hands her husband's drink over to NeNe. NeNe isn't apologetic and neither Cynthia or Peter have the nerve to really take her on. They end the fight by all holding hands. If only it was after a 12-step meeting for fame-whore addiction. 
Best Lines of the Night
"That's crazy to call someone's husband a bitch…but we are talking about Peter." – Porsha
"Poor Cynthia. She doesn't know what's going on. She's got a contract with NeNe to be her friend and it's her husband that's in the fire." – Phaedra
"I don't want to name my child Apollo because I don't want him to go to jail. I don't want to name my child Porsha because I want them to find the United States on the map and I don't want them to be NeNe because I want them to actually be born with hair." – Kenya
"Not many folks want to fall asleep at the funeral home. We might be lurking around to take them to the back." – Phaedra
"You know that she's the only person with an understudy. Mmm Hmm." – Kandi about Porsha's role