'Real Housewives of Atlanta' Recap: Secrets & Thighs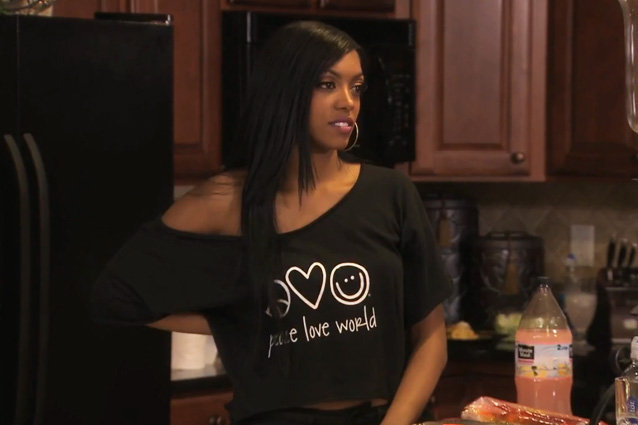 Bravo
We're entering hour 60 of the Real Housewives of Atlanta hostage crisis. Apparently, Andy Cohen intends to squeeze every drop of drama of the franchise. After the entire crazy fight from the first reunion episode, the ladies had to sit there for at least four more hours to film content for two more one-hour reunion segments and this episode that features unseen footage. It's mostly B-roll material, including a few dropped storylines and what seems like contractual obligations to show certain moments. The one thing it does do is cement Kenya Moore's place as the center of the show. She's not the most forthcoming but she does seem to be the only one having fun at this point. She also continues to give some of the best lines on the show.
Kenya vs. Porsha: Revisited
Time flies in the realm of housewives. In the week since Porsha Williams (fmr Stewart) gave her on-one-one interview with Andy, footage has been released of her giving a sermon with homophobic remarks. Porsha has since apologized. That's most likely because she's releasing her single "Flatline." The gay community is one of the few actual "audiences" for Housewife songs. Meanwhile, this episode features fun and kooky moments with Kenya. She gives the best lines on the show and her props may be provocative but they're funny. For example, she and Miss Lawrence Washington gab about Phaedra Parks. Kenya decides to give her a tiara and Lawrence gives the best Phaedra impression.
The Best Parts
The best parts of these clip shows are usually funny slice of life moments that remind us that these are real people and not drama machines. Phaedra Parks and Apollo Nida celebrate their birth of their son. Phaedra says they should have a naming ceremony because they are very popular in Africa and Nigeria… and The Lion King. If only, Dwight Eubanks did a theme party where they held up Mr. President! Kenya has a bizarre photoshoot for her own calendar. It features mostly half nude photos including the shocking booty shot from the opening credits. Who was her artistic director? Cynthia Bailey and The Bailey Agency despite Kenya's ban after her "coochie crack" comments. There's also a scene of NeNe Leakes and Kenya gossiping about boys in the car. It's nice to see NeNe as an actual person. She really evolved, or devolved, into this shell spouting trite wannabe catch phrases. She seems to have had a scowl on her face all season.
Contractual Obligations
It seems like the bulk of the footage has to do with things that must appear in the season. For example, for no apparent reason, Naya Rivera of Glee stops by to have a conversation with NeNe Leakes. She flashes her engagement ring and they don't say much of note and it feels pretty wooden like an acting exercise rather than a real lunch. It's pretty clear she wouldn't agree to be on the show and then have Bravo not air the footage. Also unnecessarily added is a segment about Porsha's friendship with Kandi Burruss. It's a pretty blatant plug for all the products Porsha's working on including a hair line, teeth whitening treatment, and her music career.
Let It Die
This episode featured a few extra moments from some of the most dramatic and boring storylines on the show. Cynthia's daughter Noelle has a birthday party and introduces her boyfriend, Arthur, to her father Leon Robinson. Did you fall asleep? Natalie Macklin confronts Cynthia after the pajama party that turned into a brawl with sleepwear. Natalie accuses Cynthia of starting trouble because she is the one who used the word opportunist. And with that, she joined the roster of forgotten potential housewives including Kim G from New Jersey and Jennifer Gilbert from New York City.
There is also extra footage from the now overwrought beef between various cast members. Momma Joyce gets a few more digs at Todd Tucker during their dinner and guilt trips her daughter during therapy. There are more misogynistic statements from Chuck Smith to Phaedra as about their past relationship. He had already said enough horrible things when he said she was "part of the team." Then he manages to be smug and disparage Apollo's character while also telling Phaedra that he was mentoring her. These scenes just feel like they're just pouring salt on old wounds.
Kenya: Behind the Props
Kenya stops by for a one-on-one with Andy. She proves she's eloquent and savvy about her presence on the show. She definitely seems cagey about her African prince and some aspects of her personal life, but given the number of people who have lost relationships on Bravo it may be for the best. She brings up some valid points about her fight with Porsha. Porsha was the first one to throw out threats, the first one to stand up, and generally unapologetic. Also, she was accused for starting the pajama brawl for standing up but Porsha did the same thing. Regardless of how annoying Kenya can be, Andy is as much an instigator as she is during the reunions. Also, no one deserves to be hit no matter how much they are provoked.
Real Houselines of Atlanta
"I never thought I was a lesbian but Kenya is looking oh so sexy." – Cynthia
"I'm trying to be nice. I am trying to buy some of this woman's beads so she can afford a hotel room at the Holiday Inn." – Kenya after her fight with Malorie Massie
"When your man lives many continents away you have to learn how to keep it fresh. And you might have to open up your computer screen and uncross your legs sometimes." – Kenya on Skype
"I must remain a lady at all times and I do not kiss and tell. But what I can say? If I do kiss something, it is not small." – Kenya
"He's gonna need a wax." – Phaedra on her baby's hair