'Real Housewives of Atlanta' Reunion Recap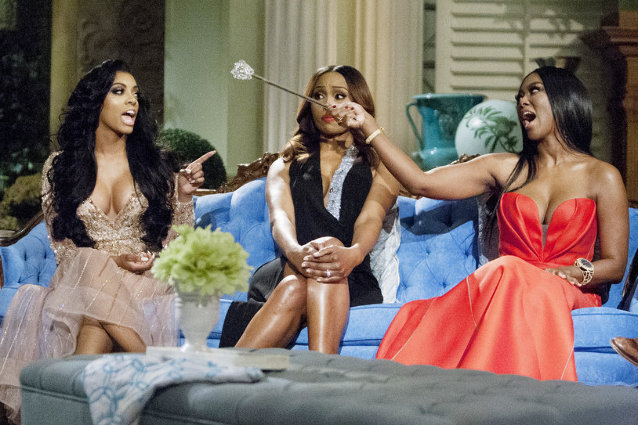 Bravo
Atlanta is the next stage in Housewives evolution. Just when you think you know exactly what is going to happen these women shock you, finding new ways to be obscenely fabulous and downright trashy at the same time. You would normally expect a ton of clips, boring patter, and Andy smiling while asking mean-spirited viewer questions. But TMZ already broke the story of the physical altercation between Kenya Moore and Porsha Stewart. As such, we don't have to wait until Part 3 of the reunion (and suffer through countless promos) before we reach the fight. These ladies give us exactly what we want when we want it.
Phaedra Parks was her normal sassy self and savvy as ever dodging questions about charges against her husband, Apollo Nida. Kandi Burruss is her normal folksy self… who just got Bravo to pay for her wedding. Cynthia Bailey is as stunningly beautiful as she is boring. The other ladies seem to have gotten a makeover of psychological proportions. Kenya inspired by the success of her fan last season brought an entire bag of tricks including a scepter and bullhorn. Porsha is sassier than we've ever seen her. NeNe Leakes seems above the usual Housewife reindeer games. It's unclear if she is passive-aggressively acting disengaged or if there is another reason behind her indifference.
The Fight Heard Around TMZ
Kenya's latest accessory, a scepter, is an upgrade from her fan from last season's reunion. But Porsha couldn't stand her waving it around so much while talking, so she grabbed it and threw it. Not to be outdone, Kenya also brought a bullhorn that she had some technical difficulties assembling. Both ladies debated over Kenya's infamous, yet unseen, African prince. Porsha called Kenya a "whore from the '90s" and Kenya retorted with, "You are dumb." Porsha tried to grab the bullhorn and the ladies got into each other faces. Then Porsha lost it and grabbed Kenya's hair and took her down to the ground and did the weave grab heard around the world. Poor Andy couldn't stop them.
Kenya, seemingly satisfied, told Porsha she was fired and stormed off set. Now, was Kenya trying to get someone to physically fight with her and get fired? Was she just jockeying for attention with her props? Meanwhile, Porsha lost it and yelled and screamed and cried. NeNe, Phaedra, and Kandi run over to console her. NeNe literally puts her hand over Porsha's mouth to keep her from embarrassing herself. The ladies reveal they had talked about things before. It's also really funny to watch NeNe get almost hit in the face by Porsha's feet not once but twice. Andy checked in with both ladies and told Porsha she should leave to relax and that she would eventually have to apologize to Kenya. Does this mean she's actually fired? 
Straight From the Shady Grove
-Andy Cohen forcing the women to watch footage of them twerking.
-Kandi responding to NeNe commenting about her "not needing to be eating sandwiches" by pointing at NeNe's body.
-Phaedra's various side-eyes at Kenya.
-Kenya reiterating the Chris Rock joke that she stole in an episode. Who can forget, "Want some d**k? How about some d**k?" It was Rock that wrote it.
-Kandi and Phaedra laughing at Kenya while she was fighting.
-Andy's awkward face when dealing with Porsha.
The Real Houselines of the Reunion
"Excuse you! I ate my yams and got my twins. So hello!" – Porsha on her breasts being real
"Do they look new? Smell 'em. They smell new." – Porsha on her breasts being fake
"Cynthia may be able to walk a runway but the twerk needs some work." – NeNe
"Velvet was probably one of her only friends." – Phaedra
"Are you my momma? You're nobody's momma." – Phaedra
"If that touches me it's going up your ass, b**ch." – Porsha
"She is such a clown." – Kandi talking about Kenya
"I would like Porsha to spell 'scepter.'" – Kenya
"It's interesting that the people that laughed the hardest at me last year. You know karma has done what it's needed to do." – Kenya
"Your vagina is so rotten no one will claim you." – Porsha
"That's why I didn't want to be in that seat." – Phaedra right after the fight
"I can't believe that ratchet hoe made me go there." – Porsha