'Real Housewives of Beverly Hills' Recap: Turning Down the Crown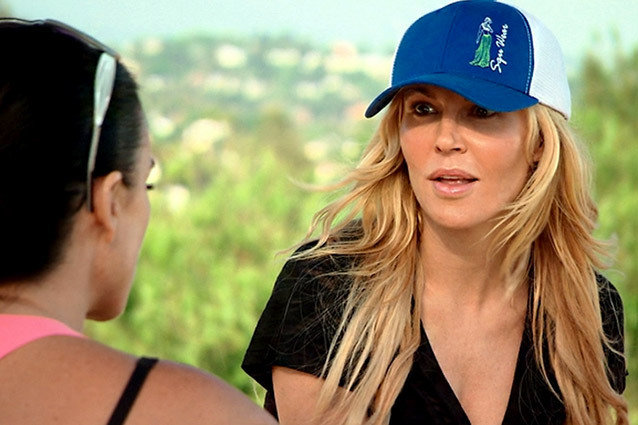 Bravo
Continuing on with the witchcraft theme, this week's episode of The Real Housewives of Beverly Hills shows Carlton shopping around at a Wiccan store and talking about how she keeps a crystal in her bra to bounce off her negativity. Yolanda meets Carlton at the store where she learns about candles that tell the future.
Kyle and Joyce sip tea together while Kyle fills Joyce in on the dramatic dinner party with Carlton. Kyle is convinced that Carlton put a spell on her computer because the desktop randomly switched from family photos to negative words like "bigot" and "larva." The two decide to exclude Carlton from their trip to Puerto Rico, even though everyone else is going.
Yolanda visits her ex-husband Mohamed's house to help with the going away party. Mohamed questions Yolanda's outfit while her husband David says she looks "cute" which is why he and Yolanda are still married.
Brandi begins to suspect something that we pray isn't true: Did Lisa know that Scheana was sleeping with Brandi's husband when Brandi was pregnant? We really hope not, we love Lisa, but all that love would disappear in one second if that were true.
Carlton makes an active decision to ignore Kyle, even when they almost have to sit together at dinner. Luckily her husband is there to take the seat! Gigi gives a heartfelt speech, followed by one from Yolanda. Everyone cries… or are those just tears of boredom?
Yolanda asks Brandi why Carlton isn't involved in the Puerto Rican trip and Brandi says because of the drama she started with Kyle. For the first time in Housewives history, Brandi sides with Kyle.
Kyle asks Brandi to give Carlton the matching ring to the necklace Kyle previously gave to Carlton as a peace offering. Lisa and Brandi attempt to give the ring as another peace offering, but Carlton won't accept it, saying that it means nothing if Kyle can't give it to her herself. "If anybody gets anybody to do their dirty work, that would be Kyle," says Carlton.
Kyle and Lisa go shopping for Puerto Rico. We find out that Joyce wasn't at the party because her dad died. Yolanda and Brandi question cancelling the trip, but Joyce demands the trip go on. Now Kyle just needs a bikini.