'Real Housewives of Beverly Hills' Recap: The Birthday Witch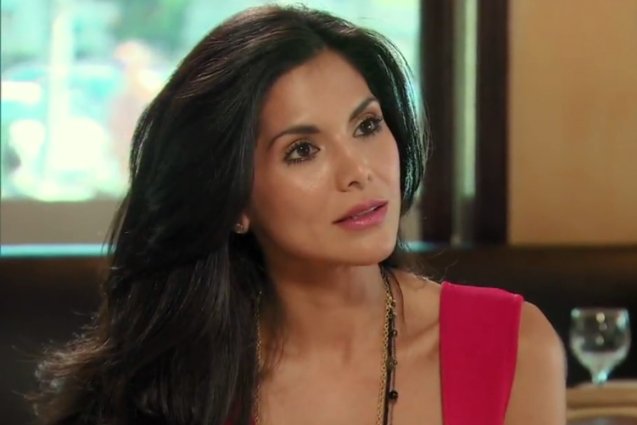 Bravo
Before we get to the juicy details of whether or not Carlton actually cast a spell on Joyce, let's run through the terrifically boring beginning of this week's The Real Housewives of Beverly Hills episode. Lisa and Kyle meet to plan Ken and Maurico's joint birthday party. Kyle is adamant that they throw a much more elegant party than Carlton just had — no naked women painted in gold!
Brandi's new book is about to come out, so the episode features a cover shoot, which, of course, is just her in a bright pink dress looking Brandi fabulous. Her awesomely assertive book editor is there directing the shoot — thank the lords above.
Joyce invites Carlton to lunch and — SURPRISE — Carlton says she didn't cast a spell on Joyce or her family. Or did she? All we heard Carlton say was that she used to practice black magic, she's back on the white magic, and Joyce better not bring up children and magic again. "Don't you f**king dare," were Carlton's words. As if Joyce would ever dare! They agree to start all over — for the 14th time in 14 episodes — and Carlton says she thinks Joyce is actually a nice girl… as opposed to Kyle, who is horrendous. 
Yolanda and Kim get ready for their daughters to leave for college. Yolanda convinces Gigi to pack her winter coats because she won't need them, and Kim convinces her daughter to get a butterfly tattoo, because that's what Kim wants to be when she dies.
It's time for the black tie party at Lisa's. For a split second there was a tinge of jealousy as we saw the sweeping surroundings of Lisa's beautiful home but than, in walks Brandi and Scheana and we are instantly reminded of the price you pay to have everything you could ever dream of.
The party seems to be going well, no fights until dinnertime. Carlton is getting irritated with Kyle (you can see it on her face), and unless Kyle is playing a really good game, she has no idea. Carlton finally loses it when Kyle brings up her and Lisa's inside joke about the nipple, which started the whole Carlton-doesn't-like-Kyle deal in the first place.
Kyle thought everything was over between them, especially after she gave Carlton her necklace on the last episode, but apparently, Carlton has been soaking that necklace in water to remove Kyle's negative energy from it. Words explode, Carlton says "Don't you f**king dare" for the second time in one episode. Even after Kyle moves to the other side of the table, Carlton decides to leave. Lisa tries to follow her out and explain that Kyle isn't truly evil, but Carlton won't hear it.
Brandi joins team Kyle for the first time in ages, and honestly, we are leaning towards her side also. Quite frankly, when did Lisa become such an instigator?
PROJECTIONS
Brandi's book editor doesn't approve the preview — thousands of copies are printed with Brandi holding a toilet plunger and wearing large wire-rimmed glasses.
Carlton inadvertently casts a spell on herself, causing a loss in orange skin tone and an inability to hold onto black eye makeup. She looks stunning as a real human being.
The group starts to see Lisa as the instigator that she's becoming.