'Real Housewives of Beverly Hills' Recap: Lines in The Sand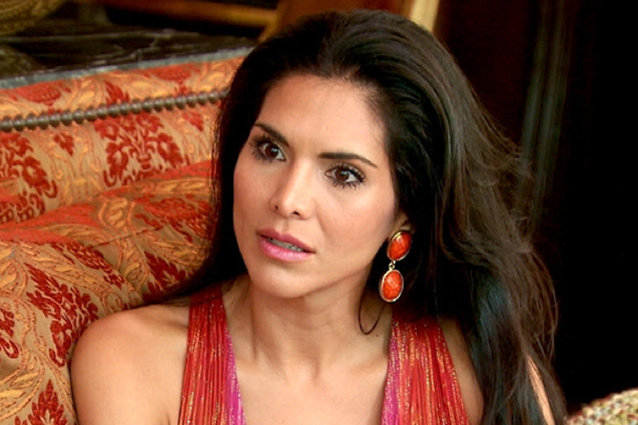 Bravo
Here we go again. What's on the ticket for this episode? A trip to Puerto Rico, fun, sunshine, and NO drama. Oh, and no pity party for Joyce either. Remember that! No pity party! Her dad just died. No pity party!
Joyce fits right in, explaining the noises in the wild and the cheese in the eggs. The complete opposite of Lisa: Jiggy's dog's bathroom is bigger than the bathroom she and her husband Ken have to share on this trip. She basically says she didn't come on vacation to watch Ken s**t.
Before the first night is even over, the drama unfolds. It's the prettiest drama we've seen yet. The Puerto Rican beaches are absolutely stunning, white sand and blue water. A perfect backdrop to a not so perfect debate between Yolanda, and Lisa, and Brandi. And then Kim. And surprise surprise, Kyle joins in.
All of a sudden, in one fell swoop, all of the girls have turned their backs on Lisa. She has been wronging them, strategically, through out this entire season. On the bus to dinner, Lisa asks Brandi what's going on and instead of answering in an intelligent adult manner, she says, "Ask Scheanna."
The dinner plays out the same that every dinner has since been. It starts friendly, somewhat, and ends in yelling. But for the first time in Housewives history, it's Lisa Vanderpump and her husband Ken who get bullied and pushed away from the table. And for another first, we see Princess Lisa so stressed she cries and smokes cigarettes.
But what about Joyce? How did she avoid all the drama? Fortunately for her she was left out of this argument, having spent the entire day with her very average looking mother. Our hearts soften as we watch Joyce pet her mother's head and beg her to move in with her. It's hard to see Joyce as the annoying hair-flipping girl that we know her to be when she's in such a vulnerable state.
Projections:
Turns out Brandi was lying about Lisa and the tabloids. Brandi is blacklisted from Hollywood.
Jiggy and Kim pack each other in a suitcase and get shipped back to Puerto Rico, where they enjoy a stress- and drama-free vacation together. #Jiggy&Kim
Kyle's husband is accused of cheating again. Don't worry, Mauricio, she doesn't listen to them this time either!