'Real Housewives of Beverly Hills' Final Reunion Recap: Brandi and Lisa Face Off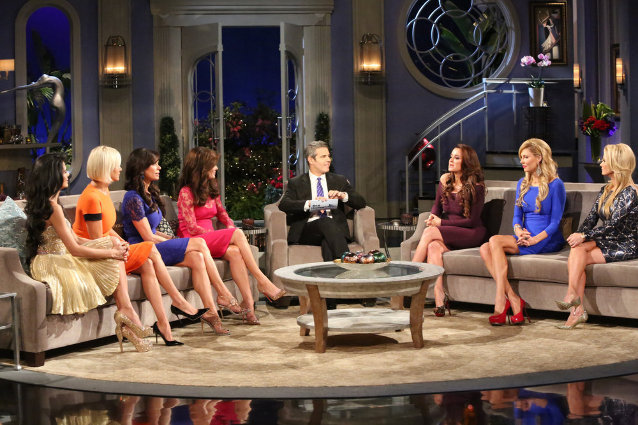 Bravo
What did Real Housewives of Beverly Hills' final reunion show teach us? Apparently what they say is true: all you need to do is say "I'm sorry." Yawn.
Most of the arguing centered around Lisa and Brandi. Brandi, your husband is remarried and yes, Scheana works for Lisa. Get over it or get off the show. We felt bad for you in the beginning, but now we're tired of your tears. And sure, they can't fire Scheana for sleeping with Eddie years ago, but they don't have to invite her to the same parties as Brandi so she can show off her new engagement ring. We see right through your British accent, Lisa — money doesn't buy class, try and get some. Either way, she apologized, said that seeing Brandi sad made her sad, and we're sure the two will be friends again next season (as long as Lisa doesn't go dress shopping with Scheana).
Lisa also saw the power of "I'm sorry" with Kyle because after going back and forth about whether bringing up the tabloids was right or wrong for about 15 minutes (and the whole season), the whole situation was seemingly rectified by an apology. Lisa, you can say you were bringing up the cheating rumors to "diminish it" over and over again but every time we watch you tell Ken that you can't be 100% sure of anything so they could be true, we see bad intentions and a bad friend.
The highlight of the show: Giggy. We love you, Giggy and your pilgrim outfit. As for you, Ken… we couldn't care less. You can apologize, say you like Brandi, claim that didn't mean what you said after seeing her cry, but you're just as boring as the rest of the crew. Call the girls stupid, call them pretty, as long as you keep bringing Jiggy, we'll allow you to continue on the show.
Who will continue on to the next season of Real Housewives of Beverly Hills? Well, we don't know that yet, but we're betting that all the girls, minus one witch of L.A., will grace the screen with their presence…