10 Reality TV Show Secrets You Didn't Know
Reality television has pretty much taken over in every possible form to entertain us. Often when people are watching they assume that at least most of the things they see are real. But sadly, producers often manipulating things to get the most dramatic moments of the show. So what are your favorite shows hiding? Here are 10 reality tv show secrets you didn't know.
1. Some relationships on The Hills were completely fake
The reality show followed Lauren Conrad trying to make it in fashion, as well as what went down in her personal life. But not all the relationships on the show were real. "The kiss between Brody and I was 100 percent fake," Jennifer Bunney told InStyle. "The night of my birthday, we all went back to Lauren's house. We all had a big sleepover that night. I had a boyfriend at the time, and so did Lauren." It has also been revealed that Conrad's relationship with Brody Jenner was truly nothing more than a friendship.
2. Producers and contestants have secretly hooked up on The Bachelor.
This isn't just a juicy plot point from UnREAL! "There are more of these producer/contestant relationships than viewers realize," former contestant Jamie Otis said according to Nicki Swift "they're always kept hush-hush."
3. Kris Jenner has the last say on the final cut of Keeping Up With the Kardashians.
Some might hate watch the show because it reveals the family's embarrassing and unseemly moments. However, what they probably don't know is that Kris Jenner actually signs off on all of it. So basically the family has no shame and is all about playing the game. But we knew that already.
4. Competition shows like American Idol want characters more than winners.
A former judge named Jason Iannone on The X Factor revealed that sometimes being the best has nothing to do with winning a reality show. "But one thing many contestants might not realize is that it's entirely possible that they got rejected simply because we'd already found someone who looks or sounds exactly like them."
5. There are produced story lines on Dancing With the Stars.
Yes, even the competition shows have story lines. "You go into [a season] with preconceptions of what couples will be like," executive producer Rob Wade told Glamour "but things change." He then continued, "We don't script it or do anything in that sense, but we look for what's really there. You have to train your mind to recognize the story."
6. The cast of The Real World only can use cellphones outside of the house.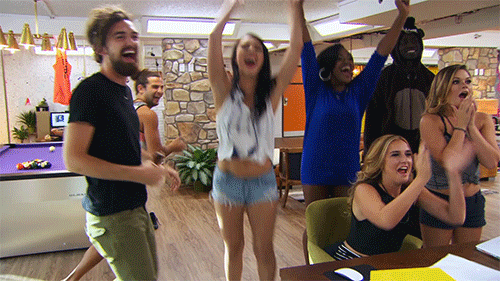 Initially the show didn't allow the cast to have phones at all. But lately, they lightened up on the rule and figured out it creates drama. "Last season we decided to start giving them a phone when they went out," co-creator John Murray told Fame10. "They were allowed to shoot video and post pictures online. We knew that if they were posting pictures of them meeting someone, and an ex saw, that ex would have a question for them the moment they walked in."
7. Contestants on The Biggest Loser workout for insane amounts of time.
They are contracted to not speak badly about the show, but some have still spoken out about its crazy practices. Because the goal is about losing weight as fast as you can the contestants workout for much longer than you see. "My first workout was four hours long," an anonymous contestant told the New York Post. Former contestant Kai Hibbard then said, "There was no easing into it. That doesn't make for good TV. My feet were bleeding through my shoes for the first three weeks."
8. Sometimes judges take hours before making a decision on Top Chef.
It always seems like they know what they're picking fairly quickly, but they can take as long as eight hours. "If we can't make a decision, the producers will sit us there," Padma said according to Entertainment Weekly. "It's like detention." When they can't decide they turn to a camera operator to eat the food and give his opinion.
9. A lot of the deals on Shark Tank don't actually happen.
Even though some deals end with a handshake that doesn't hold much weight. About more than two-thirds of the deals end up not happening, according to Mental Floss.
10. The cast gets paid each week they stay in the house on Big Brother.
Everyone is fighting for the $500,000 prize on the show. But what the show doesn't tell you is that you also get paid $750 per week in the house. That's good considering you can't work during all that time. Also it's incentive for people to want to stay longer.