13 Reasons Luke From 'Gilmore Girls' Is Our Dream Boyfriend
Gilmore Girls had a lot of interesting love interests for Lorelai and Rory. But none of them was as reliable and amazing as Luke Danes (Scott Patterson). Because of this, fans have been rooting for him for years and are hoping for some kind of reunion for their favorite couple.
1. You can rely on him to think of doing something you might have missed
And truly did it all from handy work…
to cooking delicious diner food
2. He made Lorelai an ice rink like it was NBD!
3. He tries to act like he doesn't like people but he is the biggest softy on the show
4. He's not intimidated by strong women
5. He's not too proud to work his stuff out with self-help tapes
6. He truly has everlasting patience to deal with Lorelai
7. He looks pretty good without his shirt on
8. Dating a woman with baggage doesn't scare him off
9. He's a true romantic that holds on to sentimental stuff
10. He made the most beautiful chuppah for the woman he loved…for her wedding to another man!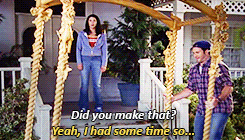 11. As a grumpy person he can relate and help blow off steam
12. He doesn't let stupid gender roles stop him from saying yes to a woman proposing to him
13. He never got slimy and complained about "being in the friend zone." He was genuinely Lorelai's friend until it became something more.