5 Reasons We're Already In Love With 'This Is Us'
When we first saw previews for NBC's latest drama, we couldn't help but feel all of the Parenthood feels. With the potential for a warm, fuzzy, drama-sprinkled series in our future (uh, guilty pleasure!), TV enthusiasts had big expectations for This Is Us. Now, we're nearly two episodes in and Tuesday nights can't come fast enough. Here's why:
Spoilers below…
1. Mandy Moore + Milo Ventimiglia = a perfect throwback to the early 2000's.

Come on, Jess from Gilmore Girls and Jamie from A Walk to Remember? Can you get more 2002 than that? We think not…and that's a good thing.
2. It's a gut-wrenching drama (with a splash of comedic flare!)

Though those little TV promos aired the fluffier parts of the first episode, things really took a turn for super adorable, triplet-expecting couple, Jack and Rebecca. In fact, each plot we were shown seemed to take a turn for the worst. With so much despair so quickly, we're glad This Is Us also brings a lighter side. Buckle up for one of those emotional-rollercoaster "dramedies".
3. The characters deal with messy, real-life issues. Right off the bat, This Is Us doesn't shy away from life's nitty gritty. Weight gain, fame, adoption, and death are at the forefront of our main character's lives. So far, things aren't glamorized. We're excited to see how NBC handles these very real issues throughout the rest of the season.
4. It has serious *feels* potential.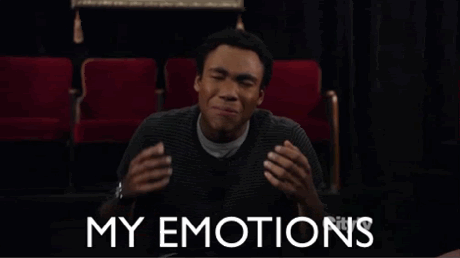 With its dynamic characters and unique storytelling, we've got that pesky feeling This Is Us is going to evoke all of the emotions. Come at us, NBC!
5. THE TWIST.

Minds were blown at the end of the first episode when we learned that Randall, Kate and Kevin were Jack and Rebecca's triplets ALL GROWN UP! According to a sneak peek of episode two, we're also going to catch a glimpse of the family during the kids' younger years. Where will this show take us next? We're not quite sure, but we do love a good time-meddling series.