12 Reasons Why Carol and Daryl From 'The Walking Dead' Need To Get Together
After five seasons of The Walking Dead, we still have yet to see fan favorite characters Daryl Dixon and Carol Peletier get together. The pair have experienced the worst situations. Yet somehow, they still continue to bring out the best in each other. This is why Caryl will forever be our OTP.
1. They always have each other to hold on to.

AMC/Tumblr
2. This moment is the prologue for many fan fiction pieces.

AMC/Tumblr
3. Carol kissing Daryl on the forehead was totally adorable.

AMC/Tumblr
4. But nothing gave us more feels than this.

AMC/Tumblr

AMC/Tumblr

AMC/Tumblr
5. They know when to be strong for each other.

AMC/Tumblr

AMC/HiLounge.com

AMC/HiLounge.com
6. But they can also support each other in their worst moments.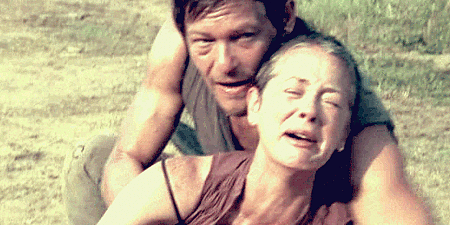 AMC/PopSugar
7. Daryl can clearly carry Carol through the door on their hypothetical wedding night.

AMC/Tumblr
8. In our headcanon, Daryl gets flustered by Carol's beauty.

AMC/Tumblr
9. Daryl always has Carol's back.

AMC/Tumblr
10. And Carol always has his.

AMC/Tumblr
11. Their banter makes us giggle more than one should giggle in a zombie apocalypse.

AMC/Tumblr

AMC/Tumblr
12. Melissa McBride and Norman Reedus even look adorable together in real life.

AMC/Tumblr
RELATED: 17 Times Every Character On The Walking Dead Was a BOSS