Why Sundance's Brutally Honest Drama 'Rectify' Should Be Your New Favorite Show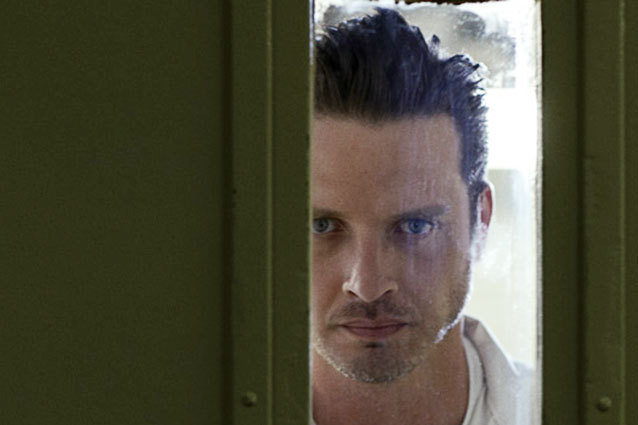 Sundance Channel's slate of original dramas continues to impress with its latest offering Rectify, from the producers of Breaking Bad. The story of a man who survives his run on death row thanks to new evidence that exonerates him after 20-something years in a cell block, knocking on death's door, is more than a fish-out-of-water story about a man returning to the real world.  It's an examination of what it means to live and love, and an exploration of truth. And it's rendered to completely moving, emotional, visceral perfection. 
In the mere two hours of its premiere episode, Rectify drove me to tears four times, and not because of some sweeping musical cue that instructed "Hey, you're supposed to feel now," but because of the depth of honesty and the unyeilding truth of the characters' experiences. This isn't just a television show, it's an exploration of humanity in the face of some of the most ordinary extraordinary experiences we've seen on television of late.
Daniel Holden (Aden Young) is awaiting his fate on death row for confessing to killing and raping his high school girlfriend when he was 18 years old. He's escaped lethal injection five times thanks to appeals, and with the reveal of new DNA evidence, he's exonerated and released after 19 years. It would seem that Daniel is lucky, escaping certain death a grand total of six times, but "lucky" is a word reserved for those whose formative years weren't stolen from them by (what appears to be) a false accusation and a forced confession.
Daniel went from his senior year of high school and the most devastating loss he could have imagined to a five by eight-foot cell, where he would spend the next 19 years of his life. When he's released, he has a new family (a step father, step brother, and younger half brother), his sister Amantha (Abigail Spencer) is now an adult and his mother is withering, and he's rudely confronted with the development of technology like computers and cell phones and the unstoppable changing of the times. Everything has changed except for one crucial element: the attitude of most of his former friends and neighbors. The evidence may have lifted the charge of rape and murder, but to the public, Daniel is still the worst kind of killer. And now, he's roaming free in their town. 
The result is a series full of intrigue: Why is State Senator Roland so hell-bent on proving the DNA evidence is wrong and that Daniel is still guilty? What is the truth that the two young men who served as "eye witnesses" in Daniel's trial need to come forth and tell? What will Roland do with the intel the Amantha is sleeping with Daniel's lawyer, Jon? Is Daniel really innocent, or are we simply conditioned to see him through the same optimistic eyes that his sister Amantha and his mother see him? But these questions are simply the vehicle – the reason for motion. 
The real beauty of the series comes from its ability to play out quiet, simple moments to sheer perfection and to play out the more vulgar moments honestly, but with full depth of meaning. One moment stands out, in which Daniel, consumed by the pressure of suddenly being thrown into a world he doesn't know how to navigate, leaves the convenience store – where callous teenage boys were sneaking silly Facebook photos with the man on the front of every newspaper and the top of every nightly news broadcast – to sit barefoot on the baseball diamond where he can feel the grass and the sun. It's the only form of normalcy he seems to be able to find in this new world, and it's a beautiful, perfect moment of television filled with more meaning than some lengthy monologues.
In another scene, Daniel's insensitive, judgemental step brother believes Daniel is guilty despite his wife's reservations and the belief of his entire family, including Daniel's step father. He throws out an insensitive joke about conjugal visits on death row and it prompts Daniel to let this hooligan have it: he explains in graphic, yet restrained detail what it's like to be raped in prison. His words come without adornment, without sensationalism. There's no moment of shock over the audacity of his description. Instead, it's a moment of sheer pain. We're sent back into the mind of 18-year-old Daniel (someone who still seems to dicate much of 38-year-old Daniel's existence). He's a scared young boy, thrust into a viscious world created to quite literally chew him up and spit him out. We're not told exactly how brutal his tormentors were, only that "Justification is a slippery slope." The inmates knew he was in for rape and murder, and they took a liberal lisence with the young man. This is the broken soul whose "lucky" break has released him to the world. 
While Young's perfect torment is all we could ask for as we explore his prison memories – ones that show he was more at peace on death row than he is as a free man – his cohorts help to fill out his full world of hazards and support systems. Spencer (who you may recognize as the school teacher who Don Draper left in his car once upon a time) plays the perfectly fragile sister to Young's Daniel, while J. Smith-Cameron adeptly plays his unraveling mother. There's not a single actor out of place in the whole set: the perfect complement to the series' beautiful direction and almost spiritual writing. 
Rectify's plot may not pop in a quick summary on paper. It may sound like the same crime-driven drama of every other droopy series on network TV and cable, but what makes it something else altogether is its ability to find the piece of the puzzle that's yet to be properly explored, and Daniel's harrowing mental journey is just that. Watching Daniel and his family try to navigate the aftermath of an accusation that has robbed him of his life, though he may still be breathing, is one of the single most rewarding experiences on television this year. 
Follow Kelsea on Twitter @KelseaStahler
More:
'Hemlock Grove' Doesn't Deliver on Its Gory Promise
'Mad Men' Recap: Some Alone Time With Joan
'Canceled' Doesn't Mean Canceled Anymore, And That's a Problem 
---
From Our Partners


50 Worst Celeb Mugshot Fails (vh1)


33 Child Stars: Where Are They Now? (Celebuzz)