Remembering George Jefferson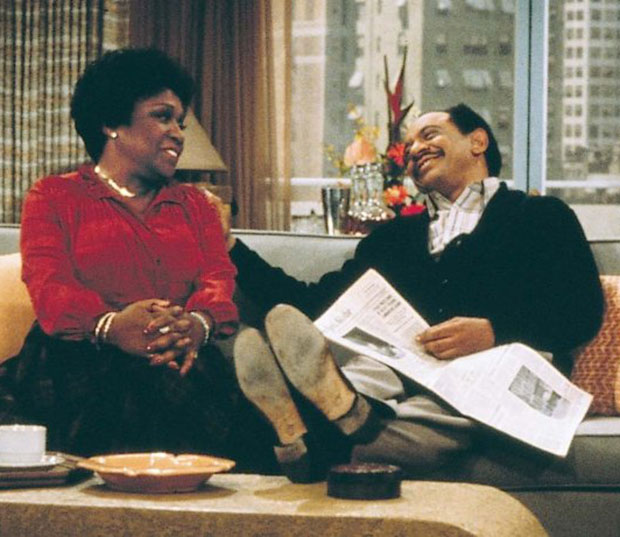 He could walk through a room like nobody's business: Sherman Hemsley, the iconic television actor who created George Jefferson for Norman Lear's series All in the Family and The Jeffersons, has reportedly died at age 74.
The first time fans saw Hemsley embody what would eventually become a character that stayed with him for the rest of his career was on the 1793 All in the Family episode, "Henry's Farewell." Up until then, the hermitic George Jefferson character had gone entirely unseen, only mentioned in passing by his son Lionel (Mike Evans) and wife Louise (Isabel Sanford).
It is notoriously difficult for TV actors live up to the reputation of characters like this — one that have been built up dramatically prior to their first appearance. But from his first hot-headed bigoted exclamation from the Archie Bunker's (Carroll O'Connor) porch, Hemsley owned that character. He matched Archie in shortness of temper and penchant for hilarious outbursts. And Hemsley would continue to rival O'Connor in laughs for the next year and a half, until he ultimately got his very own series: The Jeffersons.
At the time, television's depiction of black families had remained largely within the limits of working and middle class characters. Notable examples include Sanford and Son and Good Times. But The Jefferson broke these bounds, illustrating a black husband and wife living in financial luxury thanks to years of hard work and entrepreneurship on the part of Hemsley's character George.
The series went on to run for eleven seasons, tackling controversial issues like discrimination, interracial marriage, transsexuality with a progressive attitude, back when these weren't topics you'd often find on television. The show treated audiences to fan favorite farcical episodes like "Piano Man," wherein George attempts to host a fancy dinner party to prove himself a big shot, as well as more serious and significant episodes like "Sorry, Wrong Meeting," wherein George has a run-in with the Ku Klux Klan.
In light of his unbounded success with The Jeffersons, Hemsley carried his unforgettable character into other series, including the 1980s sitcom E/R, The Fresh Prince of Bel Air, and Tyler Perry's sitcom House of Payne, which was Hemsley's last role.
The actor also made regular appearances on the popular family show Dinosaurs and comedy series such as Amen and Family Matters.
But as many characters as Hemsley might have on his extensive résumé — including an appearance in the music video for Nelly's "Batter Up" — nothing can compare to the influence created by his bigmouthed dry cleaner, devoted husband, and horrible neighbor: George Jefferson. Whether he was trading racist remarks with Archie, putting down the well-intentioned Harry Bentley (Paul Benedict), or coming through in the end for his friends and family, George Jefferson, thanks to Sherman Hemsley, will remain an unforgettable piece of American pop culture history forever.
More:
Report: Sherman Hemsley Dies at 74