Remote Controlled: Country Stars, Fake Snowmen, and Why Sheen Is Still King
With Christmas a little over two weeks away, the major networks have slowly begun to roll out their holiday programming. Then there's shows like Nashville and Sons of Anarchy, both of which are airing all new episodes – they count too, you know! Here's what else you need to be watching this week.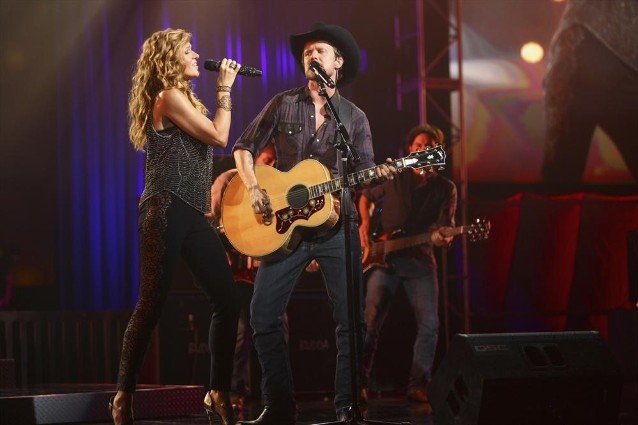 ABC
Nashville
Remember what a really good network drama was like? You know, the type that didn't involve a bloodied body part with a heinous killer on the loose? (Looking right at you, CSI!) Yeah, turns out they still exist, with ABC's Nashville being one of the best dramas on network TV. Of course it always helps when you have Connie Britton in your cast. Maybe just a little. A new episode of Nashville airs Wednesday at 7 PM ET on ABC.
Sons of Anarchy
Clay is dead, the Irish are out of the picture, and a lot is now hanging in the balance for Jax and the boys as season six of Sons of Anarchy  comes to a close. Sorry, going to go a bit off topic here, but could anyone really have seen Charlie Hunnam playing the lead role in next year's big screen adaptation of Fifty Shades of Grey? That would have just been … weird. The season finale of Sons of Anarchy  airs tonight at 7 PM ET on FX.
Anger Management
His personal life may be filled with drama (seriously, how many porn stars can one man date?!), but Charlie Sheen is clearly still at the top of his game as the star of FX's hilarious sophomore comedy Anger Management. And after all this time, all the producers of Two and a Half Men  got was (gasp!) Ashton Kutcher! A brand new episode of Anger Management  airs Thursday at 9:30 PM ET on FX.
It's A Wonderful Life
The holiday classic returns to television, and this year NBC is going all out by airing It's A Wonderful Life  in amazing 3D! Okay, that's not true, but wouldn't it be cool if it was? You can check out Frank Capra's warmhearted drama for about the billionth time this Saturday at 8 PM ET on NBC. And although 3D glasses are not required, that shouldn't stop you from wearing them. You know, to make a fashion statement.
Frosty Returns
Jimmy Stewart not doing it for you? Then you can just as easily turn the dial (do those still exist?) to CBS, which will be airing 1992's Frosty Returns  at 9:30 PM ET. And what better way to muster up the holiday spirit then by watching a towering yeti coming to life to save Christmas? Brings a tear to my eye just thinking about it.