Remote Controlled: Still Searching for Sasquatch and Non-Human Detectives
Several shows are premiering new seasons this week, while J.J. Abrams returns to TV with Almost Human. Here's what else you need to be watching.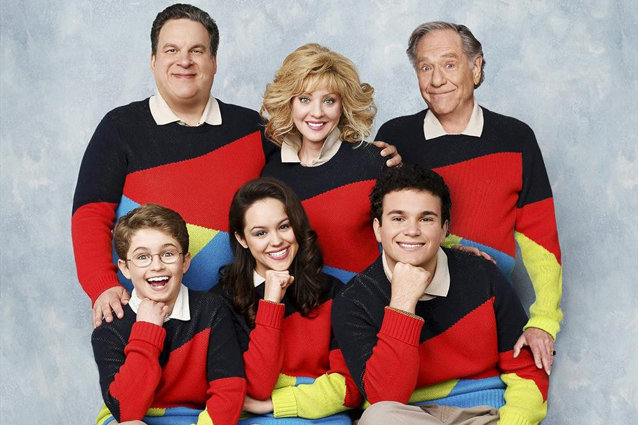 ABC
The Goldbergs
Whatever happened to Jeff Garlin, the former sidekick to Larry David's slightly more misanthropic version of himself on HBO's Curb Your Enthusiasm? He's starring on The Goldbergs, the most sitcom-y new sitcom to debut on network TV this year. Despite coming off a slow start, the show is gradually finding its voice, which is why ABC renewed it for a full season. It's not quite as laugh-out-loud funny as Curb, but thanks to Garlin and Patton Oswalt, who narrates the show, it's still good for a few chuckles. A new episode of The Goldbergs  airs Tuesday at 9PM ET on ABC.
Finding Bigfoot
For three seasons (and counting!), a rag-tag group of cryptic zoologists have been on the hunt for that ever-elusive creature known as Sasquatch. Spoiler alert: they still haven't found him! Will the mysterious ape-like being ever be located when the fourth season of Finding Bigfoot  premieres on Sunday night? I'm guessing not. Finding Bigfoot  airs Sunday nights at 7PM ET on Animal Planet.
Scandal
Fresh off her hilarious hosting job on Saturday Night Live, Kerry Washington returns to her hit political series with a brand new episode. No comedy here, unfortunately, unless you consider the show's intricate plotlines involving various lies and backstabbing among Washington's political elite as topical humor. But then we already have Fox News for that, now don't we? A new episode of Scandal airs at 10PM ET this Thursday on ABC.
Almost Human
A futuristic detective must save the modern world from its many corrupting forces. Sound like a done-before concept for a TV show? Factor in that his partner is an android and you have Almost Human, the new sci-fi series from J.J. Abrams. Hey, I'll watch that! Almost Human  debuts this Sunday at 8PM ET on FOX.
Unique Sweets

Ever wonder what pie would taste like as a butterscotch cocktail? The good folks over at Unique Sweets  have, which is why they've focused an entire episode on developing the tasty new drink, as well as some oddball ice cream flavors. Let's face it, there's just no way you can have a show about dessert mash-ups and not have people watch it. Unique Sweets  kicks off its season four this Sunday at 7PM ET on the Cooking Channel.