Remote Controlled: Still the Funniest Family on TV, and JFK Remembered
Christmas may still be a month off, but when has that ever stopped the Hallmark Channel from rolling out its holiday themed movies a tad bit early? Quick answer: never! Which is why a snowy-white TV-flick starring none-other than Henry Winkler is just one of the great programs on our list this week. Here's what else you need to be watching.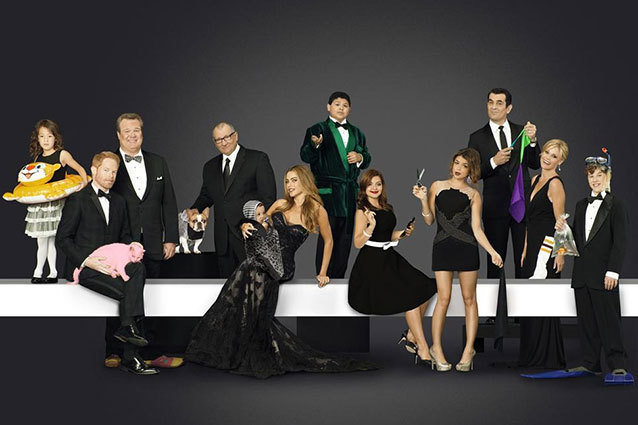 ABC
Modern Family
Why Modern Family? Because it's still the most consistently funnyshow on network TV. And we all know how the Big Four's crop of brand spankin' new sitcoms have been faring lately. Just turns on The Crazy Ones  for five minutes. A vomit bag may be required. A new episode of Modern Family  airs Wednesday at 9PM ET on ABC.
JFK: Three Shots That Changed America
Want more JFK anniversary coverage? How could you not? Then you'll want to check out the History Channel's engrossing two-part documentary airing this Friday. Not only does it include rare and unseen footage of the Kennedy assassination, but it also repudiates claims that there was a conspiracy or government cover-up. Hope you're listening, Oliver Stone! JFK: Three Shots That Changed America  will air this Friday on the History Channel. Check your local listings for times.
The Most Wonderful Time of the Year
Thanksgiving hasn't even arrived yet, but Christmas season is already in full swing on the Hallmark Channel. In this heartwarming gem from 2008, Henry Winkler goes to great lengths to teach his curmudgeonly sister (Brooke Burns) about the true meaning of the holiday. That's right, folks, he's leaving the Fonz jacket at home! The Most Wonderful Time of the Year airs this Wednesday at 8PM ET on the Hallmark Channel.
The Simpsons
Yep, America's favorite animated family (sorry Griffins) are back at it for a record-braking 25th season. Who's still watching, you ask? Well, enough people for Matt Groening and company to score a cool $750 million after signing an immensely lucrative syndication deal with FXX last week. And with over episodes and counting, those chinless Springfieldians show no signs of slowing down. Another new episode of The Simpsons  airs this Sunday at 8PM ET on Fox.
Chopped
For 17 seasons and counting, Chopped has been pitting chefs against one another and seeing what they come up with. This week the cooks are asked to combine exotic dishes like kimchi and gefilte fish, as well as a dessert round featuring marshmallow cake and citrus water. Mmm…anyone else feeling hungry right about now? A new episode of Chopped airs this Tuesday at 7 PM ET on the Food Network.