'Revenge' Is Getting Weirder, But We Still Can't Stop Watching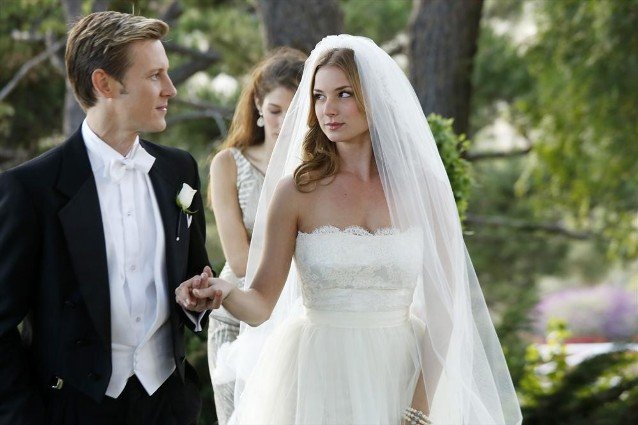 ABC
Those of us who have been watching ABC's Revenge since that awesome, drama-filled, high-octane first season have been patiently awaiting a return to that freshman glory. Many were disappointed by a lot of unnecessary bogging down in the second season and were hoping for some slightly less soapy drama this time around. That hasn't quite happened, but Revenge is definitely keeping much of its audience interested with some exciting love triangles, a unique approach in its treatment of sexuality, and the inimitable Victoria Grayson.
Although the drama is more believable this season, things are definitely getting weirder. For example, this whole Emily Grayson storyline? A lot of us did not see that coming. Emily Thorne (née Amanda Clarke) actually went ahead and married the son of her enemies, Daniel Grayson. And even when it was discovered that she trapped Daniel with her faux pregnancy (because dramatic pregnancies offer the best plot twists ever), she remained committed to the marriage/revengenda. There has probably been nothing weirder than watching Emily essentially turn into Victoria Grayson (inimitable though she be) — staying in a marriage full of lies, cheating, and no real love for her own personal gain. It's all very strange and a bit unsettling… but it's also an interesting transition to watch. And we're hoping that some of that she'll adopt some of that Grayson ruthlessness, which is what this promo for episode 14 suggests:
As the third season carries on, we're still hoping that (among other things) someone in the Grayson family gets what's really coming to them, and that Nolan finally ends up with someone in a real way. Revenge is still a relatively new show, and thus has a lot to prove in terms of getting a real, committed following from fans and praise from critics. Consistency is what we need! Many of us are still waiting for things to get really good (or really bad) again, but so far you've still got our attention Revenge!
Follow @Hollywood_com Follow @shannonmhouston