'Revolution': Elizabeth Mitchell and the Cast Tease New Secrets and The Return of Danny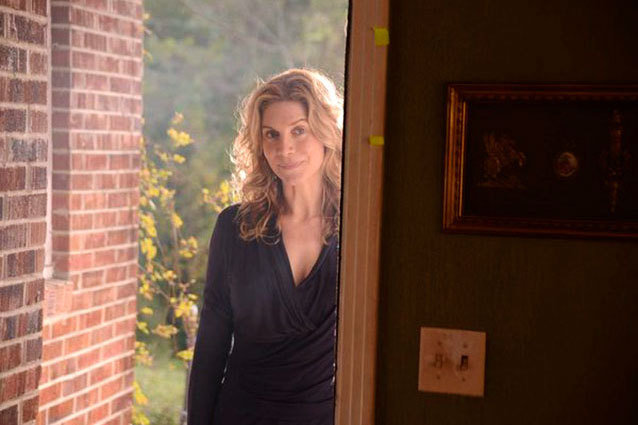 Last week , Revolution fans were shocked to see a heartbreaking twist in the drama's mid-season return. After spending the first half of the season trekking across America to save her brother, Charlie and the rest of the Matheson group of good guys watched in horror as Danny (Graham Rogers) saved the day by blowing up Monroe's locket of power — only to get shot and killed himself.
In the wake of Danny's death, Hollywood.com caught up with the cast and executive producers of Revolution this past weekend at WonderCon to learn all about what's in store for our grief-stricken rebels and to find out if Danny is really gone for good.
RELATED: Revolution: R.I.P. and Revenge
"The whole reason Danny died was to raise the stakes — to be very personal but very action-filled as will," executive producer David Rambo said to a small group of reporters. And although fans watched — and cried — as Danny died in mother and sister's arms, Rambo teases this may not be the last we've seen of the blue-eyed boy.
"Like any serialized show the story is never really over if it doesn't have to be. We could always go back to it, and because we have flashbacks we could always go back to it." Rambo said, "I'd love to see Graham again. I love his character… I hope we haven't seen the last of Danny Matheson but you never know."
While the fate of Danny's return is up in the air, we do know one thing for sure — Rachel has some serious explaining to do. The EP explains that the unknown device that Rachel cut out of her son's dead body is something that creator Eric Kripke has kept secret since the early days of the show's premise.
RELATED: 'Revolution': We'll Find Out Why The Power Went Out 'shockingly Soon'
"I think we started talking about what was in him as early as when we were writing the episode with the children. We didn't go into the season thinking 'Oh, that's there.'" Rambo said. "Eric Kripke may have and just not told anybody; he's the best poker player in all of television; he does not show his cards, which is good for the writers to come up with ideas,"
Danny's onscreen mother Elizabeth Mitchell said that filming Rachel's grieving goodbye with her son's lifeless body was an emotional challenge. "That scene was really hard and really sad… the horror of it was right there in front of me."
Mitchell reveals that fans will be shocked when they discover the truth behind what Rachel implanted in Danny as a young child. "What she pulls out of [Danny] is fascinating, I'm just not allowed to say a word about it." She said. Not to worry Revolution fans, we'll get the answer in next week's episode. Mitchell teases, "Look for cool music and [me] sitting across from Aaron and you'll know [the explanation] is about to begin."
As for tonight's episode, Mitchell explains that Rachel's path of deceit and secrets will not change just because her don has died. "She behaves horribly and continues to behave horribly." Taking a page out of the rebel handbook, Charlie is determined to avenge her brother's death and let her grief consume her actions.
RELATED: 'Revolution' Recap: The Death Of A Major Character (should) Make Things More Interesting
The actress warns, "[Rachel and Charlie] are both in so much pain and they should be able to turn to each other. But they're both so fractured. Charlie gets so kickass in this next part and she's so tough and such a warrior… I think that Rachel watches [Charlie's] humanity slip away and she's sadden by that."
No matter how much of a badass Charlie becomes, Rambo warns that in the world of Revolution, you can never be too prepared for what's ahead. "It's a very unsafe world, it's a very dangerous place, no one is safe and I would expect that there will be some losses and some gains. Everyone is vulnerable," he said.
You can catch Revolution tonight at 10 PM on NBC.
Would you like to see Danny's gorgeous eyes grace your TV screens again? What do you think Rachel implanted into her son all those years ago? Shout out your speculations in the comments below!
Follow Leanne on Twitter @LeanneAguilera
[Photo Credit: NBC]
---
You Might Also Like:


Topanga's Revealing Lingerie Shoot: Hello '90s!


13 Most WTF Fan Tributes