'Revolution': We'll Find Out Why the Power Went Out 'Shockingly Soon'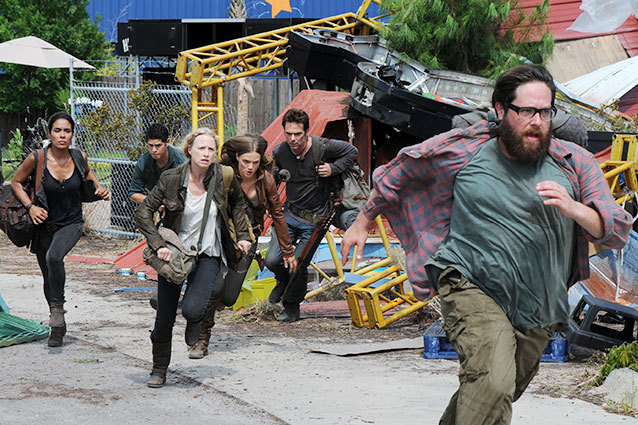 The cast and producers of NBC's post-apocalyptic drama Revolution made the long journey out to the California Commonwealth from their home region of the Monroe Republic for their Paleyfest panel Saturday night, and it was not a journey made in vain. Executive producer and creator Eric Kripke was quick to reveal that when the show returns, we won't be in the dark (pun definitely intended) about why the lights went out in the first place. "You find that out in episode 13," Kripke says. Given the fact that when Revolution returns Monday, March 25, with episode 11, that's not too long of a wait!
"We are revealing that, actually, and shockingly sooner than anyone thinks, because I'm not particularly precious with secrets," Kripke told Hollywood.com before the panel began. "I think it's a really interesting answer that opens the door to more questions. And screw it! Why hold it off from the fans for three years, because whatever answer you give them, they're going to be irritated because they had to wait three years to get it. So I'm giving them the answers and we're going to ask more questions."
In addition to raising more questions, the scope of the show is going to expand in the back half of Season 1, both storywise and geographically. That's right, we're going to get to see what life is like outside of the Monroe Militia for the first time! "We start to move to other nations which is exciting," Kripke revealed. "We need to go to Georgia for help, kind of like how we got help from the French in the Revolutionary War. And we go out to the Plains Nation and we see the wilderness that's out there."
RELATED: 'Revolution' Recap: It's Always Swordfighty in Philadelphia 
Kripke always wanted to expand the geography of the show to explore what life is like in other areas of the country after the blackout. "You start to see what is in effect other kingdoms," Kripke says. "There is sort of a Game of Thrones idea that we've always been wanting to angle towards, where it's about different kingdoms and different leaders and how they're all clashing with each other. And our characters start to move into these different areas. So it's a much larger focus in the second half of the season."
We're also going to finally see Aaron Pittman (Zak Orth) reunite with his wife that he left immediately after the blackout. "He sees her again and they're able to work out their issues and they do have a face to face," Kripke revealed. "She's in present day so you catch up to where she's been the last 10 years or so. It's interesting because he left her because he thought he was protecting her, but he was a coward to do it. And since then he's found his strength. So now that he sees her again, what does that mean for them?"
The cast also revealed during the panel that the love story between Jason Neville (J.D. Pardo) and Charlie Matheson (Tracy Spiridakos) is going to heat up. "It's really like a Romeo and Juliet type story, it's like a forbidden love," Pardo says. "And what is really at the essence of it is family. Family on her side, family on Jason's side, and they get to explore each other through that." 
Revolution returns with all-new episodes on Monday, March 25th on NBC.
Follow Sydney on Twitter: @SydneyBucksbaum
[Photo Credit: Brownie Harris/NBC]
---
From Our Partners:


Justin Bieber Celebrates 19th Birthday, Loses His Pants (Vh1)


60 Celebrity Bikini Bodies: Guess Who! (Celebuzz)