Richard Dawson: Memorable 'Family Feud' Moments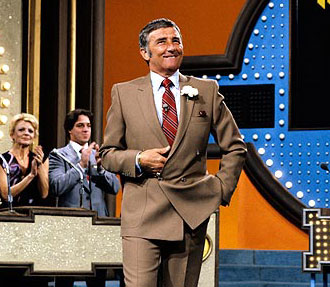 There is nothing, or no one, quite like the original. And 
Richard Dawson
 was
the
original talk show host, in every sense of the word. Dawson, who passed away at the age of 79 over the weekend after a battle with esophageal cancer, was the first — and arguably, best — host of the classic game show
Family Feud
. 
The always, er,
spirited
 and charming Dawson made for some of the best moments in
Family Feud
, nay, game show history. Whether he was cozying up to a female contestant (according to the
AP
, Dawson once said he was kissing them "for luck and love, that's all") or having a hearty chuckle or whip-fast joke at a contestant's wild answer the English-born comic actor and television personality set the gold standard for entertaining game show hosts. While the
Feud
has carried on without Dawson, who hosted when the show began in 1976 until 1985 and then once more in 1994, no one seemed to have as much fun with the guests as the Emmy-winning host did and viewers never had as much fun watching. 
While Dawson's career was also marked by memorable turns on Hogan's Heroes, Rowan & Martin's Laugh-In, Match Game and a self-parodying cameo in 1987's The Running Man, survey says it's clips of the charismatic, one-of-a-kind host during his run on Family Feud that will make fans remember him fondly. Check out some of his best Family Feud moments here: 
Richard Dawson heard it all during his run as the Feud host, including the time when a female contestant answered "September" as the month in which pregnant women start showing. The blunder caused Dawson to completely lose it on air, making his laugh fest one of the funniest moments on the Feud:
His reaction to the guess of "prostitution" by another contestant was even more priceless:
He would have accepted "September" or "prostitution" here, as neither of them are appliances, a concept all but lost on this contestant Dawson encountered:
These ladies, on the other hand, could have given him any answer and he would have obliged them:
If at first you don't succeed, eh Bob? Or, as Dawson phrased it, "You don't use narcotics, do you Bob?":
What's your fondest Richard Dawson Family Feud memory? Survey says…
[Photo credit: ABC] 
More: