Ronaiah Tuiasosopo on 'Dr Phil': Manti Te'o Hoaxer Speaks Out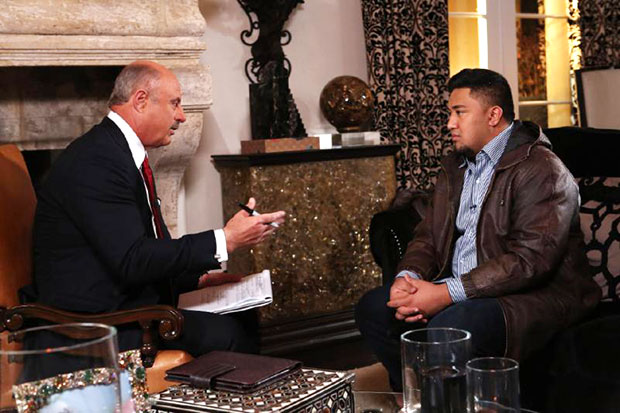 With a healthy amount of skepticism, America tuned into part one of the two-part exclusive interview with Manti Te'o hoaxer, Ronaiah Tuiasosopo on Dr. Phil. And after an hour's worth of airtime, it's safe to say that nothing about this is settled. While we got a greater insight into the mind of a self-professed catfisher, the questions weren't always necessarily answered, and a lot of doubt still sits above this ordeal's head. Dr. Phil McGraw opened the interview with the most important thing to keep in mind speaking with people whose compulsion to lie is so deeply entrenched. "I knew I was sitting down with a confessed liar and con-artist," and such a thing was never more evident than at the end of the interview.
But we'll get to that later! From the get-go, Tuiasosopo seemed to be bordering on tears for the entirety of his sit-down. But beyond the border of emotional distress, Tuiasosopo also managed to come across as a man with some very deep-seeded issues that played out in his alternate reality. He spoke of his online persona, Te'o's fake girlfriend Lennay Kekua as merely an extension of himself — as if the part of his personality that he liked was encapsulated in this girl. He was staunch in his belief that it was real aspects of his own personality — his heart and character — that Manti related to and kept him involved with Kekua, rather than her good looks alone. "Her heart and her character were what drew Manti to Lennay," explained Tuiasosopo. Their shared beliefs (beliefs that were shared between Tuiasosopo and Te'o) were encapsulated and lived out through the embodiment of Kekua, leading the viewer to believe that Tuiasosopo truly believed he was ultimately a good thing to happen to Te'o's life. He never wanted anything from Te'o, he explained, and was saddened by the rumors that it was done to maliciously attack, hurt, or take money from Te'o. It was a deception, but more for emotional gain rather than anything financial.
The problem being, of course, that Tuiasosopo doesn't see this sort of emotional deception as an unfair manipulation of Te'o at his most vulnerable and intimate. Tuiasosopo explained that he started Kekua in 2008, and that her name came about as a hybrid of his mother and grandmother's names, and a last name that he often heard around the neighborhood. He reached out to Te'o on Facebook after Kekua "randomly added" Te'o's cousin as a friend on the social networking site. From there, a friend request came from Te'o, and so the deception began. And while Tuiasosopo asserts it was never meant to become a love affair, the emotions involved became very real.
But it are those emotions, those intimacies that Tuiasosopo seems to take for granted and also not full understand. This is probably a person who has never fully been in love, or had such emotional attachments to a person — because how else could someone manipulate and feed off of a person's deepest intimacies without a full realization of the damage he was ultimately doing? When questioned on Te'o's understandable sensitivity to the subject, Tuiasosopo could only offer "it is what it is" as a response.
So it's no wonder that the interview was peppered with discussions between Dr. Phil and Tuiasosopo's therapist. There are a lot of deep-seeded issues at play here — no doubt tied to insecurities, coupled with sexual confusion (or denial), and just a general lack of care for intimate relationships and feelings. While it wasn't discussed in part one, it seems that the bigger questions here were teased to be answered in part two.
Throughout the interview, Tuiasosopo talks about Kekua as if she's another entity. She's another part of him, and that part of him that he calls Kekua was genuine with his interactions, support, loyalty, and feelings, he explained. Their value systems [Kekua and Tuiasosopo's] are the same. And that's why, Tuiasosopo asserts, that he was trying to simply make Te'o a better person — ironic, coming from a compulsive liar and dare-I-say-it accomplished deception artist. Regardless, Tuiasosopo believes that he wanted to make Te'o better, and he believes he did just that thanks to Kekua. As if their relationship ultimately helped a greater good. It is this sort of mentality that runs rampant throughout the interview, causing some to question Tuiasosopo's mental capacity for empathy.
Talk of Kekua's final days were especially confusing. Why bring her back to life? Tuiasosopo claims he did it to eventually tell the truth. Did Te'o ever know anything about this ruse? Apparently not. Then why did Tuiasosopo decide to kill off Kekua the same day that Te'o's grandmother had died, knowing that had happened prior to Kekua's "death"? Well, according to Tuiasoso, the couple had broken up two weeks before Te'o's grandmother died. Tuiasosopo apparently had Te'o's passwords for his social media accounts (Twitter, Facebook, Skype) and found that the only one that was "different" was his Skype account (though there was no elaboration as to what was actually different). When Kekua confronted Te'o on this and his talking to other girls, Tuiasosopo became angry and upset, but also claims he thought Te'o would "be OK" with Kekua's death because he had other girls to talk with. Tuiasosopo asserted that Te'o had been "mean" to Kekua earlier, saying that he didn't need Kekua around. It was that moment, Tuiasosopo claims, that he realized he lost himself in Kekua and decided to just kill her off right then and there, unsuspecting of the reaction Te'o would have, because he was video chatting over Skype with 4 other girls, several of whom were ex-girlfriends. Tuiasosopo believed that Kekua's fake brother and sister would help Te'o deal, so that closure could ultimately be achieved.
When asked to discuss why Kekua and Te'o, why this entire alternate life — leading to the question of his sexuality — Tuiasosopo's response was as rambling and confusing as the story itself. "I mean, yeah, if I had, pretty much … I had this escape of Lennay from everything else, and this is where my heart had invested all its time … as twisted and confusing as it may be, yeah, I cared for this person, I did all that I could to make this person a better person. Of course, it's very shameful and hard to talk about, but, the truth of it is that, that happened and later I couldn't control it anymore and it just lingered on. And when I tried to end things, I tried this lie and this lie and this lie, but nothing would work."
And when asked point-blank about his sexual orientation? Tuiasosopo proved his biggest tell: he compared homosexual feelings to being a drug addict. "If you look at this situation and look at everything I've been through, I'd say 'yeah, I'm gay' but I'm so confused and so lost." He admits that he did have romantic feelings for another man, but quickly states that like a recovering drug addict, he needs to "recover" from homosexuality in order to return "back to your real life." He believes only then will he be able to "live right." It should be noted at this time that Dr. Phil was blown away by this response and had a lot he wanted to say to him regarding that comparison. It should also be mentioned that it is unknown if Tuiasosopo's faith — he is a devout Mormon — play any part into this attitude towards homosexuality, though we're hopeful that it will be further discussed tomorrow.
Perhaps the biggest issue of part one, were the voicemails. Those that were left on Te'o's voicemail, that Tuiasosopo alleges time and time again, are him. When confronted by Dr. Phil to recreate the voice, Tuiasosopo says no several times, citing that it is "really awkward, uncomfortable" and that he's never done it in front of other people before. But Dr. Phil presses him further, convinced Tuiasosopo could not possibly have been the man behind the voicemails. In fact, he is so convinced of this fact that he sends the voicemail recordings AND a recording of Tuiasosopo to some fancy vocal recognition scientists that work with the Secret Service and FBI. Their discovery? The vocals had a match of 16 out of 100 — with anything over 60 being considered a possibility. But Tuiasosopo continues to assert it is him, but that he couldn't do it even if he tried because he was "going to that extreme" just to create the voice, and he doesn't believe he'd be able to do it if he wasn't all alone. Dr. Phil asks him point blank if he's lied at all (showing that Tuiasosopo had previously lied to Dr. Phil — albeit about his viewing habits of the show itself, which could conceivably have been a lie out of respect for the person interviewing him, but still really doesn't help the kids case at this point): Tuiasosopo asserts he's "one hundred percent" true. Well, if he is telling the truth, then why not do the voice? In what was portrayed as an off-camera back-and-forth, the two finally agree — but only from behind a privacy screen.
One of the darker, more telling moments about the depths of Tuiasosopo's deception played out in an off-handed comment regarding the voicemails. When asked by Dr. Phil how he could wake up every morning and remember to use the voice, and have it be correct and the same every time? Tuiasosopo laughs and explains that — not to be funny or anything, apparently! but! — "that's kind of a rookie mistake." He then uses the word "mastermind" when discussing the deception, and asserts he would never make that mistake. It was a chilling look into the mind of someone so caught up in an Internet version of cat and mouse.
Tomorrow we'll hear the voice and finally peel back the layers of Tuiasosopoo the person, and what could bring a person to do what he did — including an interview with his parents. What did you think of today's interview with Ronaiah? Will you be tuning in tomorrow? Let us know!
[Photo Credit: CBS Television Distribution/Peteski Productions]
Follow Alicia on Twitter @alicialutes
More:
Manti Te'o's Catfisher Believes They Had 'Romantic' Relationship — VIDEO
Manti Te'o's Alleged Hoax Perpetrator to Appear on 'Dr. Phil'
Manti Te'o on 'Katie': Raises WAY More Questions Than Answers

'Hunger Games: Catching Fire': Spoilery Pics From Google Maps