Did 'SNL' Actually Make Its Diversity Problem Worse?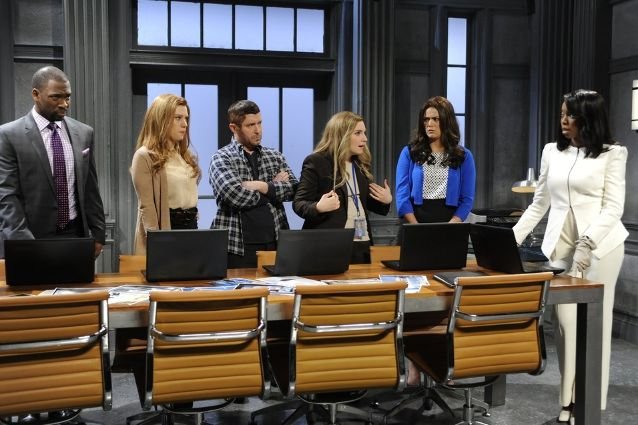 NBC
Statements by Kenan Thompson and Jay Pharaoh ushered in public outcries against the lack of black women on Saturday Night Live. The series made some swift changes and brought Kerry Washington to host, then added Sasheer Zamata to the cast. And yet, the show is still lacking in people of color and LGBTQ cast members and opts for stereotypes over cultural commentary. For a series based on finding the humor in contemporary culture and politics, the show is vastly unrepresentative of America.
To respond to the scandal, Kerry Washington hosted an episode and played Michelle Obama, Oprah, and Beyonce in one sketch. However, the sketch was more cocky and mocking than apologetic. Washington went on to play the stereotypical roles of a gum-chewing assistant with an attitude, a bawdy dating show contestant, and a confused Miss Uganda in a sketch (below) that crossed a lot of lines and had nothing to say.
The characters in the sketch were Miss Universe contestants who represented "fringe countries" like Bolivia, Moldova, and Uganda. Washington walked around aimlessly asking questions in a convincing African accent. But what did the sketch have to say other than to mock people from underdeveloped nations?
Since she joined the cast this season, the lion's share of Zamata's roles have involved dancing in music videos. She is relegated to dancing in the background in sketches like "Resolution Revolution," "28 Reasons," and "Before They Were Stars," and is little more than a Lil Kim lookalike in "What's Poppin'." The sketch below has a lot to say about race and Black History Month, but doesn't offer Zamata any lines or material.
Saturday Night Live isn't much closer at all to embracing "diversity." Finally deeming themselves able to do a Scandal sketch with an Olivia Pope, they further exemplify their monochromatic lineup with the questionable choice of having a white actor play Huck, a character portrayed by Latino actor Guillermo Diaz.
While the Scandal sketch falls admittedly in a gray area of the issue, a separate sketch from the same episode is outright racist. Cecily Strong starred in "Jewelry Party" as a Venezuelan bride who doesn't realize her husband is part of the Men's Rights Movement and a character of questionable morality. With no Latino cast members, and the majority of its Latino characters taking this form (igorant or unintelligent), Saturday Night Live is painting a terribly negative image of the group. See for yourself:
As SNL's ratings slip, we have to wonder if Americans are getting tired of laughing at jokes that shoot for uninspired, ignorant jabs. The show is long overdue for a return to sketches that lampoon popular culture and politics, not just shoot for easy stereotypes.