'SNL' Recap: Drake Shows Off His Comedy Chops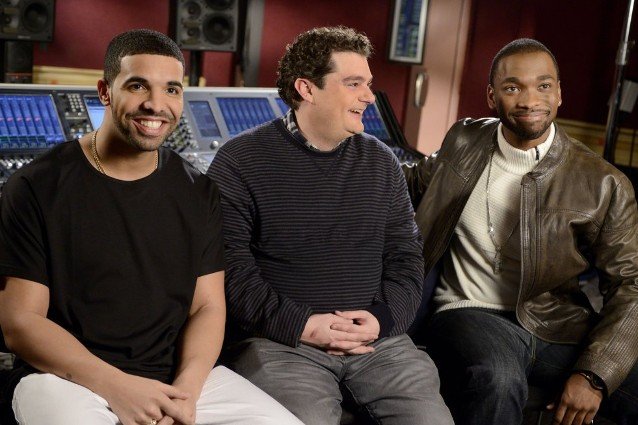 NBC
The first Saturday Night Live of 2014 came with a lot of anticipation. Not only was it the debut of new featured player Sasheer Zamata, who was cast after a highly publicized nation wide search for a black female, it was Drake's first time shouldering both host and musical guest roles, after not acting since he was a handicapped high schooler on Degrassi (unless you count his Anchorman 2 cameo). But both SNL and Drake showed confidence in his abilities, having him appear in the cold open as a delightfully delusional A-Rod ("I'm also suing steroids for being inside of me"). The "Piers Morgan Live" opener was also anchored by Taran Killam, Bobby Moynihan killing it as Chris Christie, along with Kate McKinnon doing a better impression of Justin Bieber than any male cast member could muster. 
Drake's initial monologue seemed as if the rapper was dabbling in stand up comedy as he transitioned into a sketch about his black/Jewish/Canadian Bar Mitzvah. Using the monologue to do a sketch that could have gone anywhere in the show was an unorthodox move (pun intended) that paid off. It answered questions about whether Drake could deliver as a  comedic performer, while giving an exaggerated illustration of his upbringing. It also gave newbie Zamata a chance to be seen earlier on, on the arm of Kenan Thompson, who's recently taken his foot out of his mouth about why SNL had not hired any black females until now.
The best sketch of the night came early, carried by Thompson who played rapper/reporter Sway, hosting "Hip Hop Classics: Before They Were Stars." This concept played off of Drake's transition as a wholesome child star into a hip hop artist, showing other famous rappers with that followed similar paths. Playing off equal parts nostalgia and absurdity, it featured Lil Wayne as Steve Urkel, Rick Ross as a Teletubbie, and Flava Flav as the voice of adult Kevin Arnold in The Wonder Years, among others that were funny even without knowing the references. The sketch appeared to be pretaped, aside from Thompson's spot-on live rendition of Sway ("I'm not saying there's a cat on my head, but if there is I have to feed it").
Weaker sketches throughout the show were mostly a result of risks being taken that didn't land. Freshman featured player Noël Wells tried her hand at Nancy Grace, a role comedic juggernaut Amy Poehler has nailed for years. The sketch had funny points, including McKinnon's commentary as a Colorado baker profiting off pot ("I'm Walter White and this is Baking Bad!") but to say Poehler's act is hard to follow would be an understatement. The "Slumber Party" sketch featured a great premise with Aidy Bryant as a girl at a sleepover who's too into her friend's dad. Bryant nails lines like "If you're looking for your dad he's in the palm of my hand." But the innocence that makes her depiction of a creepy gal pal so funny was  compromised by taking it in a sexual direction before revealing she's really a disabled 25 year old. An aggressively flirtatious teen girl crushing on a dad would've been funny enough as is.
This highly anticipated episode of SNL  was not the best episode, but it was also far from the worst and served a clear purpose. It put Drake on the map as a talented and naturally charismatic actor and entertainer, as he delivered in sketch after sketch with performances comparable to veteran cast members. Holding his own and even carrying several pieces, he merits a Justin Timberlake level of respect for being able to bring it from start to finish on Saturday Night Live. He will likely host again and perhaps rekindle his acting career.