'SNL' Recap: Melissa McCarthy Hosts, Seth Meyers Departs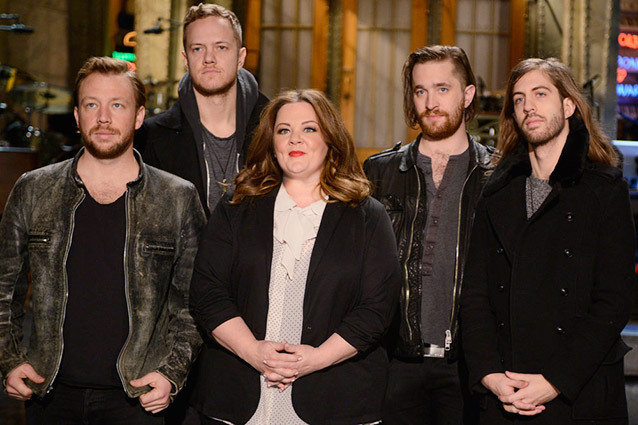 NBC Universal Media
Melissa McCarthy started off her third time hosting Saturday Night Live in a more theatrical than comical way. Referencing the Super Bowl to a broad audience that may not understand sporting specifics, the cold open focused on the halftime show. After Bruno Mars gets caught in the polar vortex, every Broadway musical has to fill time – totally plausible. But it was nice to see SNL and McCarthy not immediately play to her comedic strengths and show her as a legitimate actress. The sassy and sparkly version of Peyton Manning played by Taran Killam was just a bonus. 
Not promoting any upcoming projects, McCarthy joked about hosting just because she was around supporting her husband Richard Sherman. Naturally hilarious, her monologue foreshadowed an episode of her leaning into the kind of characters that have already made her a beloved comedic actress: aggressive, physical, and hot tempered. Bobby Moynihan joined her on stage, seeking vengeance from the last time she hosted. Using McCarthy's gift for physical comedy and the show's harnesses, the monologue was more of an excuse for a kung fu battle.
The show hit topical points, including Valentines Day, Black History Month, and the Super Bowl (again). A Valentines Day commercial parody advises men to just get their girlfriends "Some Dumb Little Thing from CVS," including an 80% off Christmas stocking. Aidy Bryant's reaction to this is almost as hilarious as newcomer Sasheer Zamata's reaction to getting her face tickled. Zamata later joins Kenan Thompson and Jay Pharoah in a music video about Black History Month that elicits uncomfortable laughter about "28 reasons to hug a black guy." (Reasons 2-28: slavery) At the end of the show, newcomer Kyle Mooney was filmed doing some extremely awkward man-on-the-street Super Bowl interviews in the middle of Times Square.
Standout sketches included tempermental poltician Shelia Kelly (McCarthy, reprising a character from one of her earlier stints), playing off of Congressman Michael Grimm's threats to a reporter this week. It built nicely from Kelly threatening a reporter to stealing a cop car. SNL later featured favorite recurring sketch "Girlfriends Talk Show," with up-and-comers Bryant and Cecily Strong playing annoying yet endearing tweens. Their guest is "the divorced adult lady" that Bryant hangs out with, played by McCarthy. Bryant and Strong are so enjoyable together and adding McCarthy as a more mellow character than she tends to play on SNL gave a nice balance to the show. Their chemistry is no coincidence, as all three women got their start at Chicago's Second City.
The moment of the night and perhaps the season was Seth Meyers' last Weekend Update, which was both tear filled and cameo filled. Featuring Amy Poehler, Bill Hader (as Stefon!), Andy Samberg and Fred Armisen as former New York governor David Paterson, Meyers had a lot of support. His strongest joke was appropriately in the style of a late night monologue: "Florida Representative Trey Radel, who was convicted of cocaine posession, announced this week that he will resign from Congress. Radel says he wants to spend more time with whoever is still awake."  Meyers showed the heart behind all the comedy he's brought to SNL in over 12 seasons, getting choked up with fellow co-anchors Strong and Poehler, genuinely thanking everyone at Saturday Night Live. The way he says "this is the job I've always wanted" makes it hard not to tear up as well. Like many Weekend Updates prior, it was the best part of the show.