'SNL' Recap: Paul Rudd Hosts with Hunks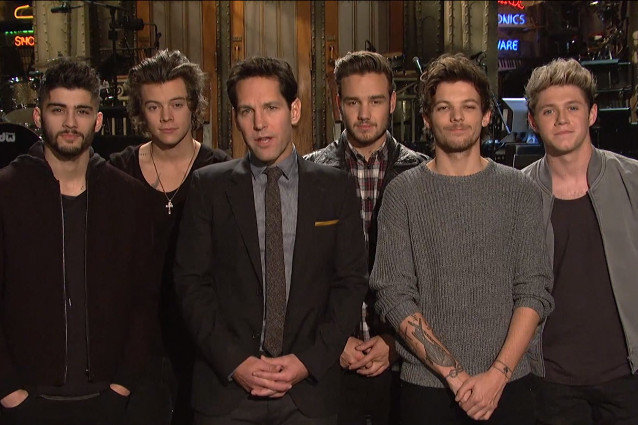 NBC/YouTube
This week's SNL kicked off with a spoof of NBC's live broadcast of The Sound of Music. This cold open was what the show does best. Featuring a reprisal of Kristen Wiig's creepy character Dooneese, it was enjoyably self-indulgent and cameo crazy (Fred Armisen even stopped by). Cast favorites Kate McKinnon and Taran Killam capitalized on their chemistry as Maria and Captain Von Trapp. Opening with a piece this strong is a no-brainer. This sketch gets two tiny thumbs up.
When actor Paul Rudd was slated to host with musical guest One Direction, it raised two questions: Will One Direction play a comedic role on SNL? And how will the upcoming release of Anchorman 2 influence the show? These questions were immediately answered with One Direction already on stage with Rudd for his opening monologue. Having a history of being upstaged by SNL's musical guests, Rudd wasn't going to let a boy band keep him down. Instead he unveils his man band, composed of Anchorman 2 costars Will Ferrell, David Koechner, and Steve Carell. This builds to Rudd, his man band and One Direction all killing it with a heavily harmonized rendition of the classic "Afternoon Delight." Are we crying tears of joy yet?
The first 10 minutes of SNL featured appearances from five comedic giants, not including the host. This felt like the start of the best episode yet, that is, until it wasn't. Such an exciting start created a gap between the opener/monologue and subsequent sketches that could not compete. Instead of setting the tone for a great show, SNL shot their wad. Rudd is amusing to watch do almost anything, but instead of capitalizing on this they relied on it to carry weaker sketches like one where Rudd plays a soon to be divorcee who can't escape his song. The sketch was one of the few to not be released online (you can find it on the full episode), but it had a lot of angry chair-dancing as the only joke. Rudd's charm was more effective in the sketches "Michelangelo Unveils David," and the movie trailer parody "White Christmas," the most well-written pieces of the night.
Weekend Update would have been a stronger point if it wasn't for the character "Jacob the Bar Mitzvah Boy" amounting to almost no comedic gain. The short segment affected the momentum but did not totally derail the Update desk. Jebediah Atkinson (Taran Killam) returned, a hilarious critic character from the 1800s who debuted three weeks ago, to rip apart seasonal Christmas classics ("Charlie Brown, there's a pube on your forehead!"). This character is so enjoyable it makes sense to bring him back, even when the original appearance had more topical context (a retraction from that week from a Penn. newspaper). 
This week's SNL ultimately amounted to an above average episode that could've been amazing. With Wiig, Armisen, Ferrell, Koechner, and Carell, along with Rudd and an already excellent cast, this episode had so much to work with that was not fully realized. Even when the Anchorman gang returned for the "Bill Brasky" sketch, the piece only landed because the people performing are so inarguably hilarious. Without that there wasn't much beyond four to five for the same character performing side by side. Comedy is the most impressive when a lot is accomplished with very little, but unfortunately the week's SNL did the opposite. Still, the cameos and high points alone make this episode worth watching.