'Saturday Night Live' Recap: Was Adam Levine Marooned?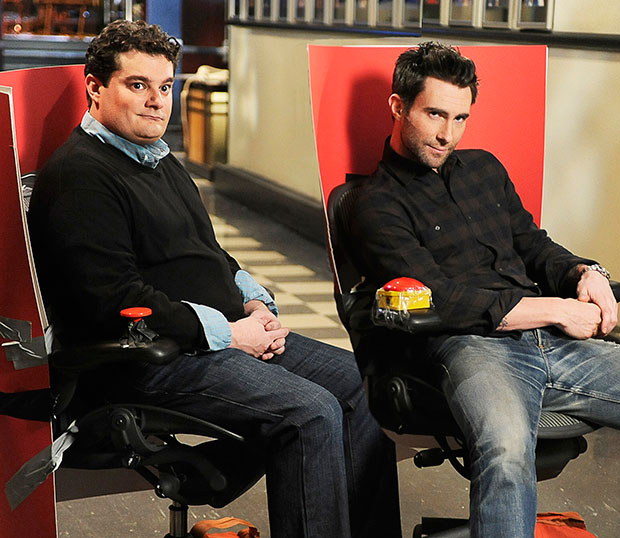 We're afraid Adam Levine has a long way to go before he's in Justin Timberlake territory. Or maybe it's just that the material he was given when hosting Saturday Night Live on Jan. 26 was particularly subpar. Though he did prove an uncanny Nev Schulman in a parody of Catfish and ably lent his pipes to the latest Lonely Island digital short, when it comes to singing or comedy, we'd have to advise Levine to stick with his day job. From his opening monologue, it was clear what kind of jokes Saturday Night Live was going to insist on giving him: jokes about how handsome he is! Yeah, you can stretch that out over 90 minutes.
Obama and MLK Cold Open
Gotta admire SNL for resisting the urge to do an MSNBC/FoxNews mash-up spoof about the cablers' totally skewed coverage of the inauguration: "That crowd is so huge!" "That crowd is so small!" Instead they went with something a bit more daring to recognize the beginning of President Obama's second term. The ghost of Martin Luther King Jr. (Kenan Thompson) came off the mountaintop and down to earth for a chat with Obama (Jay Pharaoh). Turns out he wasn't here for inspiration, or to pass the torch or anything like that. One guy to another, Dr. King just wanted to talk about how easy on the eyes Beyoncé was at the inauguration and how wished he could tweet from beyond so he could use the hashtag #JayZIsALuckyMan. And, of course, like all of America, living or ghosts, Dr. King was obsessed with Michelle's bangs: "When she gets those bangs cut, she'll be like 'I can see at last! I can see at last! Thank God, I can see at last!" But what about how far African-Americans have come since the good Reverend's time? Well, yes we do have a black President, but "we're still waiting on our first black magician." Definitely a creative take on what Obama's second inauguration means for the country and the legacy of the civil rights movement. It also goes to show that after years of struggling, Lorne Michaels & Co. have totally given up on trying to make Obama funny. Pharaoh's take on the Commander-in-Chief is completely that of a comedic straight man, with the funny happening around Obama, not because of him.
Adam Levine's Monologue
Once the elfin Maroon 5 frontman took the stage, the jokes quickly became more obvious. Yes, Adam Levine is handsome. Yes, he's a judge on a hit NBC singing competition called The Voice. Thank you for reminding us of it. Oh, I'm sorry. They're not "judges," they're "coaches." Almost immediately, Andy Samberg in a dressing gown pivoted in his swivel chair to offer some comedy coaching to Levine. After all he's "been in over a hundred digital shorts and three live sketches." Then for a blonde bombshell wearing a delicately askew miniature top-hat, a bombshell who could properly objectify Levine, Cameron Diaz swiveled around to ask him to take off his shirt. To round out the troika was Jerry Seinfeld! Though, sadly, Seinfeld was really only there to comment on Levine's status as a Jewish-American heartthrob and to say Newman-style, "Helloooo…Adam." The monologue ended predictably, with Levine sans shirt.
Rosetta Stone
Those amateur linguists in the commercials for the Rosetta Stone language-instruction programs sure are earnest. Why Rosetta Stone? Because it offers instruction in Thai. Why is learning Thai exciting? Because Thailand is the sex tourism capital of the world! Thus began the obviousness that would dominate the rest of the night.
Advice Show
Obvious comedy is one thing. That's been a major problem on SNL for years. But Levine's hosting gig was also marked by some odd gay-baiting jokes. See the overlong parody of a public-access TV advice show, "The Circle," in which two gay guys (Kenan Thompson and Levine) offer "gay solutions to straight problems." Levine's lispy, cockatoo-haired host, who says things like "You're as gay as a gay goose in a gay pride parade," was borderline offensive.
Sopranos High
The best post-cold open sketch of the night riffed on The Carrie Diaries and imagined another beloved HBO show getting an '80s-set high school prequel treatment: The Sopranos. It's 1983, so that means Tony Soprano (Bobby Moynihan) wears orange shirts with upturned collars and finds himself puzzled by the presence of Ewoks, or "bear people" as he'd put it, in Return of the Jedi. He's also still prone to fits of combustible anger, like when the high school librarian tells him to be quiet: "Oh yeah? I'll give you a book to read! 'Call me Ishmael,' you son of a bitch!"
Firehouse Incident
The second gay-baiting sketch of the night featured Bill Hader as a closeted fireman who's so determined to overcompensate for his sexuality that he explodes at a fellow fireman (Levine) who's talking to a girl he dated…nine years ago. They dated for two weeks and then he threw hot tea in her face when she tried to kiss him. Worse still, he totally flips out when he learns Don't Trust the B— in Apt. 23 is cancelled. "Not the B! That's bonkers! What? What? You've gotta be kidding me!" Shrill and obnoxious.
Digital Short: YOLO
It was only a matter of time until Levine joined Andy Samberg for a Lonely Island digital short. This one was an anthemic pop take on the acronym YOLO, or "You Only Live Once." But Samberg and Levine read that expression as literally as possible. Rather than live in the moment and embrace the here and now, they live in abject fear of anything even remotely dangerous and their mantra is "There's no such thing as too much Purell." The funny thing about hearing Levine's soaring pipes on the chorus was to realize just how similar in form this kind of pop parody is to the real thing…and especially Levine's own repertoire. A repertoire much more easily parodied than that of that other Lonely Island mainstay, Justin Timberlake. Samberg's ongoing digital shorts still deconstruct contemporary pop with startling insight.
Arianna Huffington
By any standard, this was another weak Weekend Update. Following in the wake of those earlier, gay-baiting jokes, now came…women-baiting jokes. Arianna Huffington (Nasim Pedrad) made an appearance and ended up saying stuff like "There's nothing women like less than other women. There are only two types of women women like: Oprah and women Oprah like." Really?
Catfish
One remarkably brilliant bit of casting was to have Levine play his semi-doppelganger Nev Schulman from Catfish. "Catfish: The Movie was about me. Catfish: The TV Show is about you. But it's still really about me." He helps a woman who's been in a 10-year online relationship with a man who's supposedly been placed on a "Do Not Fly" List for being too handsome and lives in the Jetsons' apartment. Again, pretty obvious. But Levine's take on Nev—"As always I just woke up and the cameras caught me disheveled and cute"—was pretty genius.
Biden Bash
Come down to the Dover Speedway for Joe Biden's Biden Bash! He's gonna play the National Anthem as an electric guitar solo, Hendrix-style. And he'll compete with you in that classic game, "Can you jump higher than me?" Any opportunity to see Jason Sudeikis play the VP is welcome, but nothing here really felt thought-out.
Adam and Janet
Lately SNL's final sketches have been better than average. Not so with Levine playing himself. He's just finished a concert and has gone home to the Yonkers apartment of one of his groupees. Because the only thing funnier than gay- and women-baiting jokes are "ugly women" jokes! Yep, Bobby Moynihan was the groupee and (s)he was given to saying stuff like, "I look like when they dressed up E.T. as an old lady." Sigh.
Follow Christian Blauvelt on Twitter @Ctblauvelt
More:
Adam Levine on 'SNL': The Birth of Another Justin Timberlake?
Adam Levine's 'SNL' Promo: Let's Cool It With the 'Voice' Jokes
'Saturday Night Live' Recap: Did Jennifer Lawrence Hit a Comedic Bullseye?

20 Hottest Celebrity Bikini Bodies