'Saturday Night Live' Recap: Melissa McCarthy Goes For Round Two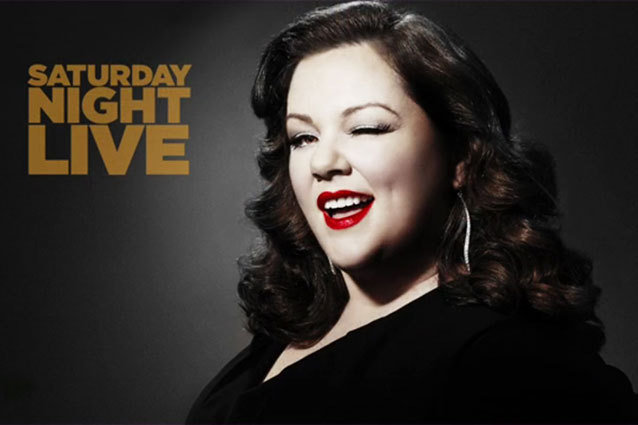 Melissa McCarthy made her triumphant return to Saturday Night Live last night, in what was probably a calculated effort to save this (Timberlake exempted) lackluster season. Did she do it? Kind of.
McCarthy definitely brought a refreshing burst of energy to the show, throwing herself wholeheartedly into every character she played — writing be damned. She's also one of those rare hosts (like Timberlake) who takes the lead on every sketch, allowing SNL's players a respite from carrying the burden left from lesser hosts. Still, a lot of the material fell flat, and the writers seem to have pigeonholed McCarthy into the role of a schlubby, frumpy, stupid overweight woman. Sometimes it works, sometimes it's just damn frustrating. Either way, McCarthy does what she can to give each character life, and that goes a long way. Let's dig in:
C-Span Cold Open:
RELATED: 'SNL' Recap: Justin Timberlake Joins the Five-Timers Club
The night opened with Bobby Moynihan playing Kim Jong-un, as he addressed two very important issues: the opening of the Yongbyong nuclear complex that would leave his enemies "chagrined and discombobulated," and the lift of North Korea's ban on same sex marriage. "It is simply the right thing to do," he explained. Then he explained just how heterosexual he was by counting his numerous female lovers, and describing their multiple orgasms. If SNL's goal was to trigger my gag reflex, they succeeded.  Brining in Dennis Rodman at the end was pretty funny, though it pales in comparison to a later cameo: 
Opening Monologue:
Yeesh, this one fell flat. The opening monlogue was a caes of physical humor gone wrong, with McCarthy tumbling all over the stage in a pair of glittery red heels more appropriate for a Spice Girl than an SNL hosting gig. It was funny for a few seconds, but then it took over the entire bit and just wouldn't go away. Taran Killam came out for a song, "Spring time in New York," and McCarthy stumbled onstage as she attempted to join him. 
Outside the Lines: 
I had to Google the case of horrifying Rutgers basketball coach Mike Rice, but once I did, I fully appreciate Sheila Kelly. Again it was purely physical humor, but McCarthy nailed it — just, not as hard as she nailed her players. "Guess What? Brick," she said, as she threw a freaking brick at an unsuspecting athlete. "I threw a toaster at you, cause you're toast," she went on. Silly, but hilarious.
The Voice:
There were two MVP's in The Voice sketch: McCarthy as the disastrous but perfectly reasonable contestant, and Bill Hader as Adam Levine. From the lips to the soft voice to the undeniable swagger of the man with moves like Jagger, he was great. Jason Sudeikis was a decent Blake Shelton, same goes for Kate McKinnon as Shakira. Jay Pharoah Usher was great, mainly for the leg humor. But McCarthy as the skeptical contestant was my favorite — after mumbling a few off-key verses, all four chairs turned around. When asked what she'd say if they said they could make her the biggest pop star in the world, she replied: "I'd say I'd be pretty skeptical." She went on, "Is there anyone who does not get picked by you guys?" She eventually turned them all down, but not before saying she admired them for their "so much misplaced enthusiasm." Love it.
Honey Baked Ham Bake-Off:
Well, this was strange. Again, McCarthy threw herself into her oddball character: a dumb, schlubby woman entering a honey-baked ham contest. She'd lost last year due to presentation, so boy, did she step it up: with Killam and Moynihan in giant pig suits, she dramatically reenacted the making of ham to the sounds of "Push It." Unfortunately, this bit is not online.
Bathroom Businessman:
Admittedly I'm not the biggest fan of toilet humor (kudos to McCarthy in Bridesmaids for breaking the mold) so it's no surprise that Kenan Thompson's poop commercial didn't hit it for me. The "twist" at the end was … inspiring? Not really. Check it out for yourself:
Phoenix:
Phoenix hit the stage to perform "Entertainment," and I don't like this band, so. Check it out if you're into that sort of thing.
Weekend Update: 
Not the best outing for Seth Meyers and the gang, I'm afraid. Vanessa Bayer's Jacob the Jewish kid just would. Not. Stop, despite getting no laughs. Charles Barkley talking about his gambling debts wasn't too great, either.
But then, from the ashes, emerged the phoenix. Drunk Uncle went on and on about his taxes doing his same old schtick, but my ears perked up when he said "So I'm not King Joffrey, okay?" — because, who doesn't love a Game of Thrones reference, especially when it mentions my one true king? Drunk Uncle brought out his buddy, who was… Peter Drunklage! Tyrion Lannister earns every scene he steals in GoT, and same goes for his real-life counterpart Dinklage on SNL. From the handlebar mustache to the Taylor Swift rumblings to this gem: "You know what's in my Tumblr? Regret." — Dinklage was the MVP of the night.
Million Dollar Wheel:
What was going on here? McCarthy played Danelle, a Vanna White-esque substitute for the recovering letter-girl on Million Dollar Wheel, a Wheel of Fortune parody. The whole bit was, literally, her being bad at turning over the letters. Yikes.
Small Business Loan/The Pizza Eater:
BOY did things turn around post-MDW. McCarthy played another signature McCarthy character — aka frumpy, sclubby, and dumb — but the bit was just so perfectly bizzare, and she sold it so well that it worked. Points to Jason Sudeikis too, for being a brilliant straight man who didn't break while McCarthy begged him for a pizza-eating loan and shotgunned a pizza right in his face. It's so weird that its brillance is hard to describe, so just… yeah, check it out.
Phoenix, Round 2: 
This time, it was a medly of "Trying to Be Cool" and "Drakkar Noir" and I'm still not going to pretend that I have anything to say about this band.
The Art of the Encounter:
Usually on SNL, skits come last for good reason. This applies to "art of the encounter," a '90s educational dating video that found McKinnon and Cecily Strong giving tips on how to interract with men. 
What did you think of McCarthy's return to SNL? Did you love her pizza eater? Am I wrong about the honey-baked ham? Wish Peter Drunklage would come back again? Let us know in the comments!
Follow Shaunna on Twitter @HWShaunna
[PHOTO CREDIT: NBC]
---
From Our Partners


Jessica Alba Bikinis in St. Barts (Celebuzz)


Pics of The Rock Making Things Look Small (Vulture)