'Saturday Night Live' Recap: Zach Galifianakis, a Dragon Costume, and Three Celebrity Cameos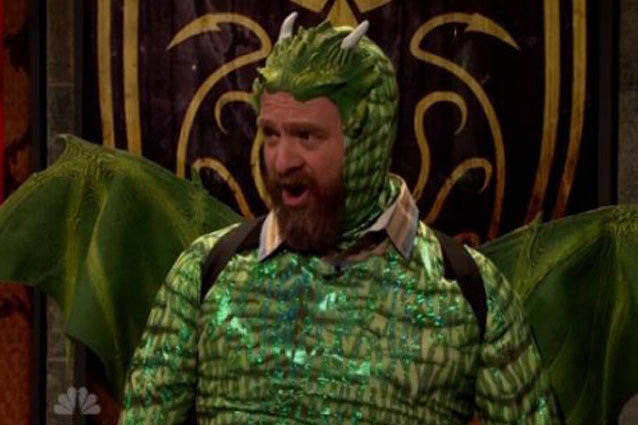 I'll admit it: On Sunday morning, I'll have a hangover. Not because of excessive drinking, though. (There are only so many Mint Juleps you can drink before your breath smells like a tube of Aquafresh.) But because I laughed so hard during Saturday night's installment of Saturday Night Live, there's little chance I don't wake up fielding a brutal stomachache. 
But host Zach Galifianakis gave me little choice. Back at SNL for a third time, the host gave us so much, we're left wondering how The Hangover Part II could have gone so wrong. But let's rewind to the episode at hand!
After a Fox & Friends parody that was a bit too familiar to SNL fans — each one is becoming less distinguishable from the last — we finally got to the moment we've been looking forward to this entire week: Galifianakis' monologue, which he had already perfected his first two times on the series. Starting off the show with the same oddball deadpan we fell in love with in Live From the Purple Onion, Galifiankis waxed poetic about charades ("My wife and I once played charades with a couple who was deaf. They were amazing.") and stumping Google ("I once Googled, 'How many candles does Dave Navarro own?' Fourteen thousand."). The opening was so Raven, the perfect antidote to Season 38's subpar monologues, even if it was a bit less daring than a bearded man wearing an Annie costume. 
Still, Galifianakis didn't stay out of costume for long, donning a dragon suit for the next sketch, "Game of Game of Thrones." Tapping into the obsessive fan culture for the HBO series (admit it, we're all guilty), the sketch featured the comedian as an enthusiast who knows everything about Westeros, but nothing about the real world. (Among the questions he got in the game show-centric sketch: What is the capital of Wisconsin?) Bonus points go to the sketch for featuring the under-appreciated Aidy Bryant and Game of Thrones star himself, Nikolaj Coster-Waldau, who popped by long enough to prove Galifianakis' ignorance about the Supreme Court. 
And bonus points go to SNL's Match.com commerical parody for utilizing the also under-appreciated Kate McKinnon as an unlucky-in-love Martha Stewart. Her impression might not have been as on point as her others (hello Ellen DeGeneres!), but who didn't get a giggle hearing Stewart express appreciation for "tiered macaroons" and "the simple elegance of a good bang"? (Though why SNL didn't choose this prime spot to feature its hilarious New Balance add — advertising the shoe brand "worn by chubby white guys" — is beyond me.)
The episode's celebrity cameos didn't end with Coster-Waldau. Galifianakis' Hangover c0-stars Bradley Cooper and Ed Helms showed up for a severely under-rehearsed Jennifer Aniston look-alike sketch, which derived most of its humor from seeing the stars in blonde wigs. It was all worth it, though, to see that Taran Killam can add Rachel Green to his list of celebrity impressions. 
Of course, Killam was easily upstaged by Bill Hader, who stopped by Weekend Update as James Carville to talk gun control legislation, his ghost grandma, and drinking sweet tea in Louisiana with Alligator Joe (who's called that "because he's an alligator"). So many of Hader's one-liners were so delicious ("I have nothing against guns. And I'm not just saying that because I look like a bullet"), I'd prefer them any day over a giant bowl of gumbo. Or, at least, I'd prefer them over Fred Armisen's Google Glasses-plagued tech correspondent and Cecily Strong's increasingly overplayed (and never funny) Girl You Wish You Hadn't Started a Conversation With at a Party. 
It wasn't long until Galifianakis was back in a costume, this time as a racist, sexist, and homophobic M&M's World employee who expressed his distaste for his diverse staff "often through song." It's easy to imagine the sketch — which featured a good number of jokes that pushed racial boundaries — was a divisive one, but dammit if Galifianakis in a beret didn't make me chuckle. 
What didn't make me chuckle initially was "Darrell's House," a bit about a deluded man marking a low-grade talk show in his home. All the elements were there — Galifianakis' patented absurdity, Jon Hamm references — but teasing a Hamm cameo and not delivering was like teasing a delicious Honey Baked Ham and handing us a piece of bologna. But, of course, the bit more than paid off when we watched "Darrell's House" later in the episode as it was meant to be seen, featuring the Mad Men star himself. And, as it turns out, waiting 20 minutes for the joke to pay off was well worth it.
As was Galifianakis' stint on SNL. Is anyone else going to be hurting tomorrow? 
More:
Zach Galifianakis' Third Time on 'Saturday Night Live' Will Certainly Be a Charm
Zach Galifianakis Shoots a Porno for 'SNL' Hosting Gig. Nope, Sorry, That's a Promo 
Kristen Wiig Returns to 'SNL' As Host, Ben Affleck Joins 5-Timers Club
---
From Our Partners:


Nina Dobrev, Julianne Hough Bikini in Miami (Celebuzz)


33 Child Stars: Where Are They Now? (Celebuzz)