'Savage U' Premieres on MTV: Let's Talk About Sex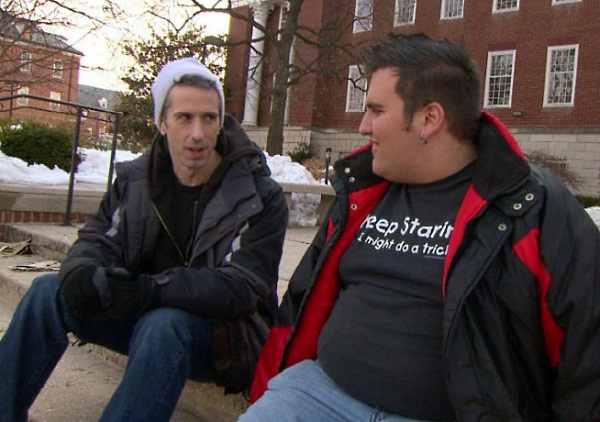 Last night MTV premiered the debut of popular sex columnist Dan Savage's new series Savage U after a brand new episode of their wildly successful reality show 16 and Pregnant.  If 16 and Pregnant (and its spin-off Teen Mom) have made for the ultimate cautionary tale for young MTV audiences, Savage's blunt, poignant televised open forum will provide incredibly helpful insight for all things sex-related that likely won't turn its subjects into US Weekly covers. In short, it was an hour-and-a-half of programming that was the anti-Jersey Shore.
For those already familiar with the openly gay Savage, be it through his bitingly funny and refreshingly honest columns, his work as the pioneer of the groundbreaking It Gets Better campaign or even just his effective Internet stunt which has rendered Rick Santorum un-Googleable, the feel and premise Savage U likely came as no surprise. In Savage U, the 47-year-old, alongside his producer Lauren Hutchinson, visits colleges around the United States to have frank, safe discussions with students about their sex lives, kicking off in the premiere at the University of Maryland.
Whether he was visiting local bars, having deep one-on-one chats, or speaking with an entire auditorium, Savage's natural ability to make people comfortable with his compassion, knowledge and whip-fast sense of humor ("You'll know that you've won 'the game' when your husband dies") opened a dialogue. There's a sense, or at least the hope, that Savage U will generate the dialogue beyond just the colleges he visits this season.
Unlike MTV's previous foray into sex and relationship chat in the 90s with Loveline, Savage U gives an even more daring perspective. On Loveline guests could literally phone it in, but here young people are daring to say that not only is it okay to talk openly about sex, but it is important. Moreover, Savage manages to combine the best qualities of Loveline's hosts Dr. Drew (in-depth knowledge and analysis) and Adam Carolla (sense of humor, though Savage's is unequivocally less mean-spirited) while being even more approachable and likable.
There's no doubt that some of the dialogue will make some viewers squirm (at one point Savage jokingly referred to intercourse during a woman's period as "sex during Shark Week") and others may outright condemn the show for personal and moral belief systems, but here's to hoping it doesn't stop the series from catching on. The show is not only a learning tool, but a hip show. That's even rarer than finding a good relationship these days.
Better yet, even though the show focuses on the sex lives of college-aged adults, it provides priceless tidbits for viewers of any age and orientation. Some Savage gems from last night's premiere:
— "Cosmo sets expectations for girls in the way hardcore porn sets expectations for guys."
— "There are no normal guys and if you dump the honest foot fetish guy, you will marry the dishonest Necropheliac."
— "Don't be friends with people you wanna f—"
— "You have to embrace rejection or you'll never have a relationship."
While some of the moments felt awkwardly staged (particularly his meeting in the waiting room of a health clinic where he talked a young, sexually active, but  sexually unsafe man) his authentic and important message of safe sex rang the loudest and the truest. Savage U is worth going back to school for.
Savage U airs at 11 PM ET on Tuesdays on MTV
Did you tune in for Savage U last night? What was your first impression of the series? Will it be a hit or will audiences shy away?
More:
MTV's Real World Lives to See a 28th Season