'Scandal' and 'The Good Wife' Are the Absolute Worst Right Now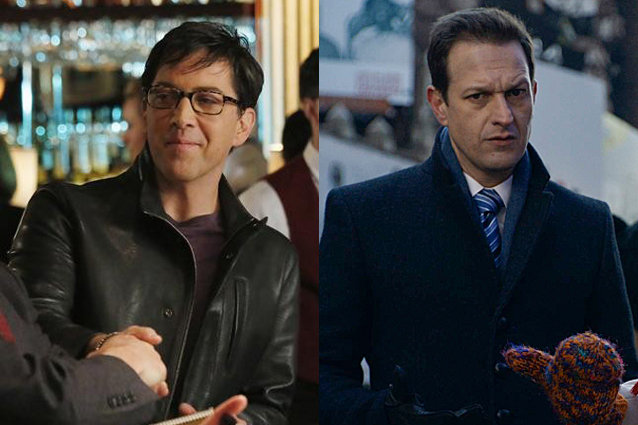 ABC/CBS
This past week in television has been absolutely devastating for fans of ABC's Scandal and CBS's The Good Wife. If you watch either show, you're probably still reeling from the most recent episodes, both of which included death sentences for beloved characters. And if you watch both shows, you're probably reading this from the glass case of emotion from which you cannot remove yourself.
First, let's discuss Scandal. Last Thursday, Gladiators everywhere tuned in to find out #WhoGotShot. Some of us were expecting the end of white hat-rocking David Rosen. Others thought James Novak should take the bullet, especially since he was flip-flopping (once again) over what to do about his political animal of a husband, Cyrus Beene. We were ready, weren't we? We were ready for someone to die because we'd been told in the previous week that someone was totally going to get shot!
But then it happened, and we were slapped in the face with the cold, hard reality of the end of James, lying face-down in the concrete. Really, truly, actually dead. Actually, even this wasn't so bad. But when Jake walked over to him at the end of the episode, and we had to watch him talk James through his final moments? And promise him that his daughter would be fine? And kind of, sort of, legitimately apologize for having to kill him, and having to make him suffer so the murder could look like a car-jacking and not a job done by a professional? The worst. The absolute worst.
Or was it? 
Don't watch this video unless you're in a place where it's okay to start inexplicably crying:
Sunday night, fans of The Good Wife waited for an eternity for that ridiculously annoying show that shall remain nameless to finally roll credits so that we could see what was up in the land of Alicia and Will. And whaddayaknow? Out of nowhere — seriously, we were not warned, there were no hints in the previews — Will gets shot. He's moments away from winning the big case, but the kid he's defending (Hunter Parrish, who many of us know as Silas from Weeds) can't take it anymore and opens fire on an entire courtroom.
We might have been able to predict the death of James, but the death of Will was a horrifying, horrible, horror-inducing horror. Yes, that many variations on horror are necessary to explain the shock and awe of that character's final moments.
But every dark cloud has a silver lining (allegedly), so let's look on the bright side. We'll get to see more of James A.K.A. Dan Bucatinsky in an upcoming NBC series Marry Me. And he also has another project in the works with Scandal creator Shonda Rhimes. There's no word for sure on what's next for Josh Charles, but he did stop by The Late Show With David Letterman and made it clear that he's been wanting to move on for some time now. So here's hoping we get to see him in something new soon. Not that anything could assuage the loss of Will Gardner. Case in point:
 How Alicia looks at the 1:27 mark? Yes. That's exactly how 99% of us feel right now. So basically… The Good Wife and Scandal writers? You are all the worst right now.
Follow @Hollywood_com Follow @shannonmhouston