'Scandal' Season 2 Finale: One Father of a Reveal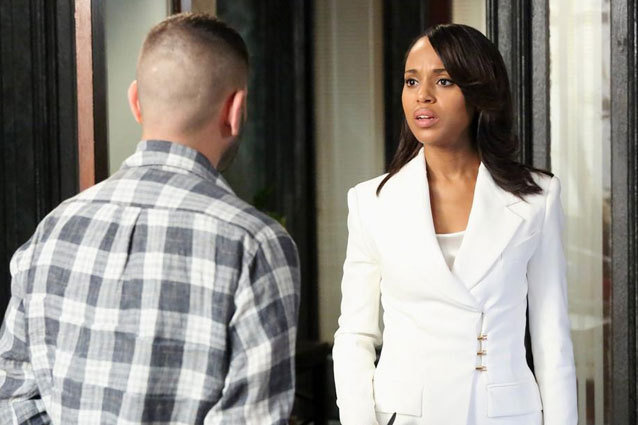 For a show that prides itself on its scandalous content, big twists, and shocking turns, Scandal outdid itself in the Season 2 finale "White Hat's Back On." Even when you think a show can't shock you even more, it throws you for a loop. 
In one hour-long episode, Scandal managed to tie up huge mysteries (Billy Chambers is the mole!), answer a whole slew of questions (David Rosen isn't evil!), and yet it raised even more (duh). Rowan, the head of the evil B6-13 branch of the CIA, is Olivia Pope's father? What?!
The crazy thing is, no matter how shocking this reveal was, we should have seen this (or something like this) coming. How much do we know about Olivia's past? Hardly anything. Before she started working on Fitzgerald Grant's campaign for president, we know absolutely nothing about her. We've never met any of her friends (outside Olivia Pope and Associates), we never heard a single word spoken about her family… this shouldn't have been a surprise. And yet, the fact that Rowan of all people was revealed to be her father was just insane. 
This is a man who ordered not one but two of his assassins to kill Olivia, after ordering one of those assassins (Jake, who turned out to be B6-13!) to sleep with her and get it on tape so he could show it to the President to split them up. No matter what kind of messed up father/daughter history they have, that seems a bit extreme, yeah? I can't wait to see their crazy, messed-up back story in Season 3!
While the reveal of Rowan as Olivia's father was huge, that was just the final 10 seconds of the finale. The rest of the hour was bursting with so many twists that I don't think I breathed a single breath once. David Rosen, who we all thought was evil after last week's reveal of him working with Billy Chambers, was actually still a good guy working for justice. He got Billy to admit to all of his crimes while wearing a wire and used the recording to secure himself a new job: US Attorney for DC. He may not be a Gladiator, but the white hat is firmly back on his head… and it turns out it never left! 
The Cytron card, the only piece of evidence that could have proved that President Grant won the election illegally, was given to Cyrus in exchange for the President's public approval of David. Cyrus smashed the card into bits, and there is no more worry about the President being impeached now. As for that second election… we'll just have to wait and see. But now that Grant is back with Mellie, he might have a better chance at winning that second term.
Speaking of Cyrus, looks like a heart attack can't keep this Chief of Staff down. He was out of the hospital and back to work in no time – but not before a tearful make-up with his husband James. Nothing like a medical emergency to remind you to cherish the ones you love.
Meanwhile, Jake saved Olivia's life again by killing the other assassin that was sent to kill her. But since he disobeyed orders, Rowan threw him in the hole that made Huck forget about his family. Will Jake hang on to his feelings for Olivia, or will he forget about her? 
Speaking of Huck, his time in the box seems to have shaken him to his core. He couldn't torture Billy Chambers, so baby Huck, aka Quinn, took up the task with an enthusiasm that greatly worried Huck. Looks like the student has become the master… and it's not a good sign for Quinn's mental health.
And there's also the little question of who leaked Olivia's name to the press as the mistress the President was sleeping with! Mellie clearly didn't play that card since she got the President back, so was it Cyrus? Rowan? One of the Gladiators? Fall has never seemed so far away.
Follow Sydney on Twitter @SydneyBucksbaum | Follow Hollywood.Com On Twitter @Hollywood_Com
More:
ABC Renews 'Scandal,' 'Nashville,' and More
Kerry Washington Dishes On Her 'Scandal' Costar's Kissing Skills
Kerry Washington On How to Avoid a 'Scandal' Like a Pro 
---
From Our Partners:


Zoe Saldana Strips Down For Magazine (Celebuzz)


33 Child Stars: Where Are They Now? (Celebuzz)