Four Reasons There Is NOT A 'Seinfeld' Curse
Turn on your TV, and you'd be hard-pressed NOT to find an old episode of Seinfeld airing. Way back when four networks ruled the dial (i.e. the 1990s), NBC's "show about nothing" consistently topped the Nielsen ratings, all the while entering phrase like "close talker," "yada yada yada," and "re-gifter" into our cultural lexicon. Years after Seinfeld went off the air in 1998, some said a "curse" had prevented the show's stars from landing new work. Well, I'm here to tell you that's false. And here's why…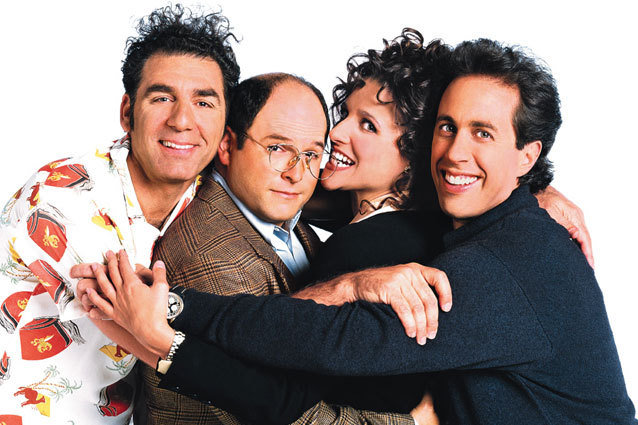 NBC
Jerry Seinfeld Is Still Relevant
He continues to perform his stand-up act to sold-out crowds across the nation, makes talked-about appearances on shows like Curb Your Enthusiasm and Saturday Night Live, and just released the second season of his highly successful webseries Comedian In Cars Getting Coffee. If that qualifies as a curse, then count me in!
Julia Louis-Dreyfus Still Racks Up Awards
She's the only former cast member to win not one but two post-Seinfeld Emmys, for her work on The New Adventures of Old Christine and HBO's Veep. Most struggling actors would kill to be as cursed!
Curb Your Enthusiasm Might Be Funnier
Since Larry David was one-half the brains behind Seinfeld, it makes total sense that his series, HBO's Curb Your Enthusiasm, is as funny as it is. Now if David will just start churning out some new episodes – two years is too long to wait!
Two Words: Walter White
Okay, he may have only been a recurring character, but fans of Seinfeld most certainly will remember Bryan Cranston's hilarious performance as Tom Wattley, or as he's colloquially referred to on the show, the "anti-dentite." Shortly after this role on Seinfeld, Cranston went on to star in the Fox comedy Malcolm in the Middle, before landing the role of his life as the science teacher turned drug lord Walter White in Breaking Bad. Seinfeld curse? I say NO!
More:
What 'Duck Dynasty' Can Teach Networks
'The Walking Dead' Season 4 Preview
How 'Downton Abbey' Reinvigorated PBS
---
From Our Partners:


40 Most Revealing See-Through Red Carpet Looks (Vh1)


15 Stars Share Secrets of their Sex Lives (Celebuzz)