Seth vs. Jimmy: Who Will Be The Ultimate Late-Night King of Nice?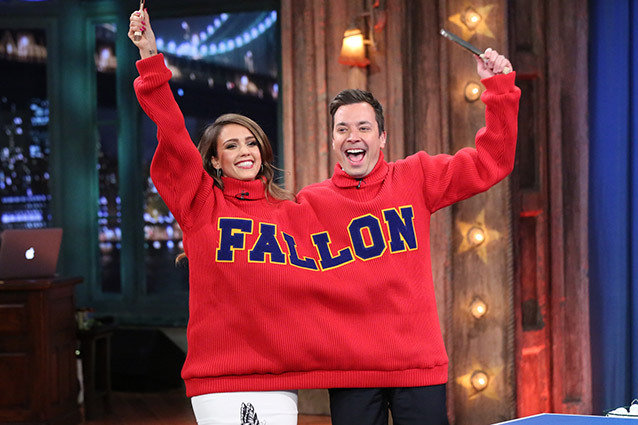 NBC Universal Media
When Jimmy Fallon joined the late-night talk show race, his relentless positivity and genuine interest in every single guest, from teen queens to multiple Oscar winners, stood in stark contrast to the cranky competitiveness that pervaded that landscape. On Feb. 24, fellow nice guy Seth Meyers trades his Weekend Update desk for one at Late Night and the scales tip further. TV just got a lot friendlier, post-Primetime.
Jay Leno signed off of The Tonight Show on Feb. 6… for the second time. The Leno/Conan O'Brien hand-off debacle raised a lot of hackles. Even the usually congenial O'Brien let his anger and disappointment be known in the documentary Conan O'Brien Can't Stop. Over on CBS, David Letterman seems to be increasingly uninterested in learning anything about his guests, sometimes drawing the line at their names. Now Fallon and Meyers join Craig Ferguson in the small club of hosts unimpeded (at least outwardly) by long-term grudges, blood feuds, etc.
Academy Award producers reacted to the backlash to Seth MacFarlane's hosting performance by replacing him with the kind and almost wholly uncontroversial Ellen DeGeneres. And now, the late-night pendulum is swinging back the other way too. As much fun as it's been to spend night after night after night with uber-rich comics oozing equal amounts of hubris and self-loathing, audiences have responded to Fallon's role as a good-natured fan who can show off while letting his guests show off too. Can we count on Seth Meyers to exude the same perpetual glee as Jimmy, with just a tad more snark? And, more importantly, who will be the Timberlake to his Fallon? We're hoping it's Amy Poehler. We will also accept Bill Hader, in character as Stefon.
Who do you think will reign late-night as the "King of Nice"? Seth or Jimmy? Leave your thoughts in the comments!