'Shameless' Recap: Thanksgiving With a Side of Tragedy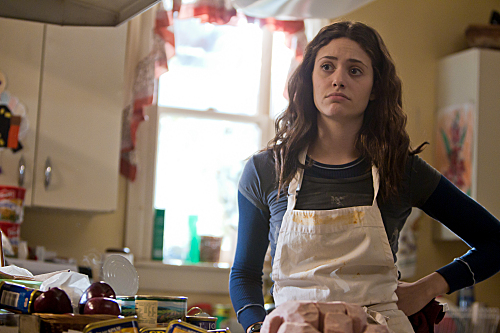 S2E11: Shameless may have woven its way into our hearts as a madcap dramedy with the capacity for kitchen floor trysts in the first episode, but it's maintained its position with an element that has a little more staying power: the familial bond. The beauty of spending 23 episodes with the same family is that when something terrible befalls them, we feel it. So this week, when the Gallaghers' Thanksgiving plans are sidetracked by Monica's self-destructive behavior, we're not watching as judging bystanders, questioning Frank's methods or Monica's life choices or thinking about the fact that the family was about to serve a turkey made out of Spam until Steve bought a turkey (and vetoed the idea of eating Carl's Bald Eagle). Instead, we feel as if we're right alongside them, experiencing the horror of a family tragedy, twice in one episode.
"Wanna go upstairs?" -Steve/Jimmy
"No. You got a thank-you-kiss." -Fiona
Finally, Marco shows up to take Esti off Steve's hands, which means Steve and Fiona can finally be together. Except for one small snag: Fiona still doesn't trust him. Luckily, Marco's angry streak gives Steve an excuse to make a grand gesture. Marco finds out that Esti and Steve had sex when they got married and he threatens both Esti and Steve until Steve offers him his false identity, passport, hotel suite and all. Essentially, he kicks Lip out and makes a grand gesture towards Fiona, all while saving his own skin. Plus, he's forced to start new with his real name: Jimmy.
When Jimmy shows up on Fiona's doorstep to share the news, and she can't hold back any longer, giving him a passionate, practically pre-coital kiss before stepping back and giving him the couch for the night. If there's one thing we love about Fiona, it's the fact that as badly as she wants Jimmy/Steve, she's never going to play the helpless damsel. She's going to make him work for her. And after a season of waiting, that kiss hearkened back to their first one; it's a fairly perfect way to put them back together.
"Is it alright if I stay over tonight?" -Lip
"Couldn't go 12 hours without seeing me, huh?" -Mandy
Lip needs a place to stay and make his video to his unborn child, and with Steve/Jimmy out of a home and Karen still completely nuts, he's left with little recourse. He could go home, but instead he decides to stay with Mandy, which requires the thin veil of a semi-relationship. He agrees, reluctantly, but when he accidentally plays get-away driver for her brothers when they hold up a liquor store, he quickly leaves. Just then, he gets the call that Karen is having the baby and rushes excitedly to the hospital, making sure to give the adoptive parents the tape he made for the baby before going in to see Karen give birth.
It's heart-breaking because as Lip is pouring his heart out to the little guy he won't have the pleasure of knowing, Karen is reacting as if she has an alien clawing at her from the inside. It's not a miracle the baby is born, it's a miracle she doesn't literally bite someone's head off before it gets there.
"Help her with the stuffing or whatever it is you guys do together." -Karen
Karen knows about Jody and Sheila, a fact that moritifies Sheila. She finally admits her indiscretion to Karen, who immediately calls Jody in the house and tells him to get back to helping her mom with the "stuffing," and she's not talking about the Turkey dinner. The two are immediately back to flirting like two high school kids, and Thanksgiving dinner is underway. That is, until Frank shows up asking for meds for Monica and Karen's water breaks. Sheila and Jody are like excited parents even though Jody's not the father and Sheila's not going to get to keep her grandbaby…well, at least not yet, anyway. It's crazy how perfect Jody and Sheila are for each other, but their crazy mixes delightfully, plus it allows Joan Cusack to go even more wild than she has for the past 22 episodes. Bring it on.
"Mom's bi-polar, Debs." -Ian
"Like the North and South poles?" -Debbie
"Yeah, sort of." -Ian
After watching Little Hank shoot two ducks in the Gallaghers' pool with his rifle, Carl wants one too, especially because Hank took all the ducks for T-day and the Gallaghers have nothing thanks to Monica's squirrel fund raid. Fiona's carving a turkey out of Spam, but when a car chase throws a flying gun into Carl's lap, he takes action for the family. The only problem is that instead of shooting a duck, he shoots a bald eagle. The family is fully prepared to eat it, but Jimmy/Steve won't have it and brings over a turkey, earning a silent "thank you" from Fiona.
With the family happily together (Ian fresh off a tryst with guest star Harry Hamlin in a downtown Chicago penthouse), they pull Monica out of her hiding place under the stairs. After being thrown in jail, her depression takes over, worrying Debbie that she too might be depressed. Debbie eventually pulls through, but Monica gets worse, thanks in great part to Frank's refusal to put her on her meds. Before dinner, he even feeds her drugs and asks her to seduce his brother, and when she's refused by the Gallagher, it cripples her.
As the whole group is having a fairly lovely dinner until Monica leaves the room and has her "accident." She slits her wrists and the picture in the kitchen is gruesome, and even Fiona can't handle it. Frank leaves to get blasted instead and Steve/Jimmy picks up the man of the house's responsibility of cleaning Monica up and getting her to the hospital. Once there, the family eventually gets some good news: she's okay, but she's being kept under psychic evaluation. It lends an almost hopeful element to a completely hopeless story. She's done this before and as Frank points out, when Monica gets better, she gives up everything she loves: Fiona, Frank and Co. It's a good thing Fiona has Jimmy/Steve now, because as soon as she gets better, we're all fearing the same thing: Monica is going to flee.
"Holy sh-t, I'm going to see the little guy on Friday?" -Lip
"Yeah, for like two seconds." -Karen
After deciding to sell her baby to the second-highest bidder at Lip's pouty request, Karen is ready to expel the demon spawn from her uterus. I didn't expect to actually see it, but Shameless apparently has fake birth in the prop/special effects budget. I think most of us could have lived without that. When the baby finally does come out, with the entire Gallagher family in the delivery room, not only does he have Down's syndrome, he's asian. The prospective adoptive parents won't take a baby with Down's syndrome, and Lip isn't the father like Karen let him believe, and he storms out, having wasted his time and more importantly his emotions and excitement. Karen has completely torn him apart. This will either drive him to further insanity, or it will put him right back where he belongs: at home and in school.
Before the episode closes out, we find one last madcap moment: Sheila and Jody, hell-bent against Karen giving the poor baby up to social services, steal the baby to raise as their own. Who needs a hospice when you can raise a child that will need you forever? Of course, only Cusack could make this scene as perfect as it was, with her running around the hospital in a hunting cap before hopping on the back of Jody's motorcycle and riding into the night.
The episode feels almost like a season finale, but in truth it's the prep for the finale. It begs the question: how could they possibly top this? But we know Shameless and Season Two didn't slow down for a second, so there's no way the season finale won't deliver.
Do you think Monica will stick around after her treatment? Do you think Frank is to blame for her sudden bout of depression? Will Lip go back to school or go deeper down the rabbit hole? Let us know in the comments or get at me on Twitter. @KelseaStahler