Shanola Hampton Spills 'Shameless' Season Three Details — EXCLUSIVE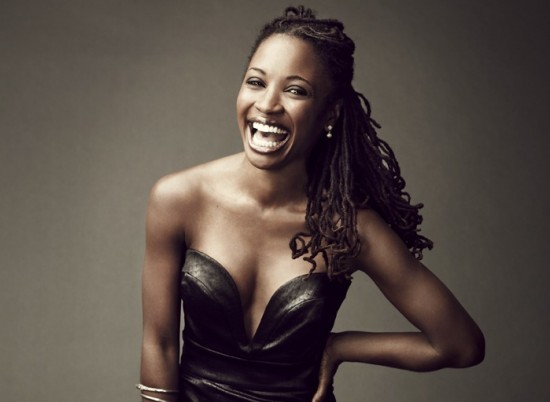 What do you get when you mix 7 parts outrageous Gallaghers, 2 spoonfuls of sex-crazed neighbors, a dash of a pathological liar and a heavy hand of vodka? It's the recipe for Showtime's delicious hit 
Shameless
, of course! Now in production for its third season, fans are impatiently waiting for any details on the twistedly fun series, and we just so happen to have a whole glass full of 'em.
"Shameless season three is epic and we are not holding back at all!" bragged the lovely Shanola Hampton to Hollywood.com. Fans know Hampton's outrageous alter ego — the sexy, sassy Veronica — for having a big heart and promiscuous personality, and this season will be no different. So what can viewers hope to see from their favorite next-door neighbor this season?
Hampton spills, "You can expect Veronica and Kevin (Steve Howey) to be working on a baby… I think that last year you got to see a big wall break down with Veronica when Ethel left and you got to see a moment where she is like, oh my goodness, I never thought I wanted this thing and now I do. So right now it's just about getting pregnant." Kevin and Veronica would have the cutest little tomorrow people ever!
But of course, it wouldn't be Shameless unless there was a whole lotta drama to go with that love. Cue the knock on the door! "They will get a blast from Kevin's past and it doesn't end well. There's going to be lots of jealousy happening, Kevin is going to be in a real awkward position, and then it goes down. That's all I can tell you." No worries, because we'll tell you a little more. There's a new woman coming back into Kevin's life, someone that he knew back when he was growing up in a foster home. This mystery woman is coming back, and she's not alone.
While Kevin is dealing with that whole issue, Veronica and Fiona will once again have their hands full with multiple jobs. Hampton explains, "Some of the jobs that Fiona is working this season are too nasty. Veronica is not going to get in a sewer with rats, I mean come on now." So when Fiona is busy hanging out with the sewer rats, Veronica will be doing her um… housecleaning again on the Internet. "She'll get in front of the camera and do nastiness," says the actress with a sly smile. "But let me just tell you that she brings Kevin on her job, and it is not just housecleaning, and it will be talked about." Wow, color us intrigued!
All silliness aside, Hampton stresses that this upcoming season of Shameless will definitely not disappoint. "I believe that we have one of the most well-written and acted shows on television. There is nothing else on television like our show, we don't fit into a box and we don't fit into a particular category and I think that's what makes it so great."
After a truly phenomenal second season, many critics were surprised to see the Showtime hit snubbed for an Emmy nomination this year. "When we're not getting acknowledged by the awards, is it disappointing? Hell yeah it is!" the actress exclaims. "We just need another category: a dramedy."
Hampton says fans can expect another phenomenal season when Shameless returns in 2013, "I'm so proud of this season so far you have no idea. I'm so excited." That makes two of us girl!
Follow Leanne on Twitter @LeanneAguilera
[Photo Credit: Showtime]
MORE:
2012 Emmy Longshots: 'Shameless' Star Emmy Rossum, The 20-Something Matriarch
'Shameless' Post-Mortem: Shanola Hampton on Family, Chicago & That Finale
'Shameless' Season Finale Recap: This Is What a Family Looks Like