'Scandal's' Creator Is Furious And You Should Be Too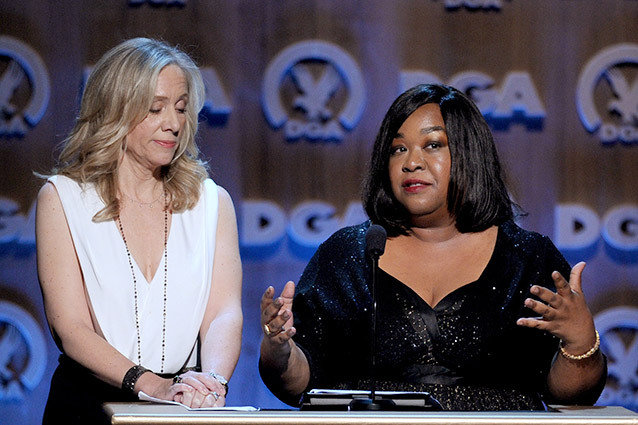 Getty Images
When Shonda Rhimes recently accepted a Diversity Award from the Directors Guild of America, she admitted that the honor made her "a little pissed off."
Rhimes, the creator of Grey's Anatomy and Scandal, and her producing partner Betsy Beers were honored for diversity casting by the DGA and was grateful for the honor but mad that it was something that needed to be appreciated. "Like, there's such a lack of people hiring women and minorities that when someone does it on a regular basis, they are given an award," Rhimes told the audience during her acceptance speech, as reported by Entertainment Weekly.
One of the most powerful people in television, when Rhimes speaks it gets attention, but there needs to be more people speaking out and more studios doing something about it. The Center for the Study of Women in Television & Film's Celluloid Ceiling report showed that women only made up 16 percent of the directors, writers, producers, editors and cinematographers on the top 250 grossing movies in 2013. Only 6 percent of those films featured a female director.
Television, where Rhimes has built her career, has its own issues, as highlighted by the controversy over Saturday Night Live's casting practices that finally led to the midseason hiring of cast member Sasheer Zamata and writers LaKendra Tookes and Leslie Jones, all three African-American females.
It should not take public outcry to get women and minorities hired for jobs either in front of or behind the camera. It should just take common sense. Schools across the country are graduating students with degrees in film and television production and not all of them are white males. Studio executives faced with harsh economic realities are loath to trust unproven talent with millions of dollars, but that excuse doesn't explain why the number of women and minorities being hired for production positions like editors continues to remain low.
Even having success doesn't guarantee continued opportunities. Amy Heckerling earned near universal acclaim for directing Clueless in 1995, and has been hired to helm one other studio production since.
Numerous businesses have proven that having a diverse mix of employees working on a project only enhances the final product, as varying points of view and new ideas are integrated in during the process. It's time that the entertainment industry took that model to heart and begins hiring casts and crews that is more representative of the general public. Improving diversity hiring may or may not create a better movie or television show, but it certainly wouldn't hurt.