Should 'Dancing with the Stars' Get Rid of the Romance?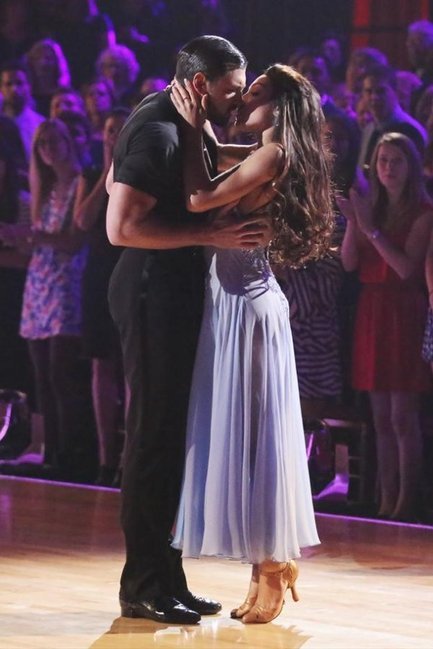 ABC
Ah, fauxmance: one of the mainstays of scripted reality TV. It's a conceit that's always had a huge presence on Dancing with the Stars – after all, if our dancers and stars can get tongues wagging, it helps viewership and the voting. But is it really the right avenue for the show to be traveling? The forced flirtation can get uncomfortable at times, and this season's milking our speculation for all it is worth with not one, not two, but three potential fauxmances:
* First, we've got James Maslow and Peta Murgatroyd – legend has it, they went out on a date before the show started, yet he never called (ouch). Nowadays, they talk a lot about their good chemistry, and tease us with the tidbit that they might give it another try once the mirrorball trophy is safe in their hands.
* Next, we've got Cody Simpson and Witney Carson. He has a girlfriend, yet much hullabaloo was made when he deemed her moves "distracting."
* And last, but not least, we've got Meryl Davis and Maksim Chmerkovskiy, who can't seem to stop singing each other's praises. And after a particularly steamy number a couple of weeks ago, Erin Andrews presented them with a rather intimate-looking screen grab, causing Davis to go scarlet and get all giggly.
Even in the most recent episode, where everyone switched partners, the mixed-up pairs didn't get away scot free. Maslow jokingly tweeted at Charlie White not to get too comfortable with Murgatroyd, prompting host Erin Andrews to question their relationship status – then as Davis made the "Chmer-swap-skiy" from Maks to Val, more than a little playful banter about "incestuous adultery" ensued.
The fauxmances might be a fun way to stir speculation and recruit voters, but is it really something the show needs? It's true that DWTS really comes down to the relationships between partners, but the non-romantic (and perhaps more genuine) feelings are just as, if not more, compelling. Last season's Emma Slater and Bill Engvall's father-daughter relationship got more followers than Brant Daugherty and Peta Murgatroyd's flirtatious banter, after all.
What do you think?