What 'Sleepy Hollow' Can Teach Fox About Audacious Television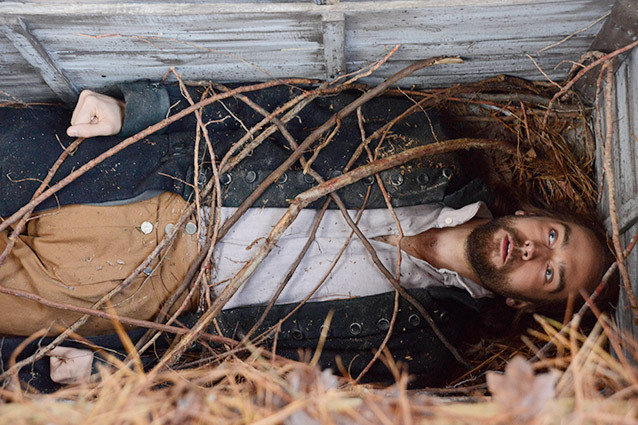 FOX Broadcasting Co.
On paper, Sleepy Hollow sounds like a hot mess. The show reimagines the old legend with a sexy Ichabod Crane, a headless horseman charged with ushering in the apocalypse. Toss in John Cho from Harold and Kumar as a zombie, and a liberal sprinkling of clues found in the Bible of George Washington. Yes, that George Washington. But in practice, the show has become one of the biggest hits of the season. With the finale notching nearly 7 million viewers, Sleepy Hollow was certainly one of the most unique, entertaining, and audacious offerings of the season.
At the Television Critics Association press tour, Fox chairman Kevin Reilly declared the death of Fox's traditional pilot season. Pilot season is when most networks choose their shows for the new season. Some of the pilots ordered will go to series and some will not, but the process is harrowing for creatives. Reilly pointed out this process isn't conducive to the kind of interesting, ground-breaking, and watercooler chat-worthy programming Fox wants to develop. Instead, the station is going to adopt a cable approach to programming.
What does this have to do with Sleepy Hollow? As one of the most original offerings of the new season (and one of the best), Sleepy Hollow rose above the fray of new shows because it was truly audacious.
While Fox is throwing away their pilot season, they should also be taking notes on what makes great shows like Sleepy Hollow into critically beloved smashes. Here are four important lessons from Ichabod and Abbie:
1. Don't be afraid to get weird.
Sleepy Hollow has far and away one of the weirdest premises of any show on television. Most networks shy away from anything too crazy. They instead look for TV comfort food, something audiences are familiar with. The problem? Competition from an expanding cable universe, and now even streaming sites, mean audiences are becoming less interested in comfortable. Don't be afraid to embrace concepts way, way left of center.
2. Do something no one else is doing.
There are a million shows on television about cops, lawyers, serial killers, and doctors. There's no way to stand out from the pack in this format. Those professions are interesting, sure, but those stories have been told a million times and a million different ways. One of the reasons Sleepy Hollow stood out this fall season is because it looked like nothing else on television.
3. Promote diversity.
Diversity on the small screen is important, yet television is still overwhelmingly white. Sleepy Hollow is an incredibly diverse show, with actors of all different colors playing major roles in the narrative. The small screen needs more figures like Abbie Mills. The characters of color on Sleepy Hollow aren't just sidekicks, like you might find on most other programs, they're three-dimensional people. As mentioned, audiences are tired of seeing the same thing every week on screen. Representation is important, and diversity opens up new avenues for storytelling.
4. Have fun.
During Sleepy Hollow's first season, Ichabod Crane wore skinny jeans, bonded with an On Star agent, and was downright horrified to learn what Thomas Jefferson was up to in his free time. The show might have been non-stop action and adventure, but it wasn't afraid to have fun. Some television shows take themselves much too seriously and drown in their own dour glominess. Sleepy Hollow reveled in its camp appeal, while always staying true to its story. If Fox is looking for another audacious hit, fun should be part of the equation.
What do you think? What are some lessons Fox can learn from Sleepy Hollow? Share in the comments!