'Smash' Catch Up: Everything You Need to Know Before Season 2 Premieres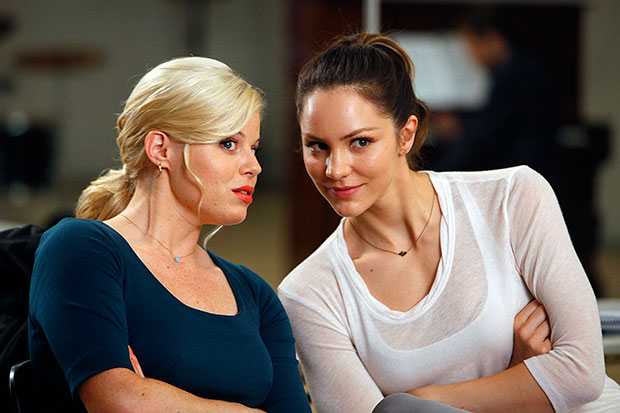 The Season 2 premiere of Smash is just a few hours away, so to help refresh your memory after all of those Bombshell-free months, we've compiled a drama-filled catch-up guide. We also used our powers of penmanship to create a list of the top five things you need to know about tonight's two hour spectacular, "On Broadway" and "The Fallout." Plus, we chatted with the ridiculously talented Smash newcomers and gathered everything you need to know about your three soon-too-be favorite characters. Let the show begin!
Show: Smash
Where We Left Off: Season 1 of Smash was filled to the brim with creative performances, A-list guest stars, and cringe-worthy dialogue — making it everyone's favorite show to critique yet crave. Creative duo Julia and Tom were inspired to create a brand-new Broadway musical centered on the life of Marilyn Monroe. Chorus line-veteran Ivy Lynn was an obvious choice for the sexy yet curvy blonde lead, however, there was something about small town girl Karen Cartwright that captured director Derek Wills' attention. Pretty impressive, considering the fact that Ivy was sleeping with Derek. For months, the two girls battled it out back and forth for the coveted role (and at some point a random movie star played by Uma Thurman held the role until they discovered that she couldn't sing and was nearly poisoned to death with a peanut-filled smoothie). But through all the craziness, Karen nabbed the lead in the end and gave a tear-jerking performance, despite the trauma of being "in tech" for what seemed like years and realizing that Ivy had slept with her fiancé. Oh and there was also Ellis, a smarmy assistant turned associate producer turned killer smoothie maker that everyone absolutely hated until he was finally fired in the finale.
RELATED: 'Smash' Scoop: New Showrunner Talks Season 2 Changes
Biggest Jaw-Dropper of Season 1: Music-filled shows are no longer anything new, however, the most jaw-dropping attribute of Smash is how consistently amazing all of the original songs are. Out of season one's 15 episodes, Smash featured 30 catchy original songs, and many of the numbers were accompanied by over-the-top yet mesmerizing performances. How many times did you watch "The National Pastime" — the infectiousy fun baseball performance — on YouTube? Six… hundred times? Us too!
Biggest Letdown of Season 1: The entire Julia storyline. From the completely random unsuccessful adoption, to the strained infidelity-ridden marriage, to the absolutely pathetic acting from her pot-smoking, sandwich-loving son Leo, Smash wasted valuable performance time trying to make us care about this family. We never did.
Most Improved Character: This category is such a toss-up, but we're going to give the coveted award to Derek Wills. At the beginning of the season, Derek was a womanizing douchebag who dangled his directorial power like a cat toy to young and ambitious women. It didn't help that he was sleeping with Ivy, and that she oh-so conveniently snagged the role of Marilyn. But as the episodes progressed, so did Derek's sense of compassion and likability. He became quippy, enthusiastic and — dare we say it — absolutely charming.
RELATED: Leanne's Spoiler List: Season 2 Secrets from 'Smash,' 'Vampire Diaries' Boss Talks Delena
Least Improved Character: Congratulations Miss Eileen Rand! Despite the fact that somehow you nabbed a hunky young bartender boyfriend, your personality was a stagnant mess of we don't really care. However, we do admire the way you can throw a drink in a man's face with dignity and class.
What We Ultimately Want To See: After the back and forth will-they-won't-they of Season 1, we want to see Bombshell finally make it to Broadway. Also, we need Karen to have a bit more of an edge, and to not be swept away by another loser llike Dev. We want to see Ivy stand on her own two feet and become the strong and fierce lead performer that we all know she can be. Karen and Ivy need to have at least three more duets together, and we want at least one throwback line to Will and Grace when Sean Hayes guest stars. Just for fun, we'd like to see Neil Patrick Harris have a brief but memorable appearance. And even though we're already completely and totally enamored by Karen's new love interest Jimmy, we'd like to see what a full-fledged Karen/Derek relationship would look like.
What Would Make Us Turn Our Backs: If Ellis sabotages Bombshell one more time we're going to scream and shove peanuts down his throat. Get a hobby, dude.
RELATED: Leanne's Spoiler List: 'Smash' Will Shake Things Up, 'Vampire Diaries' Gets Intense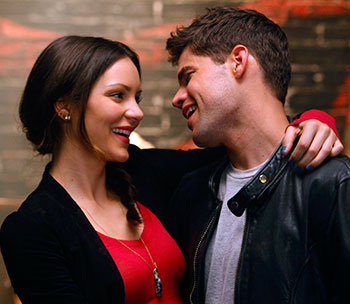 5 Reasons You Should Keep Watching: The Season 2 premiere is jam-packed with numerous reasons as to why you need to keep watching this musically inclined drama, but we'll go ahead and limit it down to five.
1. Meet Your Newest Crush: Smash hasn't had a full-fledged bad boy just yet, so get excited ladies —  Jimmy is that gorgeous troublemaker that your mother warned you about. We caught up with star Jeremy Jordan to learn a bit more about this unbelievably talented composer. "He's got a pretty shady past that led him to build these barriers around himself and not trust anyone," he says. But of course, how could you not trust Karen's sweet small town face? These two opposites definitely begin to attract within the very first episode, and by the fourth things are very heated. Jordan explains, "There's that energy and that unspoken connection — that undeniable thing between them that keeps drawing them together, even though they're so bad for each other."
2. Tootles Boys: The three most obnoxious fellas to suck up screen time in season one — Dev, Leo and Ellis — are MIA from our line of sight for at least the first four episodes. Sure they may be briefly mentioned, but their whining and overall suckiness won't take up Smash's precious screen time. Phew!
3. Newbie Roomie: Now that Karen is officially a single lady, she needs a new place to live and a fresh start. Enter stage left, Ana: a spunky, outgoing and insightfully opinionated Broadway hopeful and friend of Karen's. The background info on these two ladies was cut from the first episode, but Krysta Rodriguez gave us the inside scoop, "She is a friend from Karen's life in New York," she says. "Ana was on tour with West Side Story, but she knew [Karen] before from the restaurant they worked in. Now that Ana's back, she has a room to move into." Ana will quickly get involved with the new musical that Smash is featuring, "Hit List" — an edgy and contemporary tale that is completely different than "Bombshell." Fans can except to see Ana definitely try to make Karen a more outgoing an assertive person, and for that we thank her.
RELATED: TV Tidbits: NBC Debuts a 'Smash'-ing New Poster, 'Arrow' Nabs a 'True Blood' Star
4. Will & Grace 2.0: It's no secret that Julia's marriage is on the rocks, and Brian d'Arcy James (who plays her husband) is no longer a series regular. So, spoiler alert: By the end of the first episode, Julia will be turning to her bestie/business partner Tom for some comfort, but instead she'll wind up with a new roommate! "You know what why don't you just stay here," Tom says. "It'll be like old times, or a sitcom." It's Will & Grace the sequel, and although nothing can top the amazingness of NBC's former blockbuster comedy, fans can look forward to seeing Debra Messing act a lot her former erratic character. Plus, Sean Hayes — aka Just Jack! — is guest staring this season. Now if we can somehow get Megan Mullally to bring back Karen as an investor then we can all die happy.
5. Hot New Musical: If you were getting sick of the cast constantly singing about Marilyn Monroe, then you're in luck! "Hit List" is the edgy new musical that Jimmy is composing and Kyle is writing. Who is Kyle, you ask? We talked with Smash newbie Andy Mientus to fill you in on this endearing new character. "Kyle is a completely open book, and a total purely beating heart. It's all on his sleeve — if he's star-struck he can't help but express it, and he over-speaks and catches himself. He loves musical theater so intensely more than anything else." Fans will instantly see that these two men are more than just business partners. Mientus explains, "Kyle has been Jimmy's support for a lot of years, They're childhood friends, and they really are almost like brothers. Kyle is really responsible for Jimmy being on a good path — he's helped him come out of some trouble."
Don't miss the Smash Season 2 Premiere tonight at 9 PM on NBC!
Will you tune into Smash tonight? Which new character are you excited to meet? Sing your thoughts in the comments below!
Follow Leanne on Twitter @LeanneAguilera
[Photo Credit: NBC]
---
You Might Also Like:

Biden? Ford? Surprisingly Hot Young Pics of Politicians

Who Wore This Crazy Hat?

Stars Who Changed Their Look After Love