'So You Think You Can Dance' Season 10 Premiere Recap: Standouts from the L.A. Auditions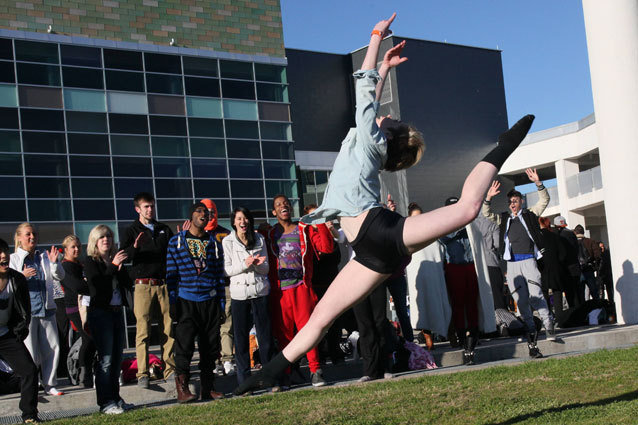 The search for America's favorite dancer is on, as So You Think You Can Dance's 10th season premiered on Fox Tuesday night. The ever lovely Cat Deeley has returned to once again steer the ship and executive producer Nigel Lythgoe and ballroom expert Mary Murphy (as they are introduced each episode) are back as permanent judges. Joining Mary and Nigel on the judges panel in Los Angeles, the first stop on SYTYCD's audition tour, is Modern Family's Jesse Tyler Ferguson — Tie the Knot bow tie and all. 
For those of you new to SYTYCD, here's how this early stage works: After a preliminary round of group improvisational auditions (which are not shown on camera), the standouts — both talented and ridiculous — are sent on to perform a short solo for the judges. The judges then have the ability to either send the dancer straight through to the next round of auditions in Las Vegas or say no thank you and send them back home. If the judges are on the fence, they can ask the dancer to stick around and learn some choreography in order to further assess their potential. After the choreography round, there is another bout of cuts. 
For the premiere, SYTYCD wisely decided to focus on the good, rather than the bad or the ugly. The episode was filled with plenty of tickets to Vegas and nary a robot costume or lucha libre mask. I hope this is a sign of things to come, as I would much rather spend more time watching the dancers we will come to root for thrive in these early rounds than laugh at another twerking wannabe. 
On Tuesday, we were introduced to a few contenders it would be wise to keep an eye on.  First, we met Du-Shaunt Stegall, stage name "Fik-shun." Reminiscent of Season 9's Dragon House Crew, Du-Shaunt is a talented street dancer specializing in locking and animation. When the judges sent him straight through to Vegas they were surely hoping they had another Cyrus or Twitch on their hands.  
Next was Malece Miller, a bubbly 19-year-old with a Robyn haircut and killer acrobatic skills from Salt Lake City, Utah — a city known for turning out fierce dancers. Malece may have the face of a precious porcelain doll (as Ferguson pointed out) but she danced with a maturity far beyond her years. As is common in this first round, you have to look past the mediocre, dance studio choreography to her actual quality of movement in order to assess her potential, but I think this girl has got it. She's also got a sob story to make her TV-worthy — her mom sacrificed everything in order to keep Malece in dance class. Malece, of course, was sent straight through to Vegas.  
Following Malece we are introduced to Paul Karmiryan, a latin ballroom dancer and — it just so happens — the winner of SYTYCD: Armenia. Karmiryan wowed the judges, but I wasn't so impressed. Maybe he, like Malece, suffered from overly simple choreography, but while a clean and confident dancer, Karmiryan seemed to lack the charisma that would make him stand out from a crowd. He also has some strange mannerisms he's going to need to get rid of stat — I mean, you're killing me with those broken wrists and claw hands. 
My favorite of the night was Taylor Ward, a softball player who gave up a college sports scholarship in order to dance. Already a sympathetic figure after telling a story about making her recently deceased grandfather proud, Taylor dramatically dislocated her knee while practicing her solo moments before stepping on stage. In front of the judges, it was clear Taylor (smartly) toned down her routine to account for her unexpected injury. Obviously a strong dancer — holy muscles! — she seemed to move timidly and avoid tricks that would further twerk (meaning twist, not booty shake) her knee. In my first, "You're crazy, judges," moment of the season, they asked her to complete the choreography round before sending her to Vegas. The lady is hurt, guys — you really want her to risk further injury in a round you know she can sail through? 
The final story focused on brothers Eric and Lorenzo Chapman, who call themselves the GR818ERS. While their group name is dumb, the work these men are doing is admirable. Eric and Lorenzo, along with a third, non-auditioning man (who I assume to be GR818ERS founder Pierre Arreola), have created a program for teaching kids hip-hop in the San Fernando Valley of Southern California as a way to keep them away from gang violence. The Chapman brothers weren't advanced to the next round, but by appearing on the show they were able to give airtime to their inspirational organization. I wouldn't be surprised if we see the GR818ERS kids perform on an episode later in the season. 
Wednesday night, SYTYCD travels to Detroit for the first time. 
Follow Abbey On Twitter @AbbeyStone
More:
The Best 10 'SYTYCD' Numbers of All Time
'SYTYCD' Season 9 Finale Recap
'SYTYCD' Recap: There Is Something to be Said for Having Tact, Nigel
 
---
From Our Partners:


Zoe Saldana Strips Down For Magazine (Celebuzz)


33 Child Stars: Where Are They Now? (Celebuzz)