What It's Like Being Socially Awkward, As Told By Ben Wyatt
Being socially awkward can be rough, and no one knows this better than Parks and Recreation's Ben Wyatt (Adam Scott). Having to deal with people every day is exhausting, and they don't always understand you. But trust us, there are people out there just like you who never know the right thing to say.
You often end up hanging out by yourself.
You need your personal space.
stupidfuckingquestions.tumblr.com
You aren't sure how to react to things.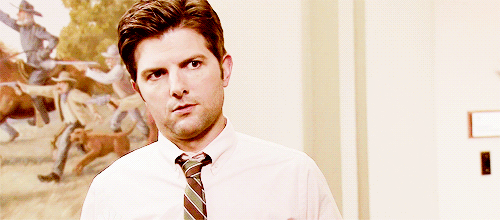 pleated-jeans.tumblr.com
Other people don't understand your hobbies.
But you try to explain them anyway.
It's hard to have a normal conversation.
Sometimes you can't even use words properly.
Interacting with people usually leads to regret.
And public speaking is your biggest fear.
trashybooksforladies.tumblr.com
You still cringe thinking about something you said two months ago.
broriarty.tumblr.com
You make bad jokes. 
fuckyeahparksandrec.tumblr.com
Going out is not your idea of a fun night.
You freak out easily. 
But like Ben, you have people who love you despite your socially awkward tendencies. And that's what's important.
trashybooksforladies.tumblr.com