Sorry, Simon, It's Time to Let 'X Factor' Die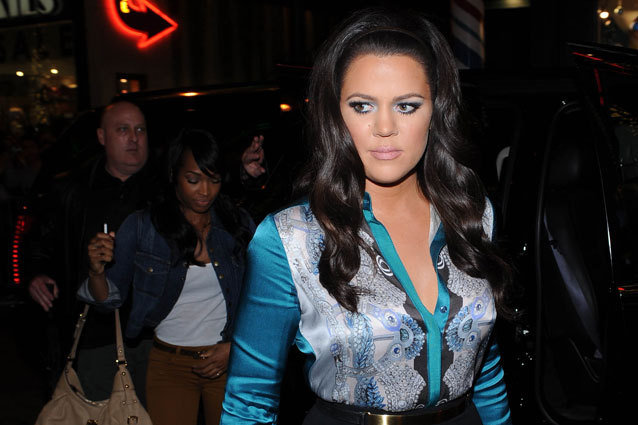 It's hard to care about today's news that Khloe Kardashian may have gotten fired from her gig co-hosting Fox's repetitive singing show The X Factor. That's like getting news that your 92-year-old grandmother, who has been in a coma for six months, just got a little bit worse. We can all see the ending coming, we're just all hoping its as graceful as it can be.
However Simon Cowell the creator of the show (or, more aptly, the man who microwaved American Idol's leftovers and tried to pawn it off as a whole new meal) is not going gently into that good night. The show has been officially renewed for a third season, but what can we expect? The shell of a shell of a shell, that's what. Simon, just let it go already. This was a failure, and it's only going to get worse.
RELATED: 'X Factor' to Hit Us (Baby) One More Time With Third Season
The news about Khloe just highlights the problem with the show: nothing Fox or the producers threw at us worked. They booted original host Steve Jones, a British dental hygiene ad with about as much personality, after the first low-rated season and got a Kardashian and a Mario Lopez. That was sure to work! Who doesn't love these two?! That will get viewers! It didn't.
Then Britney Spears was brought on as a judge to add some star wattage. She was supposed to fill Paula Abdul's spot as the unpredictable one that people tuned in to see possibly slump over in her seat for no discernible reason. And after countless articles about who the hosts would be and speculation in all sorts of directions, Demi Lovato was brought on to bring the kids, something that Nicole Scherzinger couldn't do in Season 1. It didn't work. Season 2 premiered to dismal ratings and it didn't get any better.
RELATED: 'X Factor' Needs Another One Direction: Why Fifth Harmony Isn't Done Yet
It seems like no amount of money or any tricks of the trade will work for the show. There are only so many weapons in the singing competition show arsenal and changing the hosts and the judges are about it. Still, while these switches may keep interest up during the off season there is little proof that they work. Even after adding Mariah Carey and Nicki Minaj to Idol this season the ratings are still sagging. If Simon Cowell could get Justin Bieber, the remaining members of the Beatles, and the ghost of Michael Jackson to host, Season 3 still won't be a hit. America just doesn't care about X Factor the same way that our British cousins do. Britney is calling it quits and so is L.A. Reid, the only host who survived the culling after Season 1. Right now Cowell is the only one confirmed to be back on the panel and that's only because he refuses to fire himself.
That means this spring is sure to set off a flurry of new speculation about who will host and who will judge . We don't care. We really don't. It's already hard enough to care about the ever-shifting dynamics of Idol to be able to care about this show too, one that most people never watched anyway. And all those articles and all that stunt casting isn't going to help. Neither is bringing back Cheryl Cole the beloved host of the British version who got sacked before the first season State-side because Fox was worried that Americans wouldn't understand her accent. That is not going to work. Nothing is going to work. Like your grandmother in the coma you can hope every day that her eyes will pop open and she'll be as good as new, but that doesn't mean that science is on your side. Or luck or probability or good sense. 
RELATED: 'X Factor' Season Finale Recap: A Little Bit Country
The problem is that this is a knock-off show in an already saturated market. The Voice has already picked up the remainder of the audience that wants to watch a singing show other than Idol and there's not room for anything else. I know it's got to be hard to say you're wrong, Simon, but it's time to let X Factor die. It's the humane thing to do.
[Photo credit: Fox]
---
From Our Partners:


Bradley Cooper Dancing Is Surprisingly Awkward, Sweaty (Vh1)


Kate Upton Bares All in Nothing But Body Paint: Video (Celebuzz)